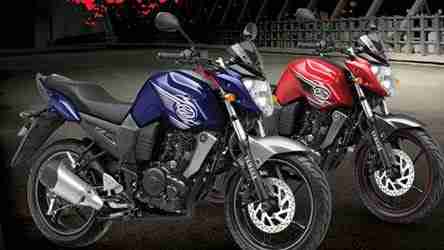 Yamaha Motor India have given their hot selling motorcycles the Yamaha FZ, FZ-S and the Fazer a 2103 cosmetic upgrade. All the three receive new colour options and updated graphics that provide a much needed refreshed look to these motorcycles. The FZ gets three new colours while the FZ-S and the Fazer get four each.
FZ- Absolute Black, Brute Blue and Storming Red (Main Color)
FZ-S- Tempest Blue, Fearless Black, Raging Red and Glory Gold (Main Color)
FAZER- Getaway Blue, Milestone Black, Rising Red and Streak Red (Main Color)
These three bikes which are essentially the same at heart have been dong extremely well for Yamaha since its launch. Yamaha had earlier addressed some issues customers were facing with a minor upgrade. We are still waiting on a substantial update and of-course the Yamaha 250. The new prices for the models now lie in between Rs. 70,500/- and Rs. 77,380/- ex-showroom, Delhi. Check out the new photographs of the new colour options for the Yamaha FZ series below, also you can read the comprehensive Yamaha FZ-S review to know all about the motorcycle's performance and other details in the real world.