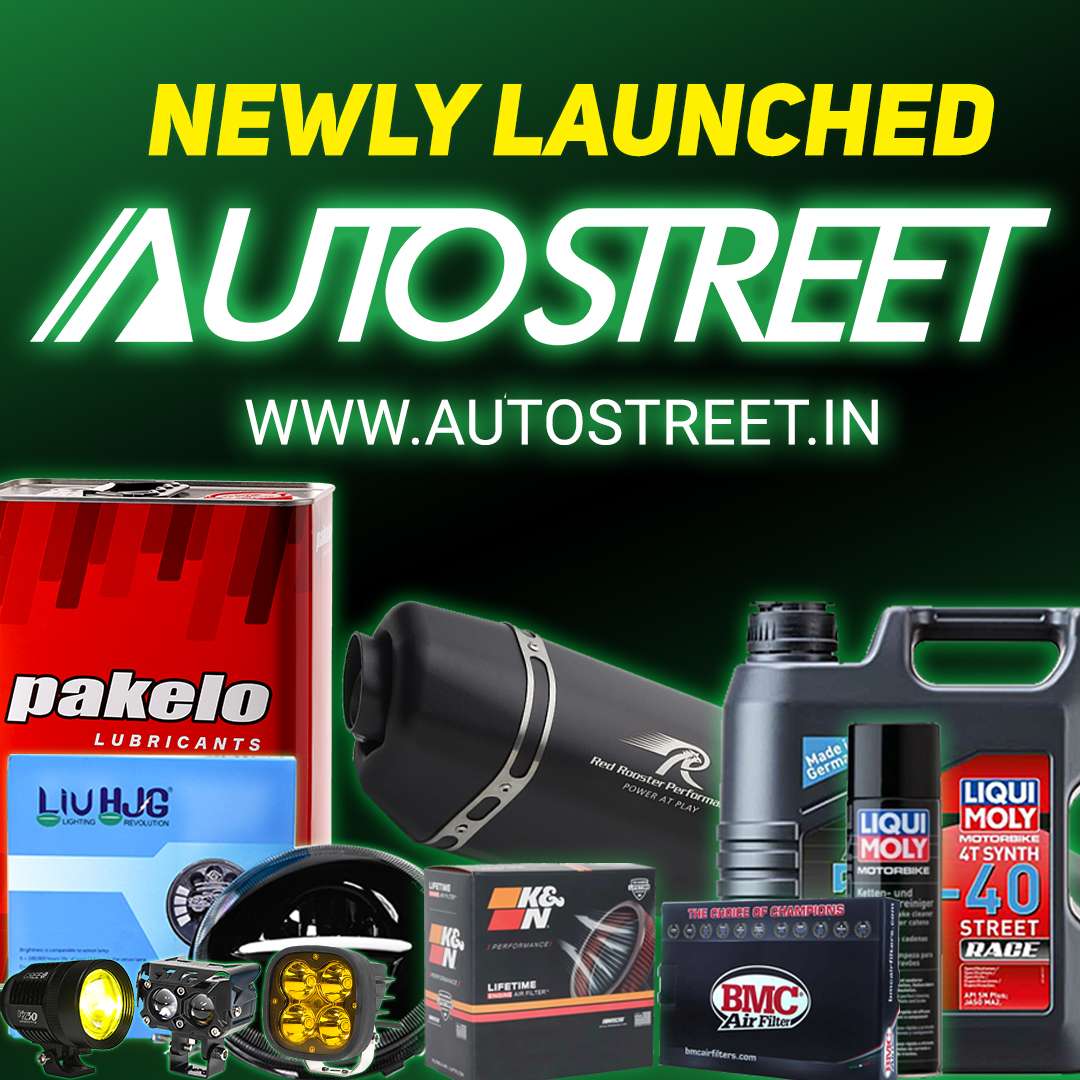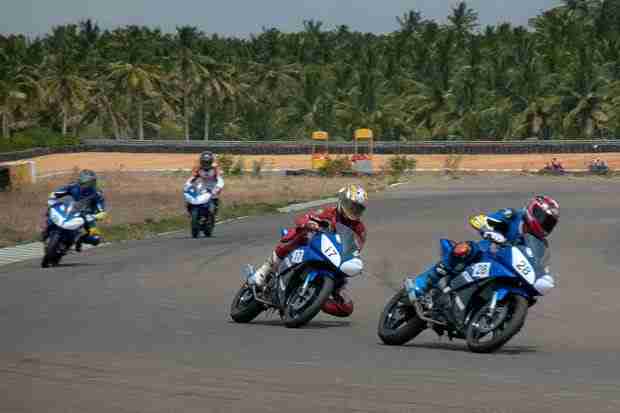 After a thrilling start to this year's YZF-R15 One Make Race Championship, the first round of the race concluded amidst roaring excitement as hordes of racing enthusiasts turned up to cheer the participants at the Kari Motor Speedway, Coimbatore. This championship will be followed by 4 more rounds and will conclude on 30th September 2012. The racing event has been organized in association with the Madras Motor Sports Club (MMSC) and the Federation of Motor Sports Clubs of India (FMSCI) and is a part of the Indian National Racing Championship 2012.
The championship witnessed a great deal of enthusiasm from the contestants as both Yamaha and non Yamaha customers participated in the race.
YAMAHA ONE MAKE RACE CHAMPIONSHIP 2012: ROUND 1 RESULTS
TOTAL PARTICIPANTS IN NOIVCE CLASS: 60
TOTAL QUALIFYING: TOP 16
YAMAHA R15 NOVICE- RACE 1
WINNER: MR. SANDESH P
1ST RUNNER UP: MR. R RAMESH KUMAR
2ND RUNNER UP: MR. SHAMILSEN
YAMAHA R15 NOVICE- RACE 2
WINNER: MR. R AMESH KUMAR
1ST RUNNER UP: MR. SANDESH P
2ND RUNNER UP: MR. MR. MEKA VIDHURAJ
TOTAL PARTICIPANTS IN OPEN CLASS: 20
TOTAL QUALIFYING: TOP 16
YAMAHA R15 OPEN- RACE 1
WINNER: MR. SHYAM SHANKAR
1ST RUNNER UP: MR. S K PRAKASH
2ND RUNNER UP: MR. S PADMANABHAN
YAMAHA R15 OPEN- RACE 2
WINNER: MR. SHYAM SHANKAR
1ST RUNNER UP: D DINESH KUMAR
2ND RUNNER UP: M SUDHAKAR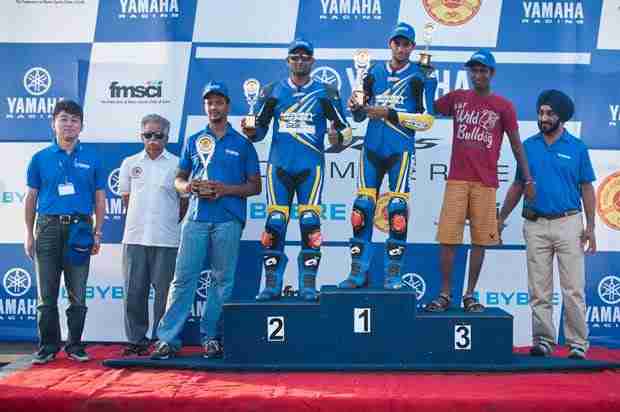 The winners of the R15 One make Race championship 2012 will be representing India Yamaha Motor at the Yamaha ASEAN Cup 2012 to be held later this year.
The contestants hit the track on Yamaha's Super Sports YZF- R15 version 2.0 and experienced the breathtaking acceleration of the bike on the race circuit. Loaded with true Yamaha racing DNA, YZF- R15 will provide a complete racing experience to the biking aficionados and hands on feel of its power, stability, cornering and braking. Yamaha will make their experience more exciting by fitting Daytona Racing Kits in the bikes. These kits are developed using valuable experience gained from MotoGP & World Superbike racing and are designed exclusively for racing purposes in a closed circuit.
The technology in YZF-R15 has percolated from R1 (Deltabox frame/Fuel Injection/6 speed gearbox/styling/Liquid Cooled 4V engine). Just like R1, it is light weight, has power on demand, besides having centralized mass, stopping power, aerodynamics, ergonomics and stability/rigidity, among others. It also has the controllability and maneuverability to maximize riding/cornering/braking performance.
Yamaha's corporate culture has always given special importance to bike racing in India as a way of expressing the 'spirit of challenge' that it values so highly. Their racing endeavors, the R15 Championship which is one of the biggest initiatives by Yamaha to take racing culture to new heights in India has proved to be very successful in its aim to inculcate the racing spirit as well as promote safe biking culture in the country.