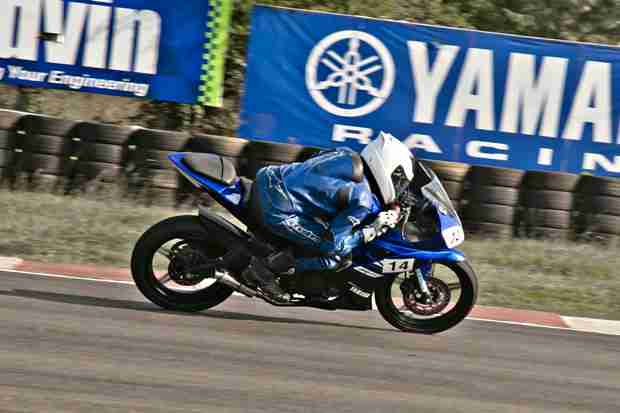 After a thrilling fourth round of the YZF-R15 One Make Race Championship, the fifth and final round of the championship concluded today at the Madras Motor Race Track, Chennai, with bikers blazing the track with much gusto and thrill. The racing event has been organized in association with the Madras Motor Sports Club (MMSC) and the Federation of Motor Sports Clubs of India (FMSCI) and is a part of the Indian National Racing Championship 2012.
The championship witnessed a great deal of enthusiasm from the contestants as both Yamaha and non-Yamaha customers participated in the race.
Yamaha India R15 One Make Race Championship 2012 results
YAMAHA R15 NOVICE
Total no. of participants: 58 riders
RACE 1
WINNER: MR. R RAMESH KUMAR
1ST RUNNER UP: MR. HARSHIT
2ND RUNNER UP: MR. ARUN MUTHUKRISHNAN
RACE 2
WINNER: MR. ARUN MUTHUKRISHNAN
1ST RUNNER UP: MR. HARSHIT
2ND RUNNER UP: MR. MEKA VIDURAJ
YAMAHA R15 OPEN
Total no. of participants: 25 riders
RACE 1
WINNER: MR. M SUDHAKAR
1ST RUNNER UP: MR. S VIVEK PILLAI
2ND RUNNER UP: MR. ANANTHRAJ
RACE 2
WINNER: MR. SHYAM SHANKAR
1ST RUNNER UP: MR. S VIVEK PILLAI
2ND RUNNER UP: MR. M SUDHAKAR
The contestants got on the track on Yamaha's Super Sports YZF-R15 and experienced the breathtaking acceleration of the bike on a race circuit. Loaded with true Yamaha racing DNA, YZF-R15 provided complete racing experience to the biking enthusiasts and hands on feel of its power, stability, cornering and braking. Yamaha made their experience more exciting by mounting Daytona Racing Kits in the bikes. These kits are developed using valuable experience gained from MotoGP & World Superbike racing and are designed exclusively for racing purpose in a closed circuit.
Commenting on the occasion, Mr. Roy Kurian, National Business Head, India Yamaha Motor said, "We are delighted to see such high level of participation and response from the audience for Round five of the championship. Our mission to revolutionize the biking culture in India has surely been given a boost from the YZF-R15 One Make Race. Events like these always help us to connect with our customers better. We look forward to organize more such events in order to provide our customers an opportunity to experience the combined thrill of superior technology and artistic brilliance for which Yamaha is known the world over."
Winners of the Yamaha R15 One Make Race, over the years, have got a number of opportunities to represent India Yamaha Motor at various international platforms. The winners of R15 One Make Race Championship 2011 represented India Yamaha Motor at the Sugo Road Race Series 2012 at Sugo race track, Japan.
The technology in YZF-R15 has percolated from R1 (Deltabox frame/Fuel Injection/6 speed gearbox/styling/Liquid Cooled 4V engine). Just like R1, it is light weight, has power on demand, besides having centralized mass, stopping power, aerodynamics, ergonomics and stability/rigidity, among others. It also has the controllability and maneuverability to maximize riding/cornering/braking performance.
Yamaha's corporate culture has always given special importance to bike racing in India as a way of expressing the 'spirit of challenge' that it values so highly. Their racing endeavors especially the R15 One Make race Championship is one of the biggest initiatives by Yamaha that has proved to be very successful in its aim to inculcate the racing spirit as well as promote safe biking culture in the country.