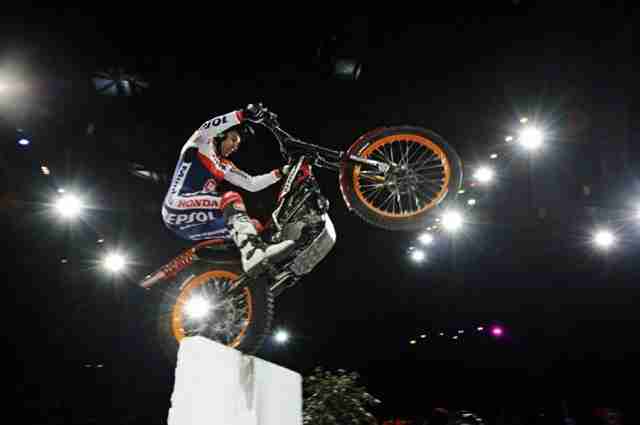 Toni Bou started yesterday his defence of the X-Trial World Champion title which ha has achieved in the last five year and he did so in the best possible way, by achieving an indisputable victory. The Repsol rider commandingly won the Strasbourg Indoor Trial, first of the eight rounds included in this season's calendar. His team mate Takahisa Fujinami, finished just out of the podium, tied with the third placed.
Bou dominated the three phases of the Alsatian round, finishing the Qualifying without any penalty and keeping his points in zero after the four zone and the parallel race of the semi-final. With an advantage of ten points over the other three finalists, the several times World Champion had an amazing performance in the key moments of the Strasbourg Indoor. He received only one point of penalty in the parallel race against his team mate of the Repsol Montesa Honda Team, Takahisa Fujinami, and another point for excess of time in the second individual zone, inaccessible for the rest of finalists.
Takahisa Fujinami finished fourth, 1 point away from the second position. The Repsol rider lot the third place due to his result in the qualifying. His sixth position in the first lap, with 11 points, was key for the final result in case of tie. The second round of the X-Trial World Championship will take place next Saturday, January 21st, in Geneva (Switzerland).