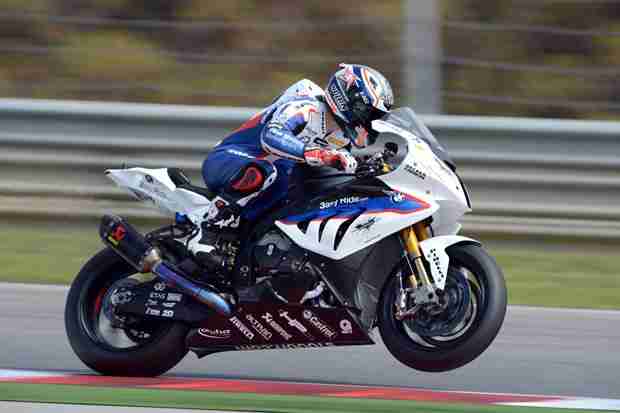 Team BMW Motorrad Motorsport travels to Magny-Cours in the heart of France this weekend (5th to 7th October) for the final round of the 2012 FIM Superbike World Championship. Having recently endured a few difficult races, the team and factory riders Marco Melandri (ITA) and Leon Haslam (GBR) are out to return to the kind of success they enjoyed earlier in the season when they take to the track at the "Circuit de Nevers Magny-Cours". Marco and Leon have so far claimed six wins, 15 podium finishes and five fastest laps between them on their BMW S 1000 RRs.
BMW arrives at the season finale in second place in the Manufacturers' Championship with 394 points — 28.5 points behind leader Aprilia. Marco is currently third in the Riders' Championship with 308.5 points. This puts him 38.5 behind leader Max Biaggi (ITA). Leon is seventh on 189 points. Both stepped onto the podium in Magny-Cours last year: Marco finished runner-up in both races, while Leon came home in third and fourth on the RR.
Marco spent last week at home in Italy recovering from the injuries he picked up in Portimão (POR). He suffered two broken ribs and serious bruising to his back when he was hit by another bike after crashing at the start of the first race. However, there is nothing preventing him from starting in France. Meanwhile, Leon has fully recovered from the injuries he picked up in Moscow (RUS) and at the Nürburgring (GER).
Marco Melandri
"I spent the time after Portugal back home taking a rest and recovering from my injury. It still hurts, but I am feeling better with every day and cannot wait to head to Magny-Cours. The last two race Sundays were difficult, but they are behind us now and we are as motivated as ever to fight on. The final round of the season will definitely not be an easy one, as it is fiercely competitive at the front of the field. It is important for us to work hard from the first day on in order to prepare as well as possible for the races.
I like the Magny-Cours circuit. Last year I raced there for the first time and had two very good races. It is a difficult but interesting circuit, which offers a combination of everything. When I first rode there, it took me some time to find the best way of braking for the slow corners, but then I found a good feeling and was riding pretty fast. I also like it because the surface is very smooth. I had a lot of fun there last year and that is my target for this year, too. I want to enjoy the final round and finish the season with the best possible performance and the best possible results."
Leon Haslam
"The recent race weekends have been difficult for me, so hopefully now my luck will change. I know we have had the pace to win races over the last three, four rounds. It is my last race weekend for BMW Motorrad, so I obviously want to finish strongly and, if possible, with a win. We will give 110 per cent, as always.
Magny-Cours always comes late on in the season so it is normally pretty cold. The track has a lot of hairpins and tight corners but also has a very fast back straight. It is quite technical and the weather is always a key point there, as the temperatures have been low there in recent years."