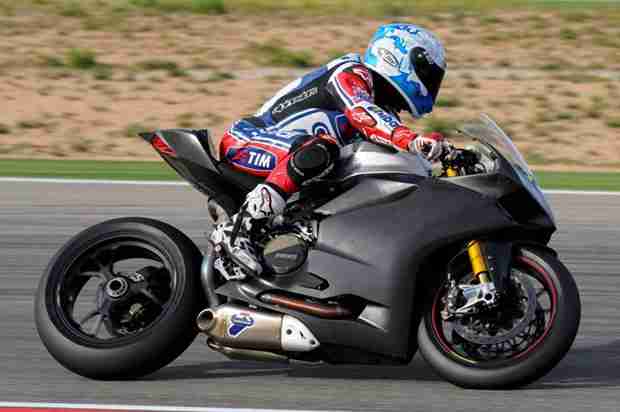 Dorna's changes to WSBK will kick in only in 2014, but Infront Motorsports have made sure that they are giving the sport every chance of survival. Over the past couple of months we have heard a lot speculations about the new WSBK rules and now we have official confirmation on what is true and what is not. The most controversial of it all is the removal of the twin cylinder weight penalty. This basically benefits only Ducati. Now there are a lot of different ways to look at this and with Ducati fielding the Panigale from next season any obvious advantage will be immediately visible. Check out below for a look at the changes and additions to the WSBK rules for 2013.
WSBK 2013 Rules
Superbike Minimum weight
1200 cc 2 cylinders: 165 kg
1000 cc 3 and 4 cylinders: 165 kg
For 1200cc 2 cylinders: The minimum weight may be increased twice by 3kg reaching a weight of 168kg and 171kg respectively. The upper limit is 171kg. If this measure proves to be insufficient, then the air restrictor handicap will be applied according to the relevant provisions described in Art 2.4.8.1.3."
After the number of dry/wet races that the championship had this season, the Commission has decided to introduce pit stops instead of red flagging races due to changing weather conditions.
Pit Stop rule
A Superbike race will not be interrupted for climatic reasons except for extraordinary events and riders who wish to change tyres or make adjustments must enter the pits (at any moment) and do so during the actual race.
Refueling is "strictly prohibited" and the pit stop procedure will be as follows: Riders who wish to change tyres or make adjustments in the pit lane must stop in front of their garage, turn off the engine and dismount their motorcycle. Only three mechanics, clearly identified with an official armband, are allowed to touch the motorcycle or work on it during the pit stop.
These three mechanics cannot receive any external help in the pit lane (i.e. passing the tools from the garage, etc.), but the rider can help them if he wishes to do so. A marshal will monitor the situation and report any infringement of this rule which will be penalized by the Race Direction with a ride through.
The use of power tools (maximum two at the same time, electric or pneumatic) is allowed.
Stands or lifts must operate manually and cannot be power assisted.The use of an auxiliary starter and/or of a booster battery is allowed to restart the motorcycle.
Other rules introduced for Superbikes include three-bike grid rows, use of a red rear safety light in wet conditions or low visibility, front-brake lever protections like in MotoGP, and fake front headlight stickers that Kawasaki has already been using since the Aragon race and that Honda debuted at Magny-Cours and naturally the 17-inch wheels that the teams have already been testing.