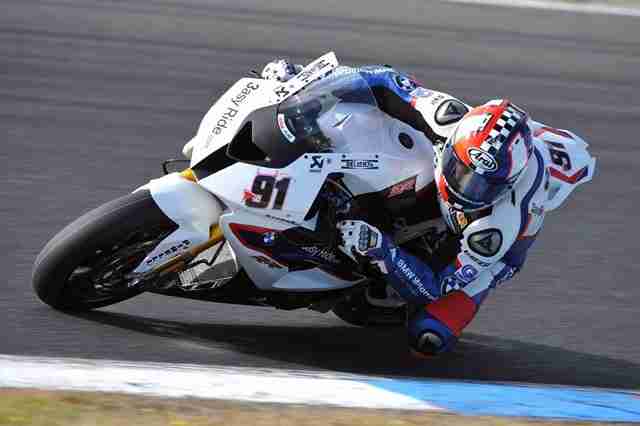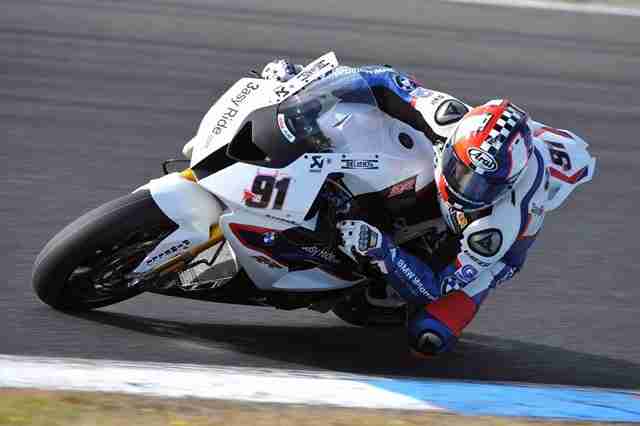 Up to six BMW S1000RRs was in action 'Down Under' as the 2012 Superbike World Championship (WSBK) got underway at the fast and flowing Phillip Island circuit in Australia this weekend (February 24-26). The Phillip Island WSBK round has taken place every year except 1993, making it the longest-running single event in the championship's history.
A comprehensive winter testing program has included two days of testing in late January at Valencia in Spain, as well as two further tests over five days at Phillip Island. The BMW Motorrad Motorsport pairing of Leon Haslam and newly signed Marco Melandri has been ready and raring to get the racing finally started after more than four months away from competitive action, but Leon unfortunately crashed during the first session of Monday's official test at the Australian circuit. A fractured right ankle and tibia were detected at the local hospital. He has since undergone surgery in Melbourne where a single screw was inserted to fix the tibia fragment in its original place. As a result, it is not yet sure whether he will compete in this weekend's races.
For teammate Marco Melandri, testing has gone well and although it is a new challenge on a new bike, it is one he is relishing, as he adapts to the RR Superbike.
"At the moment, we haven't yet started thinking about what we can expect at the race weekend, as we are concentrating on what we need to do to improve my feel for the bike. Generally speaking I like the Phillip Island circuit. I won there in 125cc, 250cc and MotoGP, and also claimed a podium finish there in the Superbike World Championship last year, so it has been a good track for me. I hope I will get the confidence that is lacking at the moment and take that next step forward."
All fans will of course be hoping that both Leon and Marco will compete, but four other RR riders are also planning to be in the thick of the action at the 2.75-mile (4.445-km) circuit for this traditional WSBK season opener.
BMW Motorrad Italia returns for its second consecutive season, having retained the services of top-10 finisher Ayrton Badovini, who will compete alongside new teammate Michel Fabrizio on the BMW Motorrad Italia GoldBet race bikes. Having won the FIM Superstock 1000 Cup on the RR in 2010, Badovini graduated to WSBK last year, impressing fans and fellow riders by regularly finishing in the top 10 and scoring a total of four top-six finishes — including a fourth place in his home race in Misano. Fellow Italian Michel Fabrizio will be making his debut on the RR, but with four wins and a further 29 podium finishes to his credit in his WSBK career to date, his talents will undoubtedly shine through in 2012.
And although former BMW Motorrad Motorsport rider Troy Corser is no longer competing in WSBK, having 'hung up his leathers' after three years with the factory squad, there will, however, be two Australian riders flying the flag on their RRs at their 'home' round in Phillip Island. Competing in the entire 2012 series will be 28-year-old Mark Aitchison, making his debut on the Team Grillini Progea BMW RR, while fellow Australian David Johnson has managed to secure a 'wildcard' entry to this event and will be riding the Rossair AEP Racing Team RR.
After all this testing, the time for waiting is finally over and fans can now look forward to seeing old rivalries renewed and plenty of fresh battles in the quest to become 2012 Superbike World Champion. For BMW Motorrad Motorsport Director Bernhard Gobmeier, it promises to be the most exciting season to date for the factory squad which is eager to show fans the results of the continued development of the 2012-spec RR in this highly-competitive series.
The target is to close the gap to the front runners and be involved in the fight for the world championship, and Gobmeier is hoping that 2012 will be the year when racing history is made with the formidable factory RR Superbike.
This is a view shared by Head of Race Operations, Andrea Dosoli, who said: "After the tests held in Valencia and Phillip Island, we're now looking forward to the race weekend. It will be the first time to see in the garage only one bike per rider. This rule forces our team to approach the race weekend in a different way compared to the past. On this track, with severe tire wear, variable weather conditions and a bumpy surface it will be important to be consistent. We'll work in this direction."
The action kicks off with a free and qualifying practice, followed by Superpole qualifying on Saturday with both 22-lap WSBK races taking place at 12:00 and 2:30 p.m. (local time, GMT + 11 hours) on Sunday. There is no FIM Superstock 1000 Cup race at Phillip Island but there will be RRs in action in the Australian Superbike support races, which take place before and after the first WSBK race.