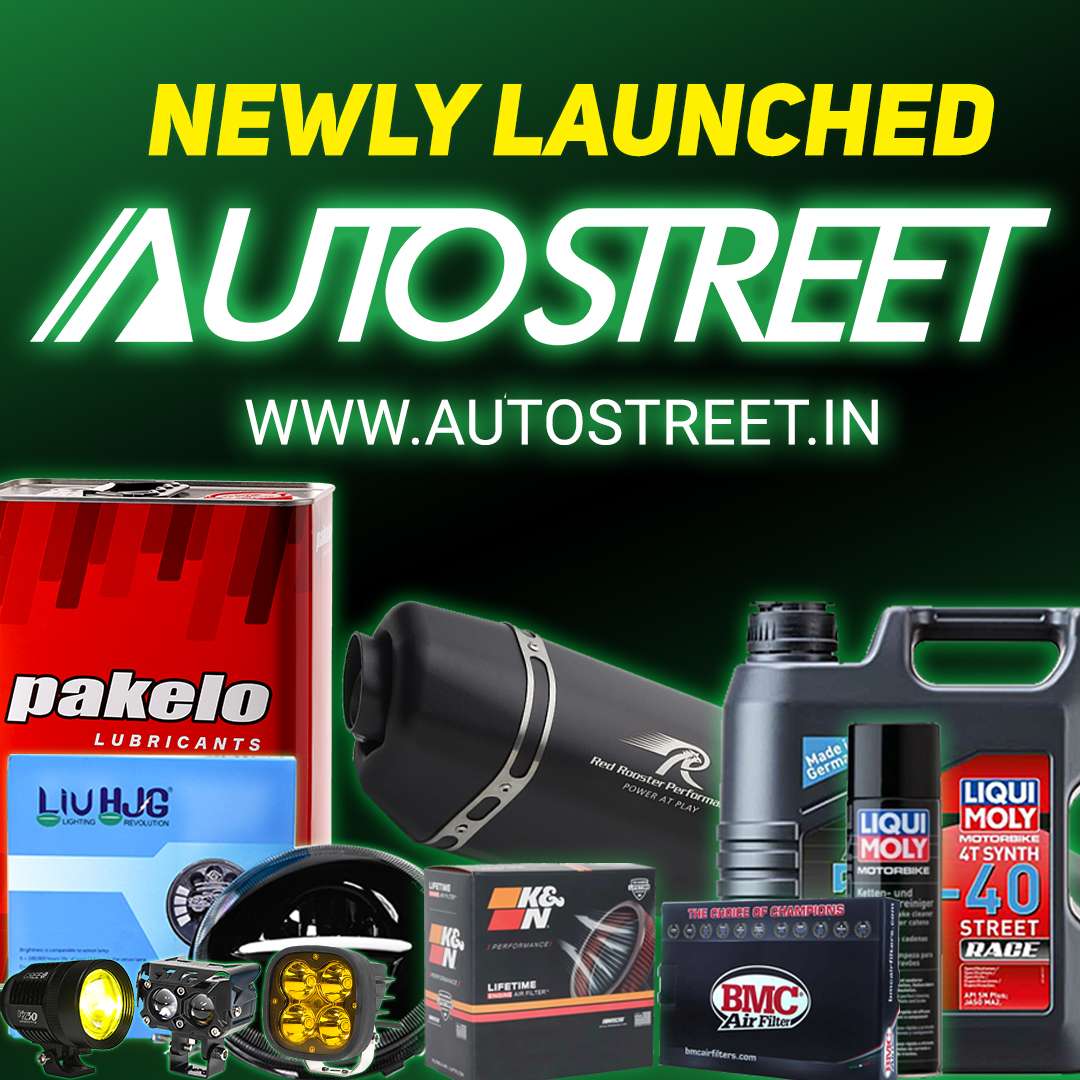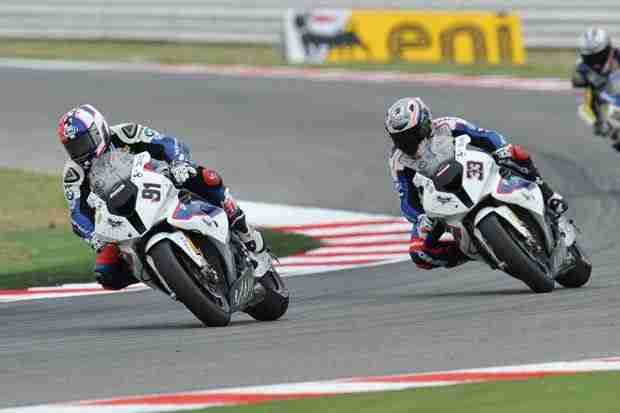 Team BMW Motorrad Motorsport added another podium position to its tally in the FIM Superbike World Championship. Leon Haslam's (GBR) third and Marco Melandri's (ITA) fourth in race two at Misano (ITA) gave a happy end to a race Sunday that started in a difficult way for the team. In race one, both factory riders were denied the top positions they were initially fighting for.
In the opening stages of this first heat both riders showed an incredible performance. Starting sixth and 13th respectively, Leon and Marco quickly fought their way to the front, both being in the top five after three laps. In the process, Marco set a lap time of 1:36.100 minutes which for a while was the new lap record. Halfway through the race Leon was second and his team mate fourth, less than half a second adrift of the lead. But like several competitors, they then both suffered massive issues with tyre wear. Fighting with blunt weapons, Leon and Marco slipped back one place after another. Marco had to retire after 22 laps, having dropped back to 18th. Leon managed to hang on to 12th up to the finishing line.
For race two both crews made another tyre choice — and they turned the page again. Leon was challenging for the top positions from the start. Marco meanwhile started his chase from a bit further down the field, being ninth after the first lap. From lap six on, Leon was involved in exciting battles for second place, first with Tom Sykes (GBR) and then for more than half of the race with Jonathan Rea (GBR). In the end he crossed the line in third, just a few tenths shy of second placed Rea. Marco fought his way through the field and was fourth after 14 laps. He defended that position for the remaining ten laps. With BMW Motorrad Italia GoldBet SBK Team's riders Ayrton Badovini and Michel Fabrizio (both ITA) finishing fifth and sixth, four BMW S 1000 RRs were classified in the top six. In race one, Ayrton was 11th and Michel 14th. Both races were won by Max Biaggi (ITA).
In the Riders' Championship, Marco is fourth with 155.5 points and Leon is sixth with 123 points. In the Manufacturers' Standings BMW lies in third with 197 points, 25.5 points adrift of leader Ducati. Team BMW Motorrad Motorsport will now head to the Spanish Motorland Aragón where it will conduct two days of testing on 19th and 20th June. The next races in the 2012 Superbike World Championship will then take place at the same venue on 1st July.
In the FIM Superstock 1000 Cup, Sylvain Barrier (FRA), Lorenzo Baroni (ITA) of the BMW Motorrad Italia GoldBet STK Team and Michele Magnoni (ITA) of G.M Racing secured a triple podium for the BMW S 1000 RR. Markus Reiterberger (GER) of Team Alpha Racing finished tenth on his RR.
Leon Haslam
Result Race 1: 12th / Gap to 1st: 00:22.082 min / Fastest Lap Race 1: 1:36.419 min
Result Race 2: 3rd/ Gap to 1st: 00:05.731 min / Fastest Lap Race 2: 1:37.100 min
"It was another weekend where we challenged for the podium. In race one we were unlucky with the tyre, so we could not do anything. We were fighting for a podium position but then had a tyre issue and dropped three to four seconds a lap. The tyre was unusable, so I was quite happy to get four points but also frustrated because after these strong first laps we did not get the podium in race one. But we did it in the second one.
Between the races the boys were working hard, as we changed the set-up and made a different tyre choice. This tyre was definitely a lot better. It was a good battle with Johnny. I thought I had the pace to overtake him, but it seems it took me too long to get passed Tom and the other guys, and Johnny was quicker than me in a couple of corners, which made overtaking very difficult. He did a perfect race and we had to settle for third which I don't like doing. But I am happy to be back on the podium and a big thanks to BMW. Now are heading to Aragón for two more days of testing. We will try to fine tune a few things and get some more mileage on the different tyres."
Marco Melandri
Result Race 1: DNF / Fastest Lap Race 1: 1:36.100 min
Result Race 2: 4th/ Gap to 1st: 00:07.004 min / Fastest Lap Race 2: 1:37.109 min
"In race 1 we used the smaller rear tyre, and the grip level was quite ok. Suddenly, after nine or ten laps, the grip level dropped down. It took only another couple of laps and the tyre was gone completely. It was impossible to continue riding, so I decided to come into the garage.
In race 2 we used the bigger rear tyre. I originally preferred this tyre, but we only had one set to use before the races. When we tested the bigger tyre in practice, we had more chattering than with the small one, but did not have the opportunity to fix this issue. As a result we focused on the small tyre for race 1. In race 2 the bike felt much more consistent and the grip level was much better, but unfortunately the chattering was still really bad, so overtaking was tough. On lap four I was behind Carlos. I tried to pass him in turn four where I felt strong in braking. We were side by side, so I expected him to see me. But when we started to flick into the corner he seemed not to realise that I was next to him, as he touched my leg with his shoulder and he lost the front. I am very sorry, Carlos is a great guy and a fair sportsman.
Here in Misano I raced with a special helmet design. We will organise an auction on Ebay in the next couple of days and donate the money to the people in Emilia Romagna who suffered from the earthquake. Just follow me on Twitter and you will find out more about the details."
Bernhard Gobmeier – BMW Motorrad Motorsport Director
"It was a difficult weekend for us. As early as in Superpole the weather played a trick on us. At the beginning of race one it was looking very good for us. Both riders showed a strong performance and we were in second and fourth. Marco even set a new lap record for a short time. But as the track temperatures were a bit cooler than yesterday, we chose the wrong tyre. From half distance on it wore away completely. For the second race we made another tyre choice. With it we had been successful in Australia where we jumped on the podium. Our expectations have been met with third and fourth places. With better starting positions, even more would have been possible.
The fact that four RRs finished inside the top six in race two makes me particularly happy. All four have been very close performance wise and we were able to prove that BMW as a manufacturer belongs at the very top. We send hearty congratulation to our endurance colleagues, the BMW Motorrad France Team Thevent, who won the world championship round at Doha this weekend. We are very happy that they have been able celebrate such a dominant victory. Congratulations also go to the BMW riders in the FIM Superstock 1000 Cup who celebrated a triple podium on their RRs today."