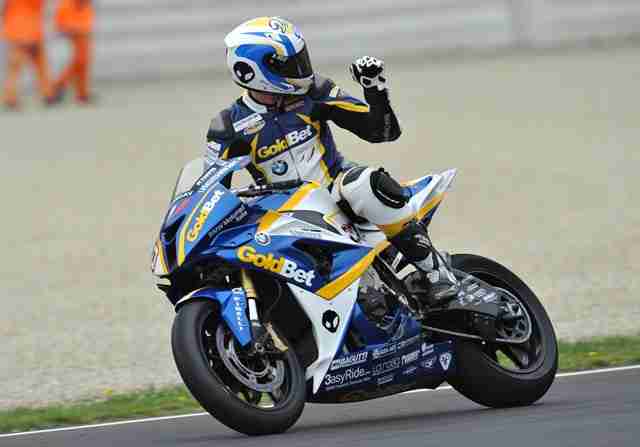 The BMW Motorrad Italia GoldBet Superbike Team has today concluded the Imola round, the second World Superbike event of the season and season opener for the Superstock 1000 class. The day started with the FIM Superstock 1000 Cup Race, in which the BMW Motorrad Italia GoldBet Superbike Team was protagonist thanks to victory for Sylvain Barrier. In the first part of the race, Lorenzo Baroni had shared the lead with La Marra, while Sylvain Barrier was running in 4th position when a crash caused the race to be red flagged on the 7th lap. The race was restarted with the grid positions determined by the positions at the end of lap six, with just a five lap sprint to the chequered flag.
At the restart, Lorenzo was forced to take a ride through penalty and he got back on track last in the classification. Sylvain, on the other hand, was 8th at the first turn but managed to quickly recover to first place, winning the first race of the season. The results of the Superbike races were not as gratifying. Ayrton Badovini finished both races in 15th position, while Michel Fabrizio retired in race 1 and race 2. During the weekend the team has faced numerous issues which didn't allow the two riders to meet their expectations.
The technicians are now analysing the rider's feedback on the bike behaviour which, combined with the data collected, will be used to form a plan for tomorrow's Imola test. The opportunity to be on the same track will be useful for making objective comparisons of the work that will be done.
Serafino Foti (BMW Motorrad Italia GoldBet Superbike Team Manager)
"It's been a very hard weekend and we're far from happy. Tonight we'll do a careful check of the data for tomorrow's tests. We have to start from scratch as clearly there's something going on, but now our goal is to work hard to get back on track. Of course we're happy with Sylvain's win and at the same time we're sorry for Lorenzo, whose ride-through deprived him of the chance to fight for the podium."
Michel Fabrizio #84 – Race 1: RET – Race 2: RET
"It's been a complicated week-end and without any reason to cheer because, due to a series of difficulties I couldn't lap much during practice and even less in the two races. We must look at tomorrow's tests as a new beginning."
Ayrton Badovini #86 – Race 1: 15th – Gara 2: 15th
"The two points I got today, in front of my friends and on my home track, don't give me any satisfaction. Unfortunately it's been a tough day and we have to work hard, starting from tomorrow."
Sylvain Barrier #20 (STK) – Race: 1st
"I lost some places at the start, as I found myself on the inside of the riders' pack. From then on I started to push to the max. The bike was responding well in both acceleration and braking, allowing me to recover and to get the chequered flag first. I want to thank all my team for the work done and for the support I received."