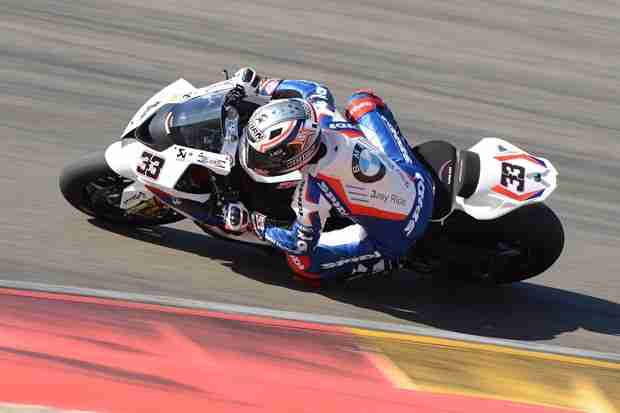 Team BMW Motorrad Motorsport is in action at another iconic racetrack this weekend. The ninth round of the 2012 FIM Superbike World Championship will take place at the "Automotodrom Brno" in Brno in the Czech Republic. Brno has been closely associated with the history of motorcycle racing for decades.
Eight race weekends into the season, factory rider Marco Melandri (ITA) is currently second in the Riders' Championship on 200.5 points, 48 behind leader Max Biaggi (ITA). Marco's team-mate Leon Haslam (GBR) is sixth on 142 points. The pair has already claimed three wins, eleven podiums and three fastest laps for BMW Motorrad Motorsport this season. Together, they have already scored 342.5 points for the team. In the Manufacturers' Championship, BMW is third with 242 points. Only the best result from each race counts towards this championship. Marco has good memories of Brno: he finished first and runner-up there last year and set the fastest lap in both races.
After the last round at Motorland Aragón (ESP), Team BMW Motorrad Motorsport remained at the circuit to take part in the official Infront test. The team tried out the new 17-inch tyres for next season. They also prepared for the coming races, working on the set-up of Marco's and Leon's BMW S 1000 RRs. The two factory riders then headed to Garmisch-Partenkirchen (GER), where they visited the BMW Motorrad Days.
Marco Melandri
"I really like Brno because it is a very fast and smooth circuit. The turns are not too fast, most of them are second gear corners and just a few times you turn in third gear. However, you can use all the power of the engine between the corners. The layout is really good fun because it is up and down and the track is very wide. Last year I was successful there and I am confident for this race weekend. I think that our RR will work quite well on this track. I am excited about going there. The weather could be a little bit unstable, so we will see.
The BMW Motorrad Days at Garmisch-Partenkirchen were very good fun. I have never been there before and was overwhelmed — it was such a huge event. There were so many different kinds of people who all shared the same passion for motorcycles. It was very nice to be there and I was very proud to see so many BMW fans."
Leon Haslam
"I am really looking forward to Brno. I love racing there. The circuit has a lot of history. It is fast, flowing and wide and the layout is quite unique with its up and down sections. The characteristics of the circuit should suit our RR. Last year we had a tough weekend there, so I am looking forward to getting a better result there this year. I am still missing a podium there, so that is definitely the target for this weekend.
The weekend at the BMW Motorrad Days was great. There were many exciting attractions and it was amazing to see so many motorcycle enthusiasts. It was good to meet them without the pressure of a race weekend and to give them a few insights into racing and the Superbike World Championship."