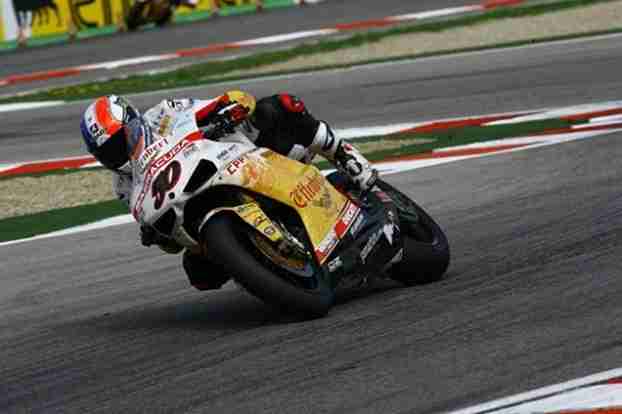 The usual unpredictable weather at Assen threw a wrench in this afternoon's World Superbike QP1. Rain hit the Dutch track just a few minutes before the start of the session, the riders headed out for a few fast laps before the track was completely wet and then back to the safety of their garages, with only a few riders deciding to ride laps in the wet, the session was almost a complete washout, but it could turn out to be important in view of tomorrow's Superpole when more rain is expected.
Effenbert Liberty's Sylvain Guintoli, infact posted the best time of 1'37.600 almost immediately which gave him the provisional pole and he was just 0.018s slower than Marco Melandri's lap in the opening session. Wet weather specialist Tom Sykes was second and a mere 0.030s from the French rider and they were the only two riders to break the 1.38 barrier.
Leon Camier jumped to third, but was more than eight tenths of second from the top, followed by reigning World Champion Carlos Checa, Jonathan Rea and BMW Motorrad Italia GoldBet riders Michel Fabrizio and Ayrton Badovini, who were sixth and seventh respectively.
Marco Melandri who lead the morning's timesheets finished this session in eighth and the rider who completed the most laps (11). Maxime Berger took the ninth spot while recovering Chaz Davies was the fastest Aprilia rider of the qualifying practice as he finished ahead of Eugene Laverty. Max Biaggi had another tough session. This morning he was 17th and this afternoon he again finished 17th. This position which could rule him out of Superpole if he doesn't find a solution to his problems in time for tomorrow's QP2.
There were also two crashers in the session, Leon Haslam his BMW 1000RR at the Osserbroeken, while Mark Aitchison sustained his second crash of the day at the end of the session.
WSBK Assen QP1 results:
1. Sylvain Guintoli (Team Effenbert Liberty Racing) Ducati 1098R 1'37.600
2. Tom Sykes (Kawasaki Racing Team) Kawasaki ZX-10R 1'37.630
3. Leon Camier (Crescent Fixi Suzuki) Suzuki GSX-R1000 1'38.468
4. Carlos Checa (Althea Racing) Ducati 1098R 1'38.665
5. Jonathan Rea (Honda World Superbike Team) Honda CBR1000RR 1'38.873
6. Michel Fabrizio (BMW Motorrad Italia GoldBet) BMW S1000 RR 1'39.062
7. Ayrton Badovini (BMW Motorrad Italia GoldBet) BMW S1000 RR 1'39.125
8. Marco Melandri (BMW Motorrad Motorsport) BMW S1000 RR 1'39.127
9. Maxime Berger (Team Effenbert Liberty Racing) Ducati 1098R 1'39.286
10. Chaz Davies (ParkinGO MTC Racing) Aprilia RSV4 Factory 1'39.362
11. Eugene Laverty (Aprilia Racing Team) Aprilia RSV4 Factory 1'39.485
12. Jakub Smrz (Liberty Racing Team Effenbert) Ducati 1098R 1'39.605
13. John Hopkins (Crescent Fixi Suzuki) Suzuki GSX-R1000 1'39.625
14. Leon Haslam (BMW Motorrad Motorsport) BMW S1000 RR 1'39.770
15. Brett McCormick (Liberty Racing Team Effenbert) Ducati 1098R 1'39.915
16. David Salom (Team Pedercini) Kawasaki ZX-10R 1'40.124
17. Max Biaggi (Aprilia Racing Team) Aprilia RSV4 Factory 1'40.231
18. Niccolò Canepa (Red Devils Roma) Ducati 1098R 1'40.859
19. Davide Giugliano (Althea Racing) Ducati 1098R 1'41.161
20. Leandro Mercado (Team Pedercini) Kawasaki ZX-10R 1'41.693
21. Hiroshi Aoyama (Honda World Superbike Team) Honda CBR1000RR 1'41.768
22. Mark Aitchison (Grillini Progea Superbike Team) BMW S1000 RR 1'43.144
23. Lorenzo Zanetti (PATA Racing Team) Ducati 1098R 1'50.808
WSBK Assen FP1 results:
01- Marco Melandri — BMW Motorrad Motorsport — BMW S1000RR — 1'37.582
02- Carlos Checa — Althea Racing — Ducati 1198 — + 0.129
03- Tom Sykes — Kawasaki Racing Team — Kawasaki ZX-10R — + 0.199
04- Michel Fabrizio — BMW Motorrad Italia GoldBet — BMW S1000RR — + 0.309
05- Jonathan Rea — Honda World Superbike Team — Honda CBR 1000RR — + 0.586
06- Leon Haslam — BMW Motorrad Motorsport — BMW S1000RR — + 0.606
07- Ayrton Badovini — BMW Motorrad Italia GoldBet — BMW S1000RR — + 0.610
08- Eugene Laverty — Aprilia Racing Team — Aprilia RSV4 Factory — + 0.716
09- Niccolò Canepa — Red Devils Roma — Ducati 1198 — + 0.720
10- Maxime Berger — Team Effenbert Liberty Racing — Ducati 1198 — + 0.900
11- Davide Giugliano — Althea Racing — Ducati 1198 — + 0.921
12- Leon Camier — Crescent FIXI Suzuki — Suzuki GSX-R 1000 — + 0.961
13- John Hopkins — Crescent FIXI Suzuki — Suzuki GSX-R 1000 — + 1.051
14- Jakub Smrz — Team Effenbert Liberty Racing — Ducati 1198 — + 1.065
15- Sylvain Guintoli — Team Effenbert Liberty Racing — Ducati 1198 — + 1.104
16- Lorenzo Zanetti — PATA Racing Team — Ducati 1198 — + 1.199
17- Max Biaggi — Aprilia Racing Team — Aprilia RSV4 Factory — + 1.346
18- Hiroshi Aoyama — Honda World Superbike Team — Honda CBR 1000RR — + 1.717
19- David Salom — Team Pedercini — Kawasaki ZX-10R — + 1.806
20- Mark Aitchison — Grillini Progea Superbike Team — BMW S1000RR — + 2.384
21- Chaz Davies — ParkinGO MTC Racing Aprilia RSV4 Factory — + 2.471
22- Leandro Mercado — Team Pedercini — Kawasaki ZX-10R — + 2.709
23- Brett McCormick — Team Effenbert Liberty Racing — Ducati 1198 — + 3.061