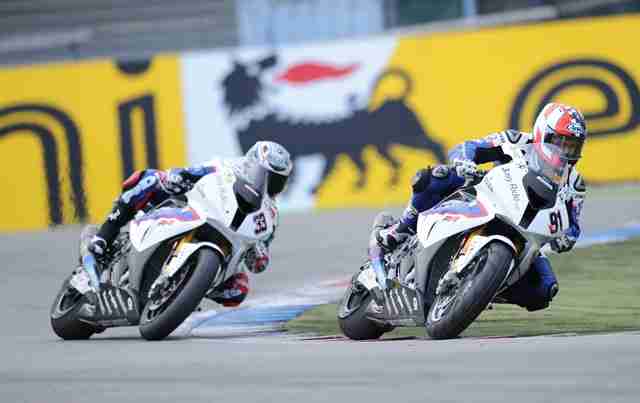 It was a thrilling race Sunday at Assen (NED) and Team BMW Motorrad Motorsport had its first victory in the Superbike World Championship within reach, but didn't quite have its fair share of fortune. After experiencing highs and lows in the rain-hit first race, factory riders Marco Melandri (ITA) and Leon Haslam (GBR) both fought for the race two podium right to the finish line. Overall, Team BMW Motorrad Motorsport proved one fact today: its ability to win races on its own merit with both riders, no matter what the conditions.
Race one turned out to be an emotional rollercoaster ride for the team. Starting seventh and ninth, both Leon and Marco quickly fought their way up to the very top. In still dry conditions, they started a thrilling battle to win the first race for BMW Motorrad in the Superbike World Championship. Then Lady Luck began to leave the team. While Marco was leading, it started to rain heavily and after the Italian, and several other riders, crashed the race was red flagged. It was restarted under wet conditions with nine laps to go and with Marco on pole position. Leon started fourth and soon took the lead, opening a big gap of several seconds to the rest of the field. However the team's well-grounded hopes of celebrating the first victory shattered on the third lap, when Leon crashed in the tricky conditions. As the race went on, it saw a third BMW rider in the lead, Ayrton Badovini (ITA) from the BMW Motorrad Italia GoldBet SBK Team. Unfortunately, Ayrton also suffered a heavy crash. Marco meanwhile found absolutely no grip in the wet, neither on the straights nor in the corners, and finished the race in ninth position.
Race two was declared a wet race, but the rain had stopped before the start and the track was drying so tyre choice was a gamble. Leon's crew decided to use an intermediate front and a slick rear tyre while Marco's crew counted on slicks for both the front and the rear. Leon catapulted himself from seventh to second in the first corners and held this position halfway through the race but with his intermediate front tyre losing grip, he then slipped back to fifth. Marco meanwhile lost a few positions in the opening lap, but then started to catch up. In the final stages of the race, he had closed the gap to Leon. It was the start of another exciting battle, with both Leon and Marco fighting with Eugene Laverty (GBR) for third place on the podium. The three of them crossed the finish line wheel-to-wheel, but the two BMW riders missed the podium by the small margin of one tenth. Marco was classified fourth with Leon fifth.
After his crash in race one, Ayrton finished seventh in the second race. His BMW Motorrad Italia GoldBet SBK Team mate Michel Fabrizio (ITA) was sixth and tenth. The races were won by Sylvain Guintoli (FRA) and Jonathan Rea (GBR). In the riders' championship, Marco lies in fifth with 66 points, equal with fourth placed Sylvain Guintoli. Leon is seventh with 58 points. In the manufacturers' standings BMW improved to third with 86 points.
In the second race of the 2012 FIM Superstock 1000 Cup, Sylvain Barrier (FRA) of the BMW Motorrad Italia GoldBet Team celebrated his second victory of the season. Markus Reiterberger (GER) of Team Alpha Racing finished fifth on his BMW S 1000 RR in front of Barrier's team-mate Lorenzo Baroni (ITA).
Marco Melandri
Result Race 1: 9th / Gap to 1st: 00:49.896 min / Fastest Lap Race 1: 1:37.601 min
Result Race 2: 4th / Gap to 1st: 00:12.762 min / Fastest Lap Race 2: 1:38.941 min
"It has been a very tough weekend. Today, the most important thing was to bring home points. Race one was pretty good for us when it was dry. I had a very good start and I was following Tom Sykes. I was waiting for the best moment to pass him, when he had an engine failure. There was a bit of confusion and after that, Leon was leading, but I passed him. I saw that some drops of rain had come down. My dream was that they would completely stop the race, so I tried to stay at the front. Suddenly there was a turn where it was wet, I did not see the water and went down. Unfortunately our race was compromised by the wet conditions after the re-start. I did not have any grip, so it was difficult to be confident.
For race two we had a good set-up and a good choice of tyres, but unfortunately we got some chatter again. From the first lap on it was very difficult to control the bike so I could not push properly. The last lap was exciting. I tried to pass Eugene and suddenly both Eugene and Leon were in front of me, but I passed them back. It was great fun and Leon, Eugene and me showed respect for each other which was very important. I am disappointed because I missed the podium only by a little bit but we are working hard and we are in a good shape.."
Leon Haslam
Result Race 1: DNF / Gap to 1st: seven laps / Fastest Lap Race 1: 1:37.353 min
Result Race 2: 5th/ Gap to 1st: 00:12.764 min / Fastest Lap Race 2: 1:39.308 min
"Race one was dry at the start. I made a small mistake when I was battling with Carlos Checa mid-race and dropped back to sixth, but I came back in the lead. I had a bit of a tyre issue in that race but it was red flagged anyway due to the rain so for me the red flag was not a bad thing, even though my pace was good enough to get to regain the lead from the back. At the re-start it was raining. I passed Johnny Rea quite easily. It was feeling pretty smooth and easy — and then I had a big crash. I did not realize that I was pushing so much. In hindsight I could have maybe slowed off, but even so I did not feel that I was pushing too hard. After race one I was very disappointed because I could have lost a second per lap and still won the race. The positive thing is that we feel pretty confident in the rain.
In race two, we opted for an intermediate front and a slick rear tyre. Three minutes before the start I knew that we needed a slick front, but they wouldn't let us change the tyre because we were running out of time. After two or three laps, the front tyre was just pushing and bouncing and I didn't have any corner speed. I was surprised that riders didn't pass me sooner. Somehow I managed to hold Eugene and Marco's pace, even with the intermediate tyre. I thought I got Marco over the line; it was really, really close. In hindsight I'm happy because we nearly got on the podium with an intermediate front tyre."
Bernhard Gobmeier (BMW Motorrad Motorsport Director)
"Looking back at the race day we can be happy. Of course we were disappointed about the result of the first race. The spectators saw three different BMW riders leading the race but none of them winning it. On the other hand both Leon and Marco showed today that we are in a position to win races on our own merit — no matter what weather conditions. Lady Luck was not on our side today, but I am confident that we will get our desired result soon. In the second race we were a bit unlucky with the tyre choice on Leon's side, but weather predictions were nearly impossible today. Both riders showed great racing to the chequered flag. We will not stop working hard. A big thank you to everybody at the race track and in the workshop. The team did a great job."