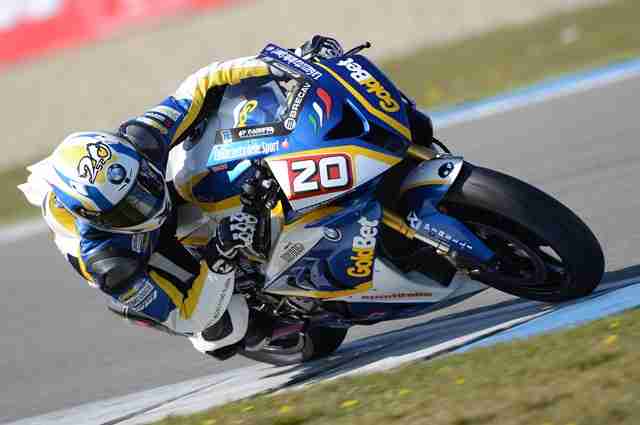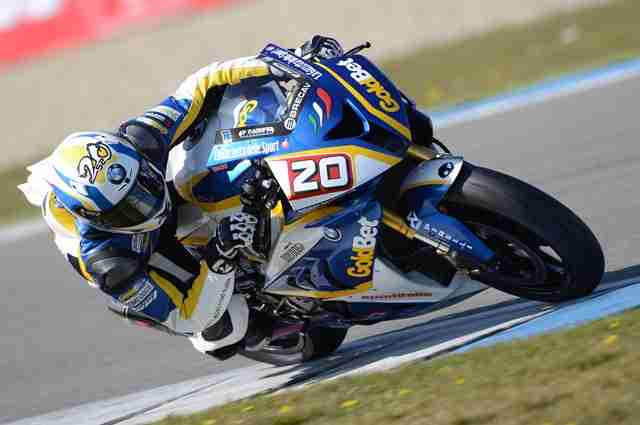 The BMW Motorrad Italia GoldBet Superbike Team has completed its first day of practice and qualifying for World Superbike round 3 at Assen. Michel Fabrizio and Ayrton Badovini took fourth and seventh positions respectively at the end of Free Practice 1, while in the afternoon qualifying they finished sixth and seventh. Both riders had a lot of track time in the 45 minutes of free practice, despite the cold track temperatures, thanks to fairly good weather conditions. Michel put in a total of 16 laps with a best time of 1'37.891 while Ayrton completed 17 laps and set a best lap of 1'38.192.
The arrival of the rain five minutes after the start of the qualifying session limited the amount the track-time available, and both riders only managed to complete three laps. Michel, thanks to his best lap of 1'39.062 ended the session sixth, while Ayrton finished 7th and set a personal best time of 1'39.125.
In the FIM Superstock 1000 Cup Sylvain Barrier and Lorenzo Baroni took first and a third position after the chequered flag of qualifying 1. The French rider had also topped the timesheet during the morning free practice, followed in the classification by his team-mate in second.
Serafino Foti  (BMW Motorrad Italia GoldBet Superbike Team Manager)
"It's been a fairly positive day. During the morning session we were able to do our job the way we wanted but unfortunately the afternoon rain spoilt our plans a bit. We're happy with the feedback we got even though we know there's still a lot to do on Sunday. We're also happy with the first and third positions for our Superstock 1000 riders Sylvain Barrier and Lorenzo Baroni."
Michel Fabrizio #84
FP1 4th – QP1 – 6th: "I'm quite happy. I feel comfortable with the bike and during the morning we had a lot of track-time, as well as collecting some good data. It's a bit of a shame about the afternoon rain; I will keep my fingers crossed for tomorrow!"
Ayrton Badovini #86
FP1 7th – QP1 – 7th: "It was important not to make any mistakes today – as we knew it was going to rain – so we had to get the best out of the few laps on the dry track during qualifying. I was comfortable with the bike and I enjoyed riding it."