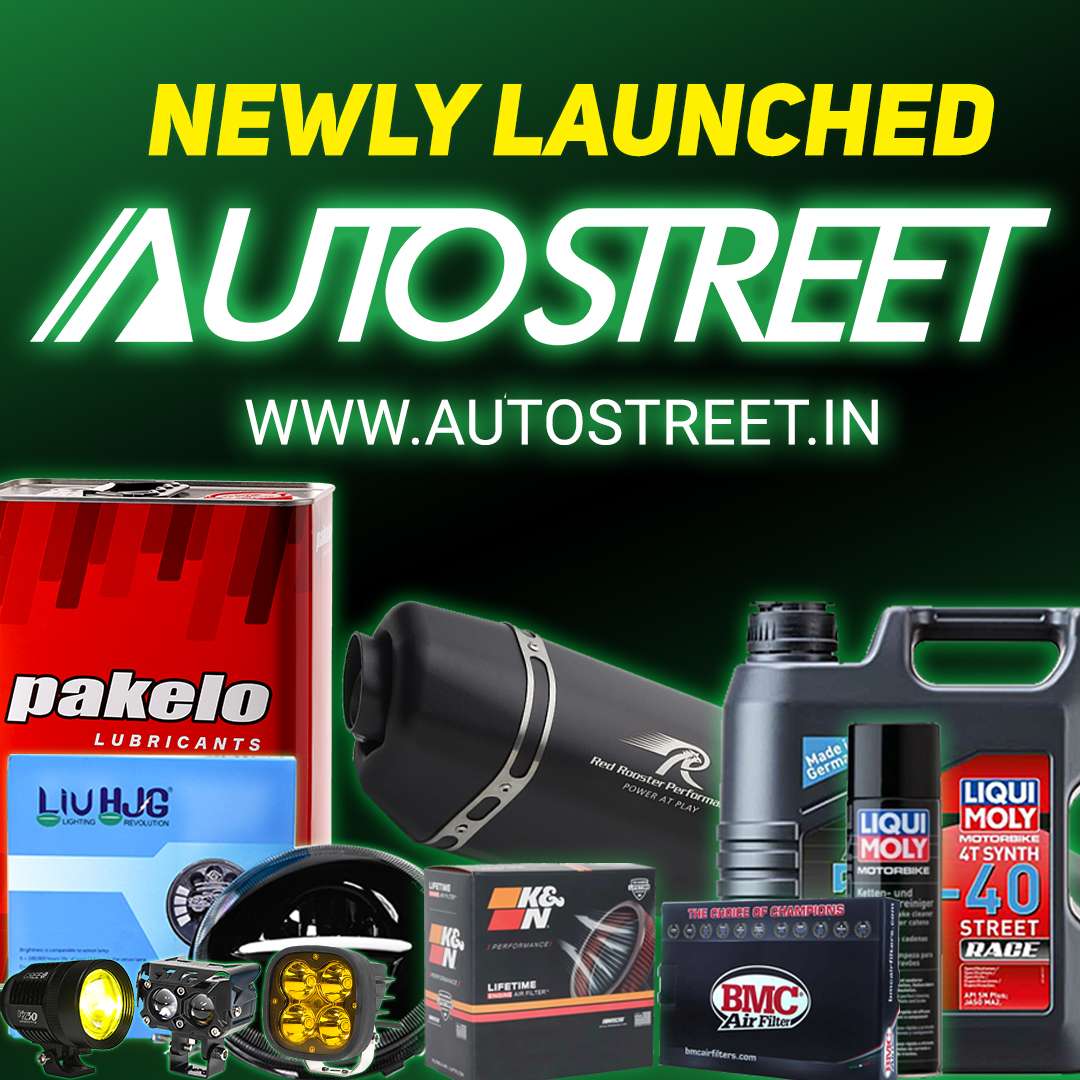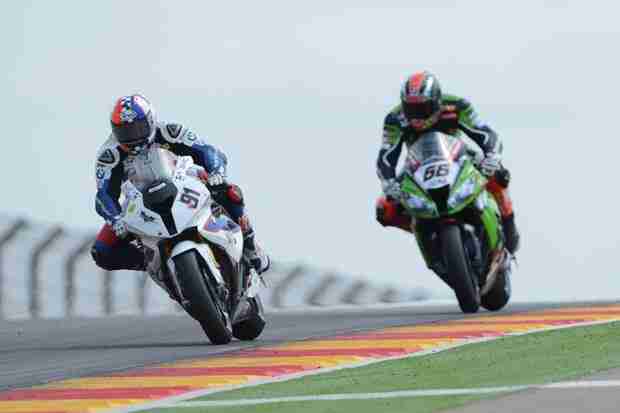 It was an exciting and very successful Sunday for Team BMW Motorrad Motorsport at Motorland Aragón (ESP). The squad not only celebrated another victory in the FIM Superbike World Championship, but also a second place on the podium and two more fastest race laps. Factory rider Marco Melandri (ITA) won race two after being second in race one, setting the fastest laps in both races on his BMW S 1000 RR. In much cooler conditions than on the previous days, Leon Haslam (GBR) had bad luck with a wrong tyre choice for race one but fought strong battles in race two. He finished seventh and sixth respectively. With these results, the two riders collected 64 points in total for the squad — another team record for BMW Motorrad Motorsport.
In the early stages of race one, Marco caught up with the leaders after starting fifth. On lap four, he had improved to second place, one and a half second behind race leader Max Biaggi (ITA). Marco gradually closed the gap, setting the fastest race time on lap six. Less than halfway through the race he was already directly behind Biaggi and the two of them started a nail-biting battle for victory, breaking away from the rest of the field. Marco took the lead on lap 12, but was passed by Biaggi again one lap later. On lap 15 Marco again got to the front, but on the penultimate lap Biaggi was able to bounce back. He crossed the finish line as winner, 0.278 seconds ahead of Marco. Leon, who started fourth, slipped back to eighth through the first corners and as he was struggling with grip he could not catch up again and crossed the line in seventh.
The second race was even more exciting. From start to finish, three or four riders were fighting at the very top, Marco being one of them. The lead changed between Biaggi, his team-mate Eugene Laverty (GBR) and Marco. For the closing stages of the race, Chaz Davies (GBR) joined the trio in the fight for the win. In the 16th of 20 laps, Marco slipped back from P1 to third, but during the intense battle he worked his way back and took the lead again in the final lap, defended attacks from Laverty and Davies and crossed the finish line scoring his third victory of the season. Leon had a good start and was fighting at the front at the beginning, being third after the first lap but he then ran off the circuit briefly and fell back to fourth. From then on he was involved in a strong battle with Jonathan Rea, Tom Sykes (both GBR) and Carlos Checa (ESP), finishing the race in sixth.
In the Riders' Championship, Marco has improved to second with 200.5 points, 48 shy of leader Biaggi. Leon is sixth with 142 points. In the Manufacturers' Standings BMW lies in third with 242 points, 24 points adrift of leader Aprilia. Team BMW Motorrad Motorsport stays at Motorland Aragón and will take part in tomorrow's official Infront testing at the venue.
BMW Motorrad Italia GoldBet SBK Team's rider Michel Fabrizio (ITA) was sixth and 11th in today's races. His team-mate Ayrton Badovini (ITA) retired in race one and was ninth in race two. In the FIM Superstock 1000 Cup, Lorenzo Baroni (ITA) from the BMW Motorrad Italia GoldBet STK Team finished third on the podium. Markus Reiterberger (GER) of Team Alpha Racing crossed the line in fifth on his RR.
Marco Melandri
Result Race 1: 2nd/ Gap to 1st: 00:00.278 min / Fastest Lap Race 1: 1:58.251 min
Result Race 2: 1st/ Fastest Lap Race 2: 1:58.950 min
"It is just amazing. To win here is beautiful. I just want to say thanks to my guys, because we made another small step with the bike. In race one we had a good battle and I just missed a little bit of speed in the end to try to beat Max. In the beginning I first had to overtake Eugene Laverty and Tom Sykes. Then I had to push hard to catch up with Max who was leading. Once I was there, I tried to overtake him, but it was not easy as I struggled with my rear tyre. When I was in front, I would have preferred to make it difficult for him to pass me back, but he overtook me quite easily. He was faster than me and on the last lap it was hard for me to follow him. It is always nice to be on the podium, but I have to admit that I was a bit disappointed after race one.
So in race two I put all my effort to get the win. It was not easy because the wind was very strong and the Aprilia guys were pushing hard. In the beginning, Max could not go as fast as in race one and for me it was similar. Eugene was very fast and suddenly with only a few laps to go, Max overtook me. I passed him back but went wide and so Chaz and Eugene went past me. They were riding so strongly and so fast that it was not easy. For the last lap I had no plan, because when racing against those guys you cannot think about a plan because they try to pass you at every corner so I just tried to find a good place for braking at the end of the straight. To win was so amazing. Now we will try some more things in the test tomorrow and keep working in this direction for the next races."
Leon Haslam
Result Race 1: 7th / Gap to 1st: 00:29.032 min / Fastest Lap Race 1: 1:59.933 min
Result Race 2: 6th/ Gap to 1st: 00:07.491 min / Fastest Lap Race 2: 1:59.343 min
"In race one we went for the wrong tyre. In the warm up in the morning the race tyre we had chosen only lasted seven laps so we made a last minute gamble to choose the hardest tyre which we had not really run over the weekend. We knew that the pace would not be so good in the beginning but hoped that it will be good at the end. My lap times stayed the same but I just had zero grip. It was the wrong choice. We missed out there because I felt we could have definitely challenged Carlos Checa for a podium in race one.
In race two I had a better start and felt pretty good but then ran off the circuit and lost a lot of time. I pushed again and got back up to battle with Carlos and Tom Sykes and a few other guys but ran off the circuit again. Every time I went a little bit deeper on the brakes I really struggled. I was pretty happy to finish ahead of Sykes and Checa but I felt that we had a good enough pace, especially at the end of the race, to be in the leading group; there were just too many mistakes."
Bernhard Gobmeier – BMW Motorrad Motorsport Director
"It was a great start to the second half of the season for us. Again we proved that we are very competitive. It was also important to see that we were fighting at the very top in both races. In race one, we unfortunately chose the wrong tyres for Leon due to the changing temperatures but overall we are very happy. Marco did an outstanding job, as did Leon in race two. In addition to that we had the fastest lap in both races. I am particularly delighted that we can welcome the new General Director of BMW Motorrad, Stephan Schaller, with these results. A big thank you to both riders and crews; the whole team did a great job."