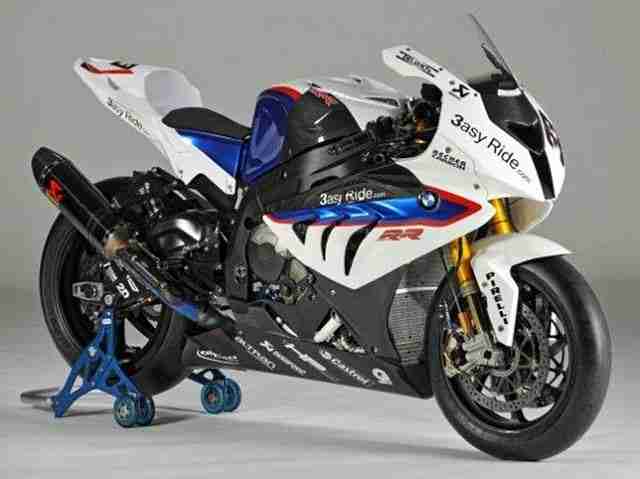 World Superbike team, BMW Motorrad Motorsports has released their first official studio images of this season's 2012 S1000RR team livery. As you can tell they haven't changed and kept the usual and classical BMW blue, white and red colours they debuted with back in 2009. After scoring 17 top ten finishes on debut in 2009, two podiums and 16 top ten positions in 2010, and amassing three podiums and an impressive 25 top tens last year, the 2012 season can't begin soon enough for BMW Motorrad Motorsport.
Hendrik von Kuenheim, Head of BMW Motorrad, is clear about the targets for 2012: "Our aim is to close the gap to the top teams and fight for the world championship."
With this in mind, the BMW Motorrad Motorsport and BMW Motorrad Italia teams are ready and raring to go, with the new, improved 2012 S 1000 RR. The works RR has many improvements over its predecessor, including modifications to the main frame geometry and the fairing. For example, the rear fairing is shorter and adapted to the aerodynamics and design of the 2012 series production RR. The front fairing is steeper than the 2011 version for improved aerodynamics and rider ergonomics. A new radiator, adapted to the changes in geometry and bodywork, offers improved thermo-dynamics.
The new works RR's engine spec offers increased torque and improved rideability, and the team is currently working on settings and solutions for optimal rider ergonomics and weight distribution. A revised team structure sees Andrea Dosoli succeed Rainer Bäumel as Head of Race Operations for BMW Motorrad Motorsport. He is responsible for the coordination of the team including tests, team structure and race strategy. Head of Development Stephan Fischer continues his responsibilities for the technical development of the works RR and for the close cooperation and synergy with the RR serial production team.
And last, but definitely not least, a strengthened rider line-up will give BMW fans much to look forward to. Competing alongside 2010 series runner-up Leon Haslam will be 2011 vice-champion Marco Melandri, who joins the works team for its fourth successive year in World Superbikes. The track record of both riders speaks volumes: Leon Haslam can boast 23 podiums, one pole position and three race wins from 112 WSBK races to date, while on his debut WSBK year, Marco Melandri collected 15 podiums — including four race victories — from just 26 races.