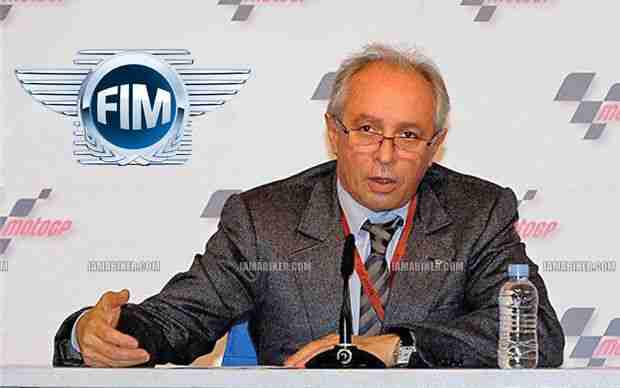 There has been a lot of talk about the proposed rule changes for MotoGP 2013 season. Some of these proposed rules could effect the race in a big way by increasing the level of competitiveness between all teams especially the CRT's. One in particular was the cost cutting changes(control ECU, rev limit etc) that could have bridged the gap between the prototypes and the CRT's. Sadly all the rule makers at FIM could churn up was some duds that again confirm a certain manufacturers strong hold over the race.
As expected FIM has caved into the pressure from Repsol Honda and abolished the rookie rule giving Moto2 rider Marc Marquez the green signal to head on to the factory Honda team. Another interesting tweak is that the freezing of the bore and stroke dimensions of the machines until 2014 (which supposedly could halt development for Ducati if they should want to change their engine layout). Below is an official press release from FIM.
MotoGP 2013 rules changes and additions
-Effective immediately:
The same penalty that exists in the MotoGP class for exceeding the permitted number of engines used, will also apply in the Moto3 class. A rider, who has exceeded his maximum, will start the race 10 seconds after the green light is turned on at the pit lane exit.
-Effective 01 January 2013:
"Rookie" riders will be permitted to ride for a factory team.
In the MotoGP class, manufacturers are restricted to two direct entries per manufacturer and may provide material for a maximum of two entries per manufacturer operated by Independent teams. This results in two factory and two satellite machines.
Technical Regulations
-Effective Immediately:
Machines entered in the MotoGP class are restricted to using unchanged bore and stroke dimensions throughout 2012-2014. Current dimensions must be notified to the Technical Director.
Minor changes to the regulations concerning Moto3 parts supply were approved. The effect is to ensure that upgrades are available to all entries at the same time.
-Effective 01 January 2013:
In the MotoGP class machines may use a maximum of 24 possible gear ratios and four possible ratios for the primary gear.
Other Proposals
A proposal to restrict riders in the MotoGP class to the use of one machine was rejected.
A proposal to ban the use of non-ferrous materials for MotoGP class brake discs was rejected, hence carbon brakes will still be allowed.
A proposal to mandate the use of wheels with a standard specification for strength and durability, applicable to all classes, was postponed pending further discussions between factories and wheel suppliers.