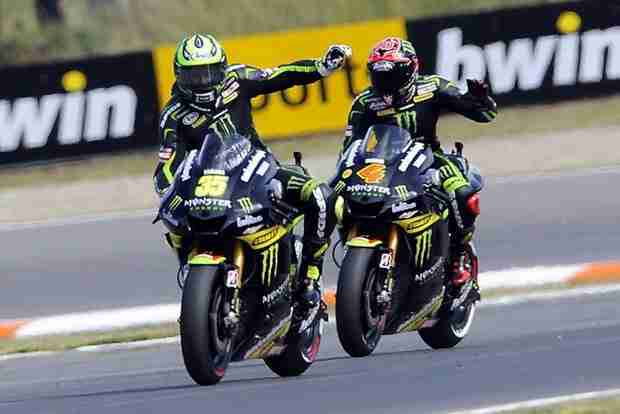 Cal Crutchlow celebrated his new contract with the Monster Yamaha Tech 3 Team by storming to a career best MotoGP qualifying result at the Brno circuit this afternoon. The 26-year-old agreed a one-year extension to his contract this morning and he instantly repaid the faith shown in him by Tech 3, Yamaha and Monster to finish second quickest behind World Championship leader Jorge Lorenzo.
Crutchlow was able to set a fast and consistent pace right from the start of a session that took place in much cooler conditions compared to the hot and humid weather of yesterday's practice. The British rider had already moved into second place with a lap of 1.56.413 when he made a small mistake and crashed his YZR-M1 machine while trying to cut Lorenzo's advantage of 0.269s. The spill didn't knock Crutchlow out of his impressively fast rhythm and he quickly adjusted to a different set-up on his spare YZR-M1 machine to improve his pace by almost 0.5s. His best lap of 1.55.995 was only 0.196s behind Lorenzo and he finished 0.332s ahead of Dani Pedrosa to claim his first front row start since the Catalunya round in early June.
Today's result continued the Monster Yamaha Tech 3 Team's outstandin g qualifying record in 2012, with either Crutchlow or starting from the front row in half of the races in 2012.
Dovizioso's challenge for a sixth podium in eight races will commence from fifth position on the grid. Dovizioso too was in contention for a front row start throughout the session and he finished with a best time of 1.56.559. That was less than 0.3s away from securing a third front row start of the season for the Italian, who is currently fourth in the World Championship standings ahead of tomorrow's 22-lap race.
Cal Crutchlow – 2nd 1.55.995 — 19 laps
"I am really happy to have scored my best ever qualifying result in MotoGP and the timing couldn't be better after I signed a new contract with the Monster Yamaha Tech 3 earlier today. This was the perfect way to immediately repay the faith shown in me by Tech 3, Yamaha and Monster. Once again today we demonstrated what a competitive package we have and that is one of the big reasons why I committed my future to the Monster Yamaha Tech 3 Team. Yesterday in practice we did a good job to be in contention for the top three and I was confident that we could be very fast and competitive this afternoon. Unfortunately I made a silly mistake about halfway through the session and crashed. I think I hit the only bump on the whole track but it meant I had to finish the session on my spare bike. The crashed bike had my preferred set-up but I quickly adapted and went back out and improved my times by a good margin. I am second on the grid and close to Jorge so I am lo oking forward to the race tomorrow. It is going to be tough but I am confident we can have a strong result and be fighting for a top five."
Andrea Dovizioso – 5th 1.56.559 — 22 laps
"The times we made are really good and I'm really happy with my pace for the race. The difficult point is the same as yesterday, even though the conditions are a lot different. I am close to the limit on the front, especially over the race distance, but I think it will be tricky for everybody. I'd like to improve in this area for the race but I also made a little mistake in calculating when to use the soft tyres. I went out quite early with my last soft tyre so I didn't have the chance to improve my time right at the end like I normally always do. I had hoped to be closer to Lorenzo but I thi nk we can still be in the fight for the podium again tomorrow. This track is very strong for Yamaha with all four of us in the top five but the key will be the weather. The forecasts are predicting rain so everything could change."