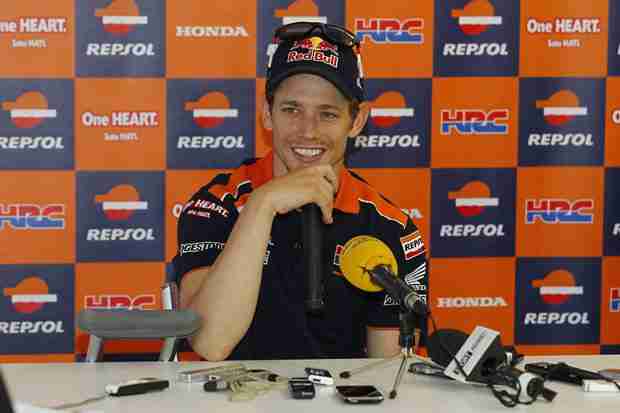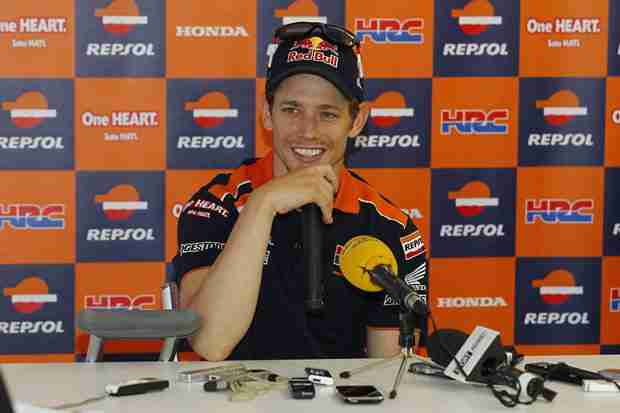 Casey, who suffered a terrible accident in qualifying for the Indianapolis GP last Saturday, was waiting for specialists to study the MRI scan and give him feedback and a suggested route for recovery. After speaking with them at lunchtime today, Casey was informed that it was crucial he received an operation to the torn ligaments as a priority.
At this time it is not confirmed how long the Repsol Honda rider will be out for, this depends on the success of the surgery and his subsequent recovery ability. The operation is scheduled for next week in Australia, HRC will give more information when available.
Casey Stoner
"I'm hugely disappointed for my team and all the guys around me. We've been waiting since Indianapolis for my doctor in Australia to receive the discs of the MRI scan and x-rays to fully understand the situation. The doctors in America were fantastic but I needed a specialist to study them and give me his report and explain exactly what's gone wrong. We were hoping that once they had seen the scans that it wouldn't be as bad as I first suspected and that we could race here, but in fact it was the opposite and a lot worse than first expected.
We only found out at lunchtime today that it was game over but it seems this is our only option at this point. We don't have a timescale for my return yet –it depends on the surgery and how fast I can recover. We still have a season to complete and this isn't just me giving up, I want to get back to racing as soon as possible. I have a job to do and a career to see through to the end and for it to finish like this would be a disaster, so I'll be back as soon as I can to take part in as many races as I can before the end of the season".