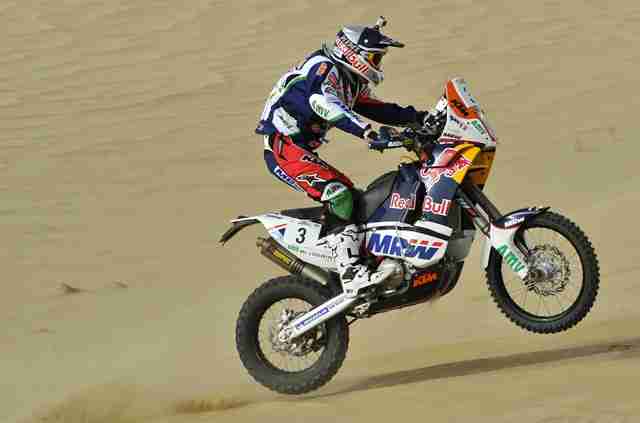 Following three days in the Qatari desert, Marc Coma is the standout leader of the second round of the Cross-Country Rally World Championship. The winner of the opening stage and third in yesterday's special stage, the MRW rider was able to set a strong pace today and earn another third position –one that increases his advantage at the head of the general classification.
With a starting run of 7km and a timed section of 358km in length with which to contend, Coma was facing the longest section of the rally and passed the test with flying colours. Starting from third, he overtook Joan Barreda and Hélder Rodrigues 40km in as his rivals lost their bearings –increasing his overall standings lead over the latter to almost six minutes. Coma crossed the finish line alongside Paulo Gonçalves, who had set off just behind the MRW rider and ended up winning the stage –4seconds ahead of Jordi Viladoms and 1m58s in front of Coma.
The MRW rider now faces the final timed 209km and 75km of link-up in tomorrow's final stage of World Championship round two.
Marc Coma
"We were already expecting this to be a difficult stage –the hardest of the rally– and it was just that. There was a lot of navigation to be done. I was out on my own at around 40km, because Hélder Rodrigues and Joan Barreda had lost their way behind me.
The first part of the stage went well, but in the second the fact that I was the first to encounter the terrain went against me a little; I lost some time looking for the way point that was a little difficult to find. The stage was very long, with fast sections and a lot of rocks. That is demanding –both mechanically and in terms of navigation. There still isn't great visibility out there, with a kind of mist in the air from the wind kicking up the sand, but it is shaping up to be a great rally with manageable temperatures.
Tomorrow is the final stage, which on paper is the smallest of them all but also requires us to be alert in order to maintain this six minute lead over Rodrigues."
Stage 3 
Connection: 7 km
Special: 358 km
TOTAL: 365 km
Stage classification
1. Paulo Gonçalves 04:22:51
2. Jordi Viladoms +00:00:04
3. Marc Coma +00:01:58
4. Jakub Przygonski +00:02:06
5. Chaleco López +00:03:07
General classification
1. Marc Coma 11:58:13
2. Hélder Rodrigues +00:05:59
3. Jordi Viladoms +00:12:47
4. Jakub Przygonski +00:14:58
5. Rubén Faría +00:19:45