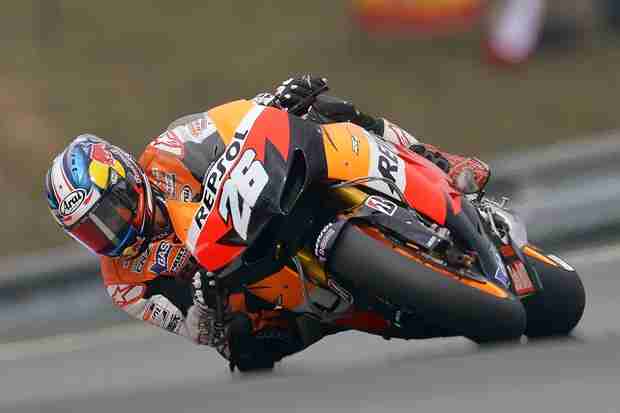 It was a bittersweet second day of the Czech Republic GP for Dani Pedrosa, who put on a masterclass in free practice but was hit by a crash in qualifying. Despite this, the Repsol Honda Team rider still managed t take third place on the grid for tomorrow's race. As he did yesterday, Dani Pedrosa began Saturday with a dominant free practice ride. Despite a drop in temperatures after last night's storms and the threat of rainfall at every moment, on his tenth lap the Repsol rider stopped the clock at 1'56.209, half a second quicker than his time from the previous day and over seven tenths faster than second placed Ben Spies.
In the afternoon qualifying session, the Repsol rider crashed his Honda and had to return to the garage for his second bike. Not as comfortable with this machine, Pedrosa was unable to best the times set by fellow front row starters Jorge Lorenzo and Cal Crutchlow. Finally it was a gutsy last lap of the session that took Pedrosa onto the first line of attack, as he knocked Spies from third and put himself in a great position for the Czech Republic GP.
Dani Pedrosa
FP3 – 1:56.209, 17 laps, 92 km.
QP – 1:56.327, 21 laps, 113 km.
"I had a small crash at the beginning of the session and unfortunately we were unable to use that bike anymore and had to switch to the second bike. Normally the bikes are very similar and I don't know why, but this time the second bike was much more rigid and I had more chatter, especially in the front.
We tried to fix it but we weren't able to so in the end I tried to get my best out of it and finally on the last lap I was able to take a front row spot, which is always important. Anyway the bike is working well, I just hope tomorrow we can use our preferred bike, as this morning it felt very good, and have a good race".