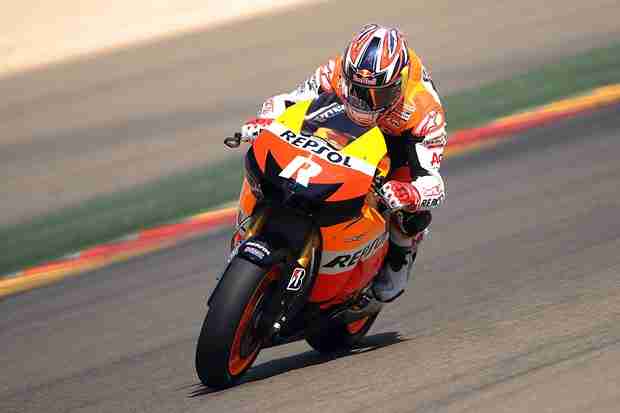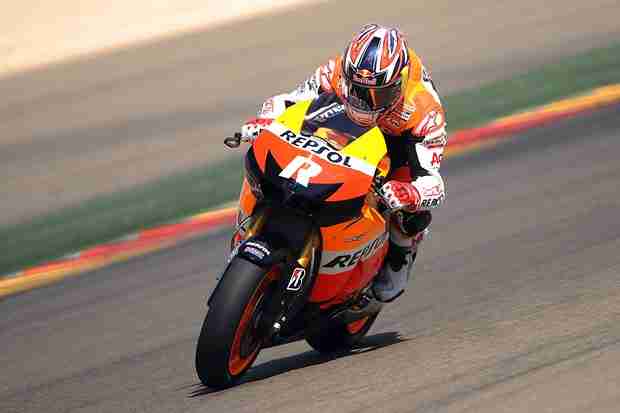 The Repsol Honda Team returned to work today at Motorland Aragon for a two-day private test. Dani Pedrosa and Jonathan Rea took full advantage of the track in perfect weather conditions, which helped the riders complete their planned testing program. Dani Pedrosa, victor of the last two races and currently second in the MotoGP Championship, 13 points off the lead, worked with suspension and electronics looking for better rear traction and to make the engine delivery a little smoother. Pedrosa completed 35 laps with a best lap time of 1'47.983.
Jonathan Rea, Ten Kate Honda rider who is replacing the injured Casey Stoner in the Aragon test, continued to familiarise himself with the RC213V at a circuit he raced at in June in World Superbikes. The British rider constantly improved his feelings with the bike and also his lap times, after 69 laps he finished with 1'50.679. The Repsol Honda Team will also be testing tomorrow. Casey Stoner, resting at home in Australia after his Surgery last week is recovering well.
Dani Pedrosa
1:47.983, 35 laps, 178 km
"In the morning we did some laps to get back into the rhythm and remember the lines on this track, then in the afternoon we really started to work on the bike set up. We worked a lot with the suspension trying to improve the rear grip especially and with the mapping and electronics to make the bike smoother.
The track conditions will be better tomorrow, so the target is to stick with the same plan, try the same things and see if we can improve a little more with the suspension because the configuration today was not perfect. This is the last test of the season, so it's important to take advantage of it for the upcoming races and see if we can get something else from the bike".
Jonathan Rea
1:50.679, 69 laps, 350 km
"Today I was just getting a good feeling between me and the machine because it still feels very strange. I had to work a lot on my brake style today; normally in Superbike I don't use so much rear brake but here it seems that I have to learn to use it in every corner! Just concentrating on this and getting a better setting on the brakes and trying to do longer runs on the tyres because for me it's very different at the end.
I feel comfortable on the bike, the riding position is good, but I just need to understand how the traction control is working, what happens when the tyres drop down and be more comfortable with the setup".