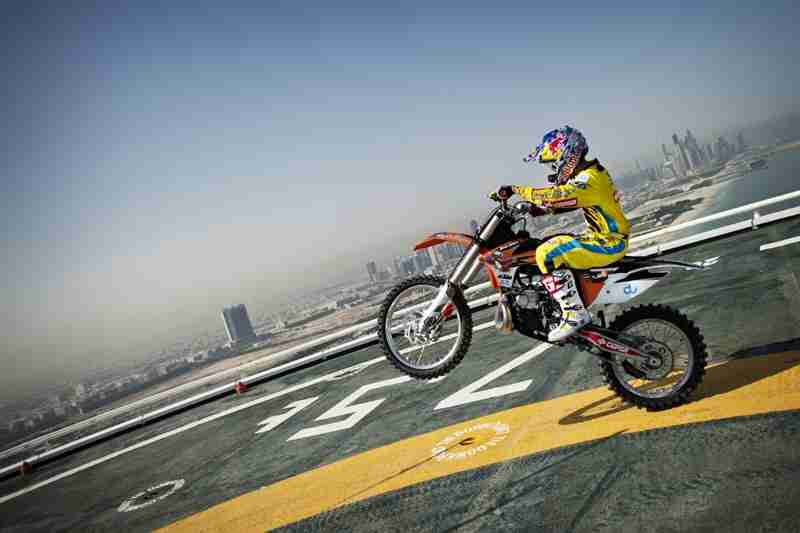 The 2012 edition of the most celebrated freestyle motocross championship in the world, the Red Bull X-Fighters, will kick off tomorrow in Dubai. The first round will be staged at the Jumeirah Beach, with Dubai's evocative skyline as a background, and will see reigning champion Dany Torres taking on 11 of the best FMX riders in the world, with Norway's Andre Villa and Australian Josh Sheehan credited as his most fierce rivals for the win in Dubai.
Spaniard Dany Torres made his entrance in Dubai in style landing with an helicopter on the roof of the luxurious Burj Al Arab Hotel (an honour which is usually reserved for state dignitaries and members of the royal family) and he also took the chance to ride a little bit on his KTM 250, showing off some his tricks on the same platform, 210 meters above the sea where Roger Federer and Andre Agassi once played a famous tennis game. Sheehan's presence in town did not go unnoticed either, with the Aussie performing a one-man-show in front of the Burj Khalifa, the world's tallest building.
The Dubai event is the first in a series of six that make the Red Bull X-Fighters calendar for this year. In 2012 this championship has $1 million as prize money and appearance fees, and this says a lot about the level of popularity that it has achieved around the globe. Last year's runner up, 2-times Champion American Nate Adams, won't be taking part at the Dubai event because of an injury, but he's expected to make his come back fairly soon. New Zealand's Levi Sherwood, Australia's Blake Williams and the 2008 champion, Switzerland's Mat Rebeaud, are the other riders that may eventually take the win in Dubai.