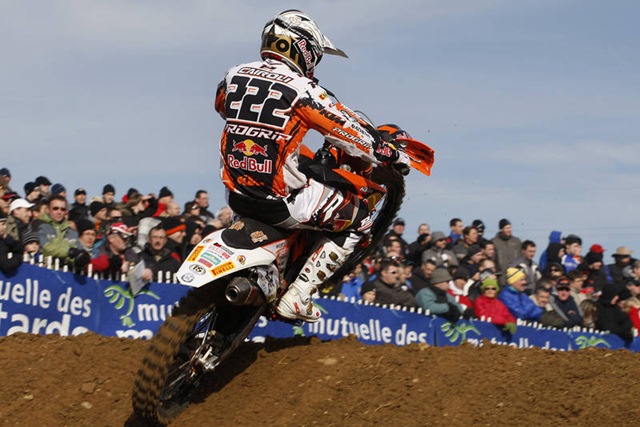 Red Bull KTM Factory Racing's Jeffrey Herlings and Tony Cairoli picked up podiums for second and third respectively in the MX2 and MX1 GPs of Bulgaria in Sevlievo on Sunday to both retain the red plate as championship leaders in these classes. It was a strong first performance for the team's first outing for 2012 on a hard pack surface that was softer for Saturday's qualification but became dusty, slick and more difficult as Sunday's races progressed.
Herlings recovered well from a crash in Saturday's qualifying that deprived him of a top starting gate on Sunday. Nevertheless the sand specialist delivered a strong day on the Bulgarian track with two seconds in the two MX2 motos on his KTM 250 SX-F. He finished the day just one point behind Tommy Searle in the overall standings and still hangs on to the red plate as championship leader. His KTM teammate Jeremy van Horebeek finished fourth overall with a 4-3 moto result. The factory team's rookie rider Jordi Tixier of France finished overall thirteenth.
Herlings had his work cut out in the first moto starting mid field after losing the front end in Saturday's qualifying. But while eventual winner Tommy Searle got away strongly in the opening race Herlings worked his way up the order into third place. Then when Searle had brake problems he was able to move into second behind Belgian Joel Roelants leaving only third place to Searle. The Dutch teenager was on the charge from the drop of the gate in the second moto, moving quickly through the ranks and was in range of the victory right up to the final flag.
Jeffrey Herlings: "The riding was really tight for the first six laps and it was pretty good towards the end. In the second moto I got close to Tommy and I almost managed to pass him. Now I have a seven-point lead on Tommy and for the big picture we just lost one point. I really wanted to win the overall but there are still 14 rounds to go."
MX2 team boss Stefan Everts said he was happy with his riders. "Jeffrey made that little mistake yesterday in qualifying and that's why he had a bad start but I think he made the best out of it. The first moto he struggled a bit in the beginning and he finally finished second and in the second moto he had a good speed. He came from seven seconds behind and he showed really good things." Everts had encouraging words for Jeremy van Horebeek who he said was near getting a podium and maybe would achieve that next week in Fermo. He also said that while things had not gone well for Tixier, the season was long and he still showed potential.
Cairoli had a 4-3 result on the KTM 350 SX-F for his overall third to put the ghosts of last year's ride here in Bulgaria behind him when he injured his knee that made the first races of the season difficult. It was also a very strong day for Ken de Dycker the factory team's stand-in rider for the injured Max Nagl who was right up with the leaders in the second MX1 moto and even mid race challenged Cairoli for third.
Cairoli, the ruling MX1 champion was not unhappy with his performance and said he had the speed on a track that is certainly not his favorite. "Today was really very hard," he said of the hard pack surface. "When it gets like this you have to stay on one line and stay smooth and clean. I did make some mistakes and after 3-4 laps I had some arm pump and both Pourcell and Paulin were riding really good in this kind of track. I like my performance today. The speed was there and now I just have to train a bit more on this kind of surface and be confident going to Fermo next weekend."
It was only the second GP for Ken de Dycker in the Red Bull KTM Factory Racing kit and he looked particularly confident in the second moto where in the second half of the race he put pressure on Cairoli and even briefly controlled third place. Arrangements have been made for him to stay with the factory team in the first phase of the 2012 championship to give Nagl enough time to recover completely from two operations on his back. 
de Dycker is riding the KTM 450 SX-F
De Dycker said he was satisfied with his performance particularly because he is still getting used to the KTM 450. "I have won one heat here before. You need to get a good start and you need some luck. For me it's still difficult because I don't know the bike so well yet. I have only had two GPs only six starts with the guys lined up next to me so I am still getting used to it.
MX1 Team boss Claudio de Carli said he was more than satisfied with his two riders this weekend. 'We never expect too much on this type of track because its not Tony's favorite but he even got pole yesterday and that was already more than we hoped for. Third place means some more points for the championship so its okay for us. Fermo (next weekend) is also a track that Tony doesn't love but after that there will be others that suit him better and we can relax a bit." De Carli also had words of praise for de Dycker's ride in the second moto. "The game he was playing with tony was wonderful and it even looked like he wanted to catch the front two."
EMX 125
KTM rider Tim Gajser of Slovenia was the most outstanding rider in the opening round of the EMX 125 competition winning both motos for maximum points and a great start to the season. Davide Bonnini of Italy made it a 1-2 for KTM in this class.
Next Race: GP of Italy, Fermo, April 29, 2012
MX1 Results
1. Gautier Paulin, France, Kawasaki
2. Christophe Pourcel, France, Kawasaki
3. Tony Cairoli, Italy, KTM
4. Ken de Dycker, Belgium, KTM
5. Evgeny Bobryshev, Russia, Honda

MX1 Standings
1. Cairoli, 88
2. Paulin, 79
3. Desalle, 67
4. de Dycker, 63
5. Pourcel, 59
MX1 Manufacturers Standings
1. KTM, 88
2. Kawasaki, 82
3. Suzuki, 77
MX2 Results
1. Tommy Searle, GBR, Kawasaki
2. Jeffrey Herlings, Netherlands, KTM
3. Joel Roelants, Belgium, Kawasaki
4. Jeremy van Horebeek, Belgium, KTM
5. Max Anstie, GBR, Honda

MX2 Standings
1. Herlings, 94
2. Searle, 87
3. Roelants, 85
4. van Horebeek, 74
5. Anstie, 57

MX2 Manufacturers Standings
1. Kawasaki, 94
2. KTM, 94
3. Honda, 61
EMX 125 Overall Results
1. Tim Gajser, Slovenia, KTM (1-1)
2. Davide Bonini, Italy, KTM (3-2)
3. Jorge Zaragosa Beltran, Spain, Suzuki
4. Henry Jacobi, Germany, KTM
5. Anton Lundgren, Sweden, KTM

EMX 125 Championship Standings
1. Gaijser, 50
2. Bonini, 42
3. Zaragos, 35
4. Jacobi, 34
5. Lundgren, 32
Manufacturers standings
1. KTM 50
2. Suzuki 35