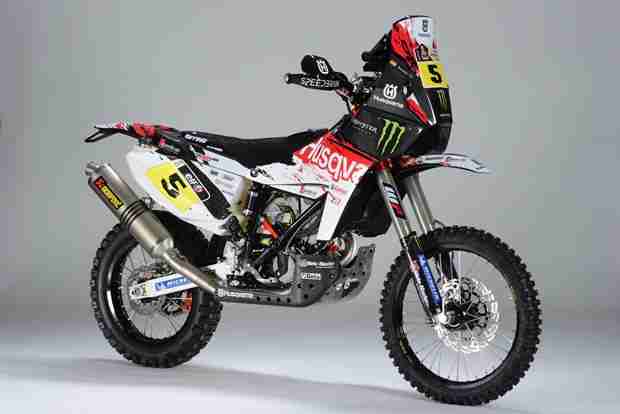 Back at the start of 2010, Speedbrain began developing a version of the BMW G450X, which was specifically designed to meet the demands of marathon rallies. BMW made its return to the Rally Dakar with this bike at the start of 2011. By spring 2011, the engineers at Speedbrain had already started to develop and assemble a new rally bike: the Husqvarna TE449 RR by Speedbrain.
It is an ultra-modern and innovative racing motorbike, which is particularly light, possesses good handling and stability on a wide range of terrains, giving the rider maximum confidence. Husqvarna is feeding its know-how into the further development of the engine and endurance mapping to improve stability. Speedbrain and its research and development department are responsible for developing the chassis and rally-specific components. The bike is continuously being developed and optimised in cooperation with the riders.
At the heart of the bike is the Husqvarna TE449 engine, which has been modified to handle the demands of rallying. Husqvarna is responsible for the development, design and overall performance diagnostics of the 450cc engine, and supplies the race-ready power train to the Speedbrain team. The Husqvarna TE449 engine is one of the bike's biggest strengths and has been optimised again ahead of the 2013 Rally Dakar.
The electronics form one complex but key area, as the rally bike is equipped with numerous navigational and safety components. The Husqvarna TE449 RR by Speedbrain has its own electronics system, which was developed specifically for this motorcycle and is also the subject of continuous modifications and improvements. In addition, Speedbrain reworked and partly redeveloped the entire frame concept after the 2012 Rally Dakar. As such, the bike that lines up at the 2013 Rally Dakar will be a further development of the bike used in 2012, which has been improved in many areas.
Among the features of the rally version is a very compact, concept-driven package in the chassis area. This allows the optimal integration of the two-part central/rear tank in the bike, which in turn guarantees the rider maximum freedom of movement, Enduro-like ergonomics and perfect balance. The fact that the Husqvarna TE449 RR by Speedbrain is so light is down, in part, to the aerodynamically optimised Carbon Kevlar fairing and a special rear part. The Carbon Kevlar engine protection with integrated three-litre water tank gives the engine and the low rally header pipe full protection.