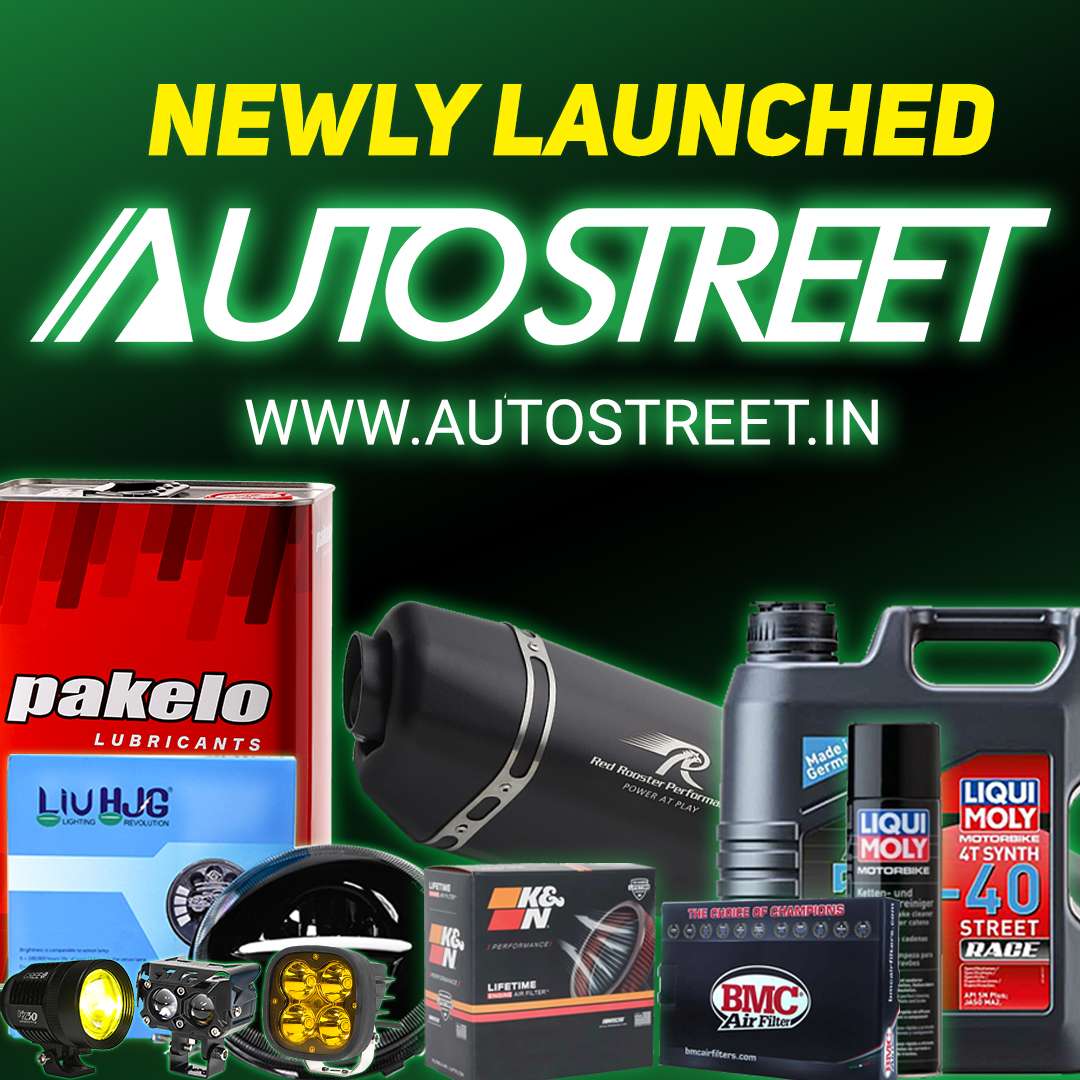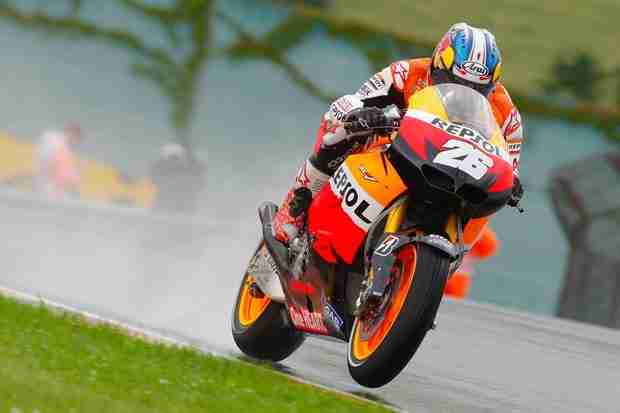 The World Championship is in its final weeks and the 16th round at Sepang settled the Moto3 championship while the MotoGP class saw itself moving towards a dramatic last couple of races. Speaking of dramatic this weekend was not short on theatrics either. Starting off with the shocking move by Maverick Vinales to quit his team followed by a superb Moto3 race that saw Sandro Cortese take the inaugural Moto3 championship. Moto3 also saw some splendid riding from Zulfahmi Khairuddin and Hafizh Syahrin who came in second and fourth respectively. In Moto2, Marc Marquez could not seal the championship but the surprise was a podium filled with Alex de Angelis, Anthony West and Gino Rea, a first time for all three. The rains made sure that the MotoGP was an exciting affair too. Pedrosa took his third consecutive victory followed by Jorge Lorenzo and Casey Stoner.
The race began with Lorenzo immediately taking the lead and was looking confident on the wet track. He was followed by Pedrosa, Stoner, Stefan Bradl, Rossi and Hector Barbera. Lorenzo and Pedrosa were riding with different tyres, Lorenzo was on a softer tyre while Pedrosa was on a harder one. Pedrosa still though was right up behind him even in the wet and was followed by Stoner fending off an aggressive Stefan Bradl.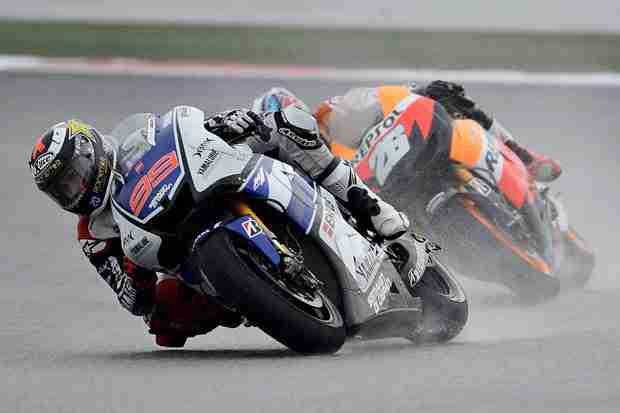 The next few laps saw Lorenzo and Pedrosa break away from the pack with a lead of more than six seconds and by the 9th lap Pedrosa out braked Lorenzo in to turn 15 and went ahead. Behind the leader pack the crash session was now on its way, Ben Spies was the first to crash with a high side in the 8th lap. The very next lap saw Andrea Dovizioso bite the dust, although he managed to return and complete the race. Among others who crashed out were Stefan Bradl, Cal Crutchlow, Randy de Puniet and Ivan Silva.
The rain had really set in by now and Lorenzo started signalling to the race direction that he could not continue in these dangerous conditions and soon enough the race was red flagged. With no signs of the rains stopping race direction was forced to call it day just after the 13th lap. This meant Pedrosa was in the front followed by Lorenzo and a clearly disappointed Stoner who was catching up and behind them the Ducati boats that as always looked better in the rain. Rossi stared off 11th and quickly made way to fifth battling it with Bradl and chasing down Dovizioso. He had a close call that saw him drop till 9th, but he made his way back to 5th.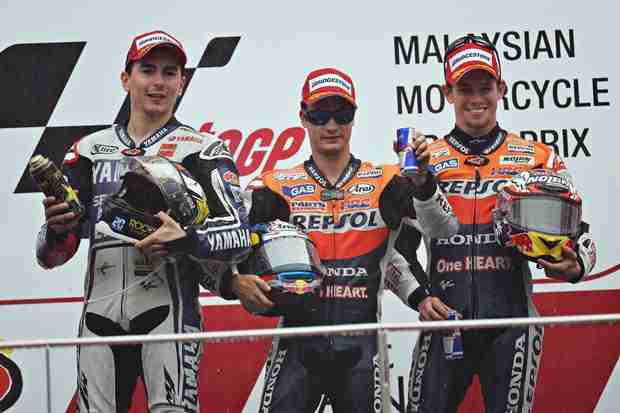 Dani Pedrosa – 1st
"This victory is really amazing for me; it's the first time I've won in the wet in my life and I'm really, really happy. I want to thank my team and the people who helped me to get here because when I started racing in these conditions I was weak and they know how difficult it's been during all this time! Jorge set a really high pace at the beginning of the race and I remained calm to stay with him. I knew he was on a soft rear tyre and he could pull out some good laps at the start. Lap by lap I got a little more confident and I could still push and at half way in the race I overtook him and built a good gap. Some laps later the rain came down heave and it was hard to stay on the bike. I was lucky to be able to win this race, and also Jorge to finish second because he was almost on the ground. So, I'm happy for the victory, but especially happy to be able to dedicate it to Ginés, a good friend and member of the Repsol Honda Team that sadly passed away yesterday. This one is for you!"
Jorge Lorenzo – 2nd
"If we were riding at 20km per hour it is easy to stay on the bike but it is very difficult to find the limit in these conditions. They made the right decision to stop the race, for us it was great because we might otherwise have finished on the ground and crashed. We used the soft rear where Dani and Casey used the harder one. When the conditions were ok they used less of the centre of the tyre so when the conditions became worse they had more to play with."
Casey Stoner – 3rd
"At the start of the race, I would have been very happy for a podium. I was considering not taking part in the rain at all as the risks were very high – if I had come off the bike again and hit my ankle, it would have been game over for the rest of the season. As the race progressed I slowly got my confidence back and I was working on different things, as I hadn't ridden in the wet in quite some time. I slowly began to catch the front two but unfortunately ran out of time as the red flagged the race. In a lot of ways I'm disappointed, but I'm happy with the points haul we took today and another podium."
Nicky Hayden – 4th
"Those were really tough conditions. I got a good launch, but when Dovizioso got sideways in front of me, I shut off the throttle and lost positions. I was able to recover, but I lost some confidence when the rear tried to come around a couple times. I had to be really patient in the beginning, but once I got rolling, I had good rhythm. It was clearly the right decision to call the race. There was a lot of water those last couple of laps, and it was almost impossible to see, although the rear lights on the bikes helped a lot. In dry conditions, I would've been thrilled with fourth, but I know our potential is higher in the wet. It would've been amazing to give my guys a podium today, but it's a decent result. Hopefully, it can help me come out of the difficult period and give us something to build on."
Valentino Rossi – 5th
"Our race wasn't bad because I got a great start despite being so far back, on the fourth row, and then I managed to be pretty fast. I was riding with Dovizioso and Stoner, when unfortunately I started having some problems with my visor fogging, and in those extreme conditions, with low light and a lot of water, it was very difficult. I made a mistake in turn 7, and I was lucky not to crash because it was the same point where Dovizioso, Spies and then Bradl went down. Without that mistake, I could have finished fourth because honestly, Stoner was a bit faster than I was, especially in T2. In general though, it didn't go bad. Of course I would've liked to finish the full race, but there was really too much water. I think the decision to stop was correct because in these conditions, the bikes can aquaplane and you can go down in any corner."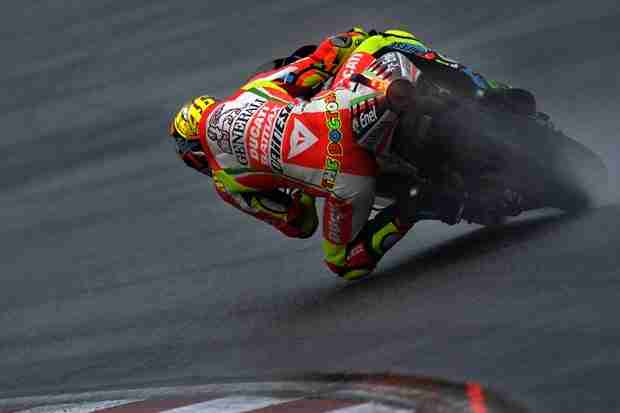 MotoGP Sepang Race Results
Dani Pedrosa — Repsol Honda Team — Honda RC213V — 13 laps in 29'29.049
Casey Stoner — Repsol Honda Team — Honda RC213V — + 7.144
Nicky Hayden — Ducati Team — Ducati Desmosedici GP12 — + 10.518
Valentino Rossi — Ducati Team — Ducati Desmosedici GP12 — + 16.759
Alvaro Bautista — San Carlo Honda Gresini — Honda RC213V — + 17.276
Hector Barbera — Pramac Racing Team — Ducati Desmosedici GP12 — + 50.282
Aleix Espargaro — Power Electronics Aspar — ART GP12 — + 51.858
James Ellison — Paul Bird Motorsport — ART GP12 — + 56.676
Karel Abraham — Cardion AB Motoracing — Ducati Desmosedici GP12 — + 57.622
Danilo Petrucci — CAME Iodaracing Project — Ioda Suter BMW — + 1'02.805
Michele Pirro — San Carlo Honda Gresini — FTR Honda MGP12 — + 1'02.891
Andrea Dovizioso — Monster Yamaha Tech 3 — Yamaha YZR M1 — + 1'28.989
MotoGP Standings post Sepang race
| Pos. | Rider | Bike | Nation | Points |
| --- | --- | --- | --- | --- |
| 1 | Jorge LORENZO | Yamaha | SPA | 330 |
| 2 | Dani PEDROSA | Honda | SPA | 307 |
| 3 | Casey STONER | Honda | AUS | 213 |
| 4 | Andrea DOVIZIOSO | Yamaha | ITA | 195 |
| 5 | Alvaro BAUTISTA | Honda | SPA | 154 |
| 6 | Valentino ROSSI | Ducati | ITA | 148 |
| 7 | Cal CRUTCHLOW | Yamaha | GBR | 135 |
| 8 | Stefan BRADL | Honda | GER | 125 |
| 9 | Nicky HAYDEN | Ducati | USA | 114 |
| 10 | Ben SPIES | Yamaha | USA | 88 |
| 11 | Hector BARBERA | Ducati | SPA | 79 |
| 12 | Aleix ESPARGARO | ART | SPA | 63 |
| 13 | Randy DE PUNIET | ART | FRA | 53 |
| 14 | Karel ABRAHAM | Ducati | CZE | 43 |
| 15 | Michele PIRRO | FTR | ITA | 30 |
| 16 | James ELLISON | ART | GBR | 28 |
| 17 | Yonny HERNANDEZ | BQR | COL | 28 |
| 18 | Colin EDWARDS | Suter | USA | 25 |
| 19 | Jonathan REA | Honda | GBR | 17 |
| 20 | Danilo PETRUCCI | Ioda-Suter | ITA | 16 |
| 21 | Mattia PASINI | ART | ITA | 13 |
| 22 | Ivan SILVA | BQR | SPA | 11 |
| 23 | Toni ELIAS | Ducati | SPA | 10 |
| 24 | Katsuyuki NAKASUGA | Yamaha | JPN | 7 |
| 25 | Steve RAPP | APR | USA | 2 |
| 26 | David SALOM | BQR | SPA | 1 |