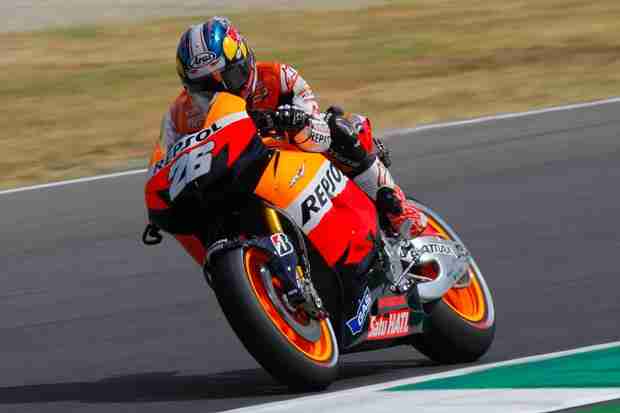 After three demanding weeks, with consecutive races in the Netherlands, Germany and Italy, the Repsol Honda Team have concluded with a positive day of testing at the Mugello circuit. The Honda factory team were back on track this morning to test a new engine and a new prototype that HRC has developed, aiming improve performance of the RC213V.
Dani Pedrosa did 51 laps with a best time of 1'47.549, two tenths under the circuit record he set in Sunday's race (1'47.705) and Casey Stoner completed 47 laps with a fastest time of 1'47.551, just two thousandths off his team mate. Both riders reported some positive feedback and the HRC engineers now have valuable data from the factory riders to take back to Japan for evaluation. The Repsol Honda Team can now enjoy a small break before taking to the track in Laguna Seca for the US Grand Prix on the 29th July.
Dani Pedrosa
1:47.549, 51 laps, 267 km.
"We tested many things today and I'm happy because we found some positives with the new engine and also with the new chassis that can help us in the second part of the season. I was really hoping for some improvements after the issues we have had with the extra weight, chattering and the front tyres and in this test we made a step forward. Honda is working very hard and I'm sure they will do their best to be able to supply us the new parts for Laguna and the following races, but we'll see if it's possible with the engine allocations; anyway, it would be very good for us.
The engine is better into the corner, the engine brake is smoother and the bike is not so sharp when you close the throttle, so this helps you to get into the corner. I made my best lap time on my current bike; it's normal as I'm used to it. With the new bike I made a mistake shifting gears and I had a small crash on my third lap, so I couldn't do a longer run, but the feeling was also positive".
Casey Stoner
1:47.551, 47 laps, 247 km.
"We had a new engine and new chassis to test today. With the engine we found some improvements, a little smoother and some more power. As far as chassis goes I didn't find any real benefits, we tried many different things but couldn't get a better feeling. There were a few small areas that improved but nothing in terms of performance or for the lap time, just a marginally better feeling under braking.
It wasn't really the test we were looking for, we had hoped to find something to help us get rid of the chatter and give us some more feeling in the middle of the corner but unfortunately we didn't find this. If we can have the new engine with the current chassis, it's the best combination, but we're not sure if we can have it in time for Laguna Seca, we'll have to wait and see".