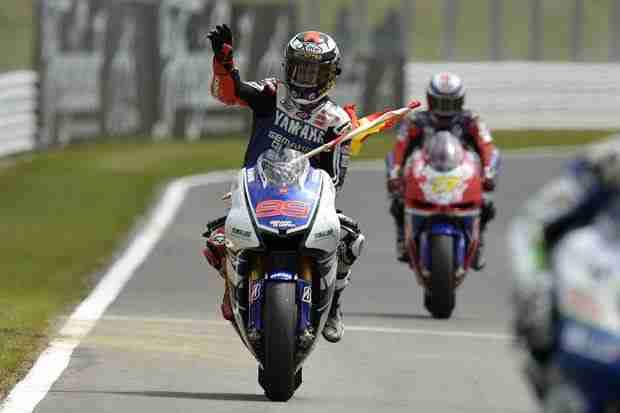 Jorge Lorenzo made it three wins in a row after taking another victory in today's MotoGP race at Silverstone, but for everyone watching the race, the moral winner and the real star had to be a phenomenal Cal Crutchlow.
Silverstone was dry with track temperatures much higher than they had been all weekend and when the lights went out, Ben Spies shot to the lead followed by Casey Stoner (the only one on soft front tire), Alvaro Bautista, Nicky Hayden, Jorge Lorenzo, Dani Pedrosa and Andrea Dovizioso. For the first three laps the front runners were all over each other until Lorenzo began lowering his lap time.
Lorenzo was on a mission and after disposing of Dovizioso, Pedrosa and Hayden he set his sights on Bautista and Spies and after taking care of the these riders and then went after the Repsol Honda rider and on the eleventh lap the two had a superb battle for three corners, when Lorenzo took the lead at the Abbey, Stoner counter attacked at the Farm and then the Spaniard grabbed the lead again and Stoner couldn't respond and the Yamaha rider began to clear out and flew under the chequered flag with a comfortable 3.3 margin.
Stoner began suffering from tire wear and front end chattering within just two laps and he was quicky caught by Pedrosa and Bautista and the Australian had to use tooth and nail to keep the other two Honda riders from overtaking him but he managed to hold his position to take second, followed by his team mate in third and Bautista who claimed his personal best in MotoGP with a fourth spot.
Ben Spies faded to take fifth, while a phenomenal Cal Crutchlow took sixth after passing Nicky Hayden on the last lap. Crutchlow missed yesterday's qualifying after a crash during the final practice session. The British rider was cleared to race and despite a press release from his team stating that he hadn't fractured his foot, this morning he revealed that his ankle was broken and dislocated. Starting last, the Yamaha Tech3 rider overtook everyone with an amazing race pace that almost matched the race winner and if not for his crash he could have probably got a podium today.
Nicky Hayden was the best Ducati rider finishing in seventh followed by Stefan Bradl and Valentino Rossi. The Italian suffered all through the race after choosing the hard rear tire, but he managed to out race his new 'rival' Hector Barbera who seemed to have suffered some sort of technical issue as he dropped more than a second from his previous lap times.
The CRT podium was won by Aleix Espargaro who pipped his team-mate Randy de Puniet on the last lap followed by Gresini's Michele Pirro.
MotoGP 2012 Silverstone Results
01. Jorge Lorenzo — Yamaha Factory Racing — Yamaha YZR M1 — 20 laps in 41'16.429
02. Casey Stoner — Repsol Honda Team — Honda RC213V — + 3.313
03. Dani Pedrosa — Repsol Honda Team — Honda RC213V — + 3.599
04. Alvaro Bautista — San Carlo Honda Gresini — Honda RC213V — + 5.196
05. Ben Spies — Yamaha Factory Racing — Yamaha YZR M1 — + 11.531
06. Cal Crutchlow — Monster Yamaha Tech 3 — Yamaha YZR M1 — + 15.112
07. Nicky Hayden — Ducati Team — Ducati Desmosedici GP12 — + 15.527
08. Stefan Bradl — LCR Honda MotoGP — Honda RC213V — + 22.521
09. Valentino Rossi — Ducati Team — Ducati Desmosedici GP12 — + 36.138
10. Hector Barbera — Pramac Racing Team — Ducati Desmosedici GP12 — + 41.328
11. Aleix Espargaro — Power Electronics Aspar — ART GP12 — + 1'03.157
12. Randy De Puniet — Power Electronics Aspar — ART GP12 — + 1'03.443
13. Michele Pirro — San Carlo Honda Gresini — FTR Honda — + 1'07.290
14. James Ellison — Paul Bird Motorsport — ART GP12 — + 1'14.782
15. Yonny Hernandez — Avintia Blusens — BQR MotoGP — + 1'15.108
16. Colin Edwards — NGM Mobile Forward Racing — Suter BMW — + 1'29.899
17. Danilo Petrucci — CAME Iodaracing Project — Ioda TR003 — + 1'40.302
18. Ivan Silva — Avintia Blusens — BQR MotoGP — + 1'52.099
19. Andrea Dovizioso — Monster Yamaha Tech 3 — Yamaha YZR M1 — 1 lap