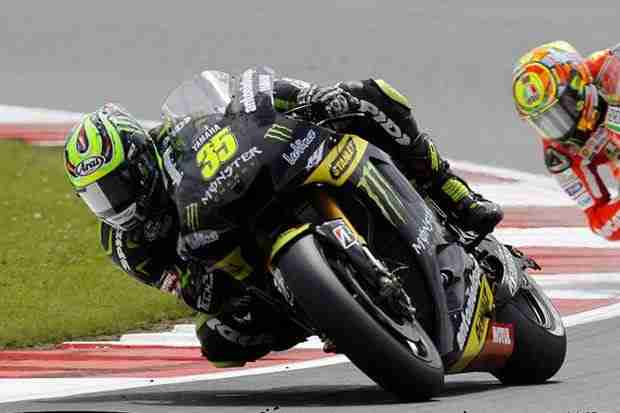 Cal Crutchlow treated British fans to a heroic and courageous performance at Silverstone this afternoon, the Monster Yamaha Tech 3 Team storming to a stunning top six finish from the back of the grid. The 26-year-old was only passed fit to ride minutes before the start of this morning's warm-up session after he suffered a fractured bone in his left ankle following a nasty fall in yesterday's final practice session.
Having missed qualifying, Crutchlow had to start the 20 -lap race from the back row of the grid, but right from the start he treated 66,230 British fans to a truly unforgettable performance. By the end of the second lap, Crutchlow had already passed all nine CRT machines to move into 11th, with Valentino Rossi 3.3s clear in 10th. Despite the considerable discomfort caused when changing direction and shifting gears, Crutchlow passed Rossi for 10th on lap six and he then superbly hunted down Hector Barbera and Stefan Bradl to seize seventh by lap 11.
Crutchlow continued to grit his teeth and ride through the pain barrier but his hopes of a top six seemed remote when he trailed Nicky Hayden by seven seconds on lap 12. Roared on by his home crowd, Crutchlow set a stunning pace that matched the leading group and a remarkable charge through the field was complete when he secured sixth from Hayden o n the final lap. Today's heroic display saw Crutchlow receive a deserved standing ovation from an appreciative home crowd when he returned to the Monster Yamaha Tech 3 garage.
Today's race didn't have the same happy outcome for Andrea Dovizioso, who showed terrific pace in the early stages to fight for the podium in an exciting battle for the lead. The Italian superbly fought off the challenge of Hayden, Dani Pedrosa and Ben Spies to move into third position on lap nine. But just as he began to pursue Casey Stoner in second, he fell out of contention for a fourth successive British Grand Prix podium at Turn 9.
Dovizioso escaped injury in the crash but had to pit briefly after the protector guarding h is front brake lever was damaged. He re-joined the race and finished in 19th and is confident he will be back fighting for the podium at the legendary Assen track later this month.
Cal Crutchlow 6th — 66 points
"That's a weekend I won't forget in a hurry. Yesterday was a disaster with the crash and I thought I was going to miss my home race again. But the Clinica Mobile team and medical staff at Silverstone did an amazing job and I am grateful that I could finally start my home Grand Prix. I never imagined I could get sixth position because normally if you start from the third row it is very difficult to get into that position. So starting from the back of the grid, I'd have been happy to finish the last prototype bike. It was a very tough race but I just had to try and ignore the pain and let the adrenaline and support of the British crowd get me through. When I got by Bradl I could see Nicky was a long way clear, but I just kept on pushing to see what happened. I'm really happy with my lap times because I was as quick as the guys on the podium, even with a broken ankle. So a little part of me can't help but think without the crash yesterday that I could have been on the podium in the British Grand Prix. I'm not going to complain with sixth and I want to say thanks to my Monster Yamaha Tech 3 crew, who basically chose the set-up of the bike for me and it worked great. Also a big thanks to all the British fans who were unbelievable today. When I was lying in the gravel yesterday all I could think was they weren't going to see me ride in my home race again. Their support helped me a lot and I hope they went home proud of the job I did for them."
Andrea Dovizioso 19th — 60 points
"It is a real shame because I had the possibility to fight for second place today. The rhythm of the race in the early laps was incredibly high and we were much faster than in practice. I really was at the limit early on but afterwards everybody apart from Lorenzo had to slow down a little bit. That allowed me to come back to the leading group and I really had a good pace. I had just taken third and was really confident I could finish on the podium when I crashed and I am not happy about it because I didn't expect it. It happened when I felt most comfortable with the bike and I definitely was not over the limit. I just did a very small mistake losing the rear and I couldn't keep control of the bike. That was very disappointing but from a positive point of view this was another race where I have improved my feeling with the YZR-M1 a lot and I'm sure I could have finished second and very close to the victory. The Monster Yamaha Tech 3 Team is doing an incredible job and the Yamaha is a fantastic bike to ride, so I go to Assen optimistic of another podium challenge."
Herve Poncharal — Team Manager
"That was a truly incredible race and words almost fail me to describe the job that Cal did today. We weren't even sure this morning that he could ride, so for him to finish in the top six is a result I don't think we expected or will ever forget. We thought he might be able to get close to the top 10 but obviously once the adrenaline kicked in and he felt his confidence coming back, he got his head down and we were happy when he got seventh. He was a long way behind Nicky but to pass him on the last lap sums Cal up perfectly. He never gives up, he's got amazing self-belief and he has got a lot of guts to match his talent. I am proud of him and I'm sure all of the Bri tish fans are too. It is a shame for Andrea today because it was clear that he had the pace for the podium. He was mixing it and beating a lot of factory bikes and only Casey and Jorge were ahead of him. It was a small mistake and he got punished a lot and it is a big pity because I've no doubt we'd have been celebrating another podium with him today. But once again both Cal and Andrea have demonstrated how strong the Monster Yamaha Tech 3 Team package is. Congratulations as well go to Jorge and Yamaha. Together they are doing an amazing job and today's race highlighted again what a potent combination they are."