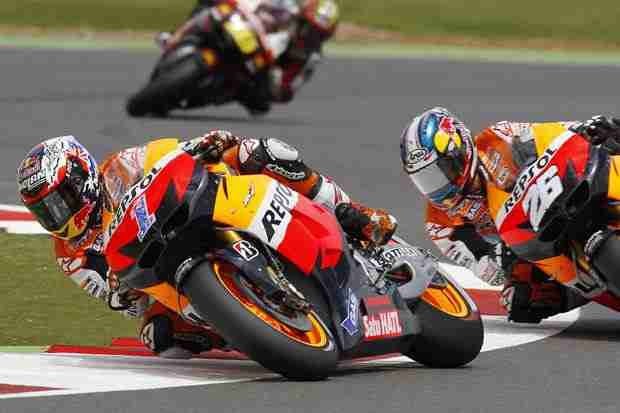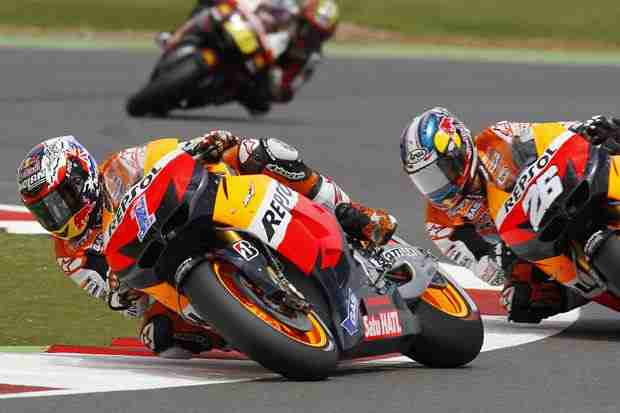 Casey Stoner and Dani Pedrosa were both on the rostrum at the British Grand Prix, taking second and third place in a race won by Jorge Lorenzo. Stoner led the race for its first half, until Lorenzo passed him following an entertaining duel. Pedrosa watched on from a little further back, moving closer and closer to joining up with the fight, but was unable to overtake his teammate once he had reached him on the final lap.
After rain and win all through the weekend at Silverstone, the MotoGP race was eventually contested in the dry with the sun shining through the dark clouds. Once the lights went out, Casey Stoner moved up into second behind Ben Spies, whilst Dani Pedrosa dropped two places before the end of lap one.
The reigning World Champion latched onto Spies' rear wheel, with a group consisting of Álvaro Bautista, Nicky Hayden and –a little further back- Lorenzo, Dovizioso and Pedrosa. Stoner's opportunity arrived on lap five, when he took advantage of a small Spies error to get in front and establish a gap of over a second from the rest of the field.
Lorenzo and Pedrosa pulled away from their rivals –Pedrosa had previously been embroiled in a battle with Andrea Dovizioso– and it was the former who gave chase to Stoner with the most success. Pedrosa had Bautista alongside him and was suffering from tyre issues, which were also experienced by Stoner when Lorenzo caught up with him. Unable to maintain touch with the Yamaha rider, the Repsol Honda Team rider opted for second place. Pedrosa wanted that spot for himself and attacked until the final corner of the final lap, but it wasn't enough and he took third. Lorenzo won, ahead of Stoner and Pedrosa.
Lorenzo now leads the MotoGP standings, 25 points ahead of Stoner and 39 ahead of Pedrosa.
Dani Pedrosa
3rd at 3.599 sec
"I have mixed feelings after this race. I'm happy to be on the podium at this circuit for several reasons: it's a track where I have always struggled a lot, we had a very tough weekend – it wasn't easy for us to learn the circuit and set up the bike with these weather conditions, also I didn't have one of my best race starts. I was seventh on the first lap, but I managed to remain calm and get faster lap after lap, maintaining my rhythm. I saw that Jorge was the man to follow, so I managed to pass Dovizioso, Bautista and Spies and caught Casey, who was second.
But at this time, Jorge was gone and I tried twice to pass Casey, but he pulled a little again and in the last chicane, I tried to overtake him but I had a flash in my mind and I saw both Repsol Honda's on the ground, so I settled for third place. It's positive to both be on the podium if we consider that it's the first race for the team with this new front tyre, but for the championship it is not good. We need to make a step forward to solve the problems we have with the chattering because right now, Jorge [Lorenzo] is too strong for the Honda's".
Casey Stoner
2nd at 3.313 sec
"It wasn't a great race for us today, we saw the pace the Yamaha's had in the early laps and it was really worrying to me. As early as lap three the bike wasn't feeling good, especially on the left side, the tyre destroyed itself almost immediately. My plan was to try and get to the front and hold them up but Ben [Spies] was proving difficult to pass, then he made a small mistake and I was able to slip through and I tried to hold it from there.
We knew we didn't have a better pace than the other riders and it wouldn't be long until they were on us so I did what I could to stay in front. We were loosing so much grip on the edge of the tyre that we had no mid-turn corner speed and we were having to make up for this with the entry and a clean exit, which made things difficult. Today we needed a little more grip and we would have been able to fight for the win but looking at the rear tyres at the end of the race, there was definitely something wrong with ours".