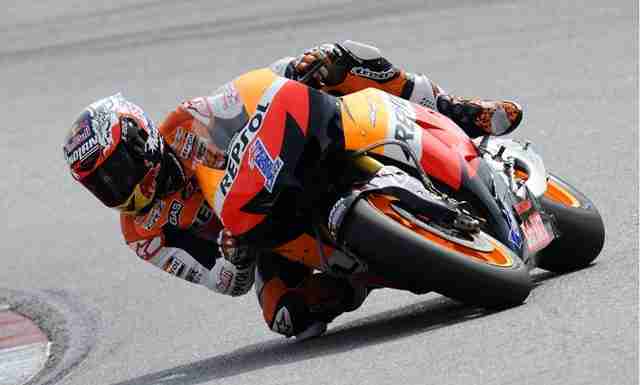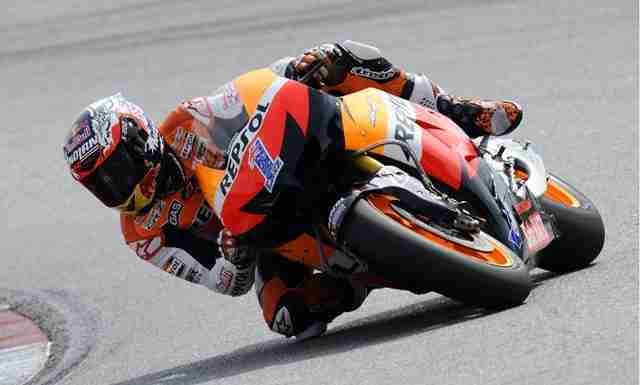 The first winter MotoGP test finished today at Sepang International Circuit with a day that was affected by rather variable weather conditions, with intense heat in the middle of the day and a shower that cut short the planned work schedule at 5:25 p.m. Nicky Hayden had already finished riding around noon after having tried riding with heavy taping on his painful left shoulder. Still lacking the necessary strength to push hard, he and the team agreed it was best to finish early. As for Valentino Rossi, he continued until the rain arrived, finishing the session with the fifth-best time. Riders Jorge Lorenzo and Ben Spies spent the three track days working to develop the base set up of the 1000cc YZR-M1 ahead of the second Sepang test in one month's time. The riders and engineers focused on the balance of the M1 chassis along with improving the electronics package to gain the optimum performance from the increased horsepower. New Bridgestone tyres were also assessed ahead of the upcoming race season. The times from today's final session saw Lorenzo slot in as the second fastest rider, 0.59 seconds behind Casey Stoner. Team mate Spies wrapped up in fourth position, 0.88 seconds from first.
The two Repsol Honda Team riders leave the test confident after a positive trio of days. Reigning World Champion, Casey Stoner, clocked the fastest time and was the only rider to go around in under 2'00 over the course of the test. He had missed the first day with a back complaint. Teammate Dani Pedrosa was third quickest and was satisfied with the work carried out in Malaysia. On only his second lap of the day, Casey Stoner recorded a blistering fast lap of 1'59.607 which remained unbeaten for the rest of the day. The Australian rider spent this final day of testing to work on various aspects on his RC213V machine including shock settings and the new Bridgestone tyres.
Repsol Honda team mate Dani Pedrosa took the 3rd fastest lap of the day with 2'00.256. Dani concentrated on braking and also the electronics management system. This has been a productive first test for the Repsol Honda Team. HRC engineers will now return to Japan with feedback from both riders and the team will return to Sepang for the second test on February 28th.
Valentino Rossi 
"We on the team are all happy with how this test has gone, especially today. With a 2:00.8, we're starting to get to a decent time. The two Hondas and the two Yamahas are still ahead of us, but we consider this test to be a starting point. The most positive things we've achieved are that the front now lets me ride a little more as I'm able, that the bike reacts well to changes and that we have very clear ideas on what's still missing. In particular, if we manage to improve the bike's behaviour on acceleration, we'll be able to take a consistent step forward. I know that the work has never stopped at Ducati, and now with the information we've gathered, they'll keep working on the areas that we've identified. That might take a while, but there's still some time before the first race. We have to keep improving, so we're not getting too excited, but I'm pleased with how things have gone so far."
 Nicky Hayden 
"Obviously, I'd like to have done more. I can't really say it was a real test for me, but I did a few laps each morning in order to at least get a feel for the new bike, get a little data and understand a couple of things. Even in that limited time, I was able to make small improvements and go quicker each day. Ducati did an amazing job with this bike in a short amount of time. It's smoother than any other Ducati I've ever ridden, it looks slick and it's good to work on. It's got good power, and the front end is working well, but with the extra power, now we've got to find better rear traction at the first touch of the throttle. With the few adjustments we've made, everything seems to be going in a good way, so now I just need to get healthy."
Jorge Lorenzo 
"I'm really, really satisfied, I have improved on my best record here in Sepang. We tried a lot of things; some have been a lot better, especially one major improvement. We also know where we have to improve in the future. The electronics are not perfect yet, we still need to make it smoother but the bike has so much potential we are very optimistic. The Yamaha engineers have worked really hard so they have done a good job. I made my best time today at midday which is the hardest time with the conditions so it was pretty good. Let's see what we can do when we come back."
Ben Spies
"It's been a good test, we've got a lot of things accomplished, we're definitely moving in the right direction with my bike. I tried the Yamaha test rider's bike today which had a slightly different set up to make a fair comparison with mine. I made a small mistake, losing the front but that's testing; it can happen when you're working out the good and bad! All in all it's been great and I'm really happy and looking forward to coming back and seeing what's new."
Dani Pedrosa 
"Three days testing here in Malaysia is very tiring. This morning when I woke up I was pretty sore and stiff, but once I got running I was a little bit better. Anyway, it's been worth it to do a general test of the engine, chassis and tyres and overall it is the biggest test we have done on this bike and we have good data to analyse and can start to build up points we need for the second test.
As I said yesterday, the biggest point to improve is on braking, and we are also working on the electronics to improve the management of the power and the grip level. The chatter is still there, I know it's something very difficult to fix, but I'm sure Honda is working hard on it. In general, it's been a positive test for us and we will come back here in three weeks with new ideas.
This bike is physically more demanding, you feel the power in the acceleration, the speed under hard braking and also the extra weight, but it's alright. I will keep working hard physically to prepare for the second test".
Casey Stoner
"It's been a good test in general, we only managed two out of the three days unfortunately but the weather has been really good to us and we've been able to do what we planned. The day I missed hasn't affected us too much and we've managed to complete our testing programme, to be honest I think track conditions on the first day weren't that great anyway as the lap times were not so fast.
I'm still not feeling great with my back but the bike is ok, so we've made progress in reducing the chatter a little more and trying a few different things, some small settings on the shock that we haven't tried before amongst other points. So far it's been pretty positive, we'll just have to wait and see what we have for the next test and hopefully improve a little more. Now I'm looking forward to getting home to Switzerland to see Adriana and await the arrival of our baby!".
Top Five timings from the day:
| | | |
| --- | --- | --- |
| 1. | Casey Stoner (Repsol Honda Team) | 1:59.607 |
| 2. | Jorge Lorenzo (Yamaha) | +0.591 |
| 3. | Dani Pedrosa (Repsol Honda Team) | +0.649 |
| 4. | Ben Spies (Yamaha) | +0.888 |
| 5. | Valentino Rossi (Ducati) | +1.217 |