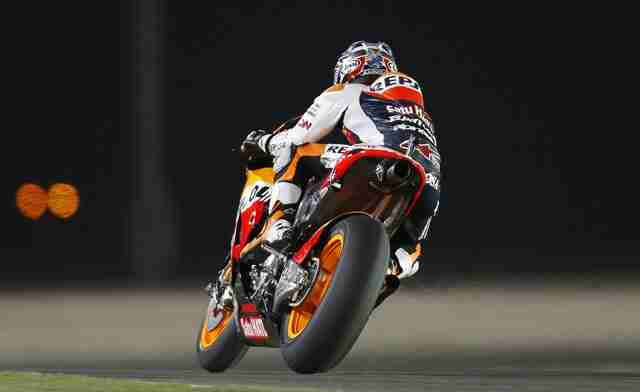 The floodlights of the Losail International Circuit were switched on this Thursday night for the start of the 2012 MotoGP World Championship. Casey Stoner also lit up the Qatari track by starting this campaign as he ended the last: In first place. The Repsol rider clocked the fastest time in the opening MotoGP practice session, in which teammate Dani Pedrosa had a more cautious initiation plagued by small mechanical problems. Pedrosa put in his fastest lap in the final moments of the session, moving into fifth place on the timesheet.
It was by no means a placid, reserved session and the Yamaha riders came out swinging early on. Factory riders Spies and Lorenzo showed their competitivity and satellite rider Crutchlow also made his mark in the opening spell. In the Repsol Honda Team, caution and prudence were more the order of the day. Stoner took progressive strides to getting up to full speed, finally taking over in the last quarter of an hour despite light chattering. He rounded off the session with a fastest time of 1'56.474 after completing 13 laps.
Pedrosa had a more action-packed session, experiencing mechanical problems with the back end of his bike that obliged him to spend more time in the box than planned. After this setback was overcome, the Repsol rider took steady progress towards his final time –ending the session fifth, 6 tenths of a second behind his teammate.
Casey Stoner
"The track tonight wasn't so bad, I expected the conditions to be much worse but in general it was ok. We started this evening with huge chatter issues and I was a little afraid we couldn't fix this but after a few more exits we managed to reduce it to a more comfortable level.
This is a positive point for the weekend but with such a short session and then nothing until tomorrow it's slightly strange. It was an ok start tonight, we finished quickest which is good but we'll have to wait until tomorrow for some real track time and with the conditions a little better and see where we are".
Dani Pedrosa
"There are some corners where we are struggling a lot with the chattering, especially in the area where you slide more, but it's like this and we will need to adapt the best we can. On my first exit I had an issue with the tyres and I had to stop in the garage; I felt a vibration in the wheels, so we decided to change both tyres. I lost some time there and at the end of the practice I went wide twice.
Anyway, it's been good to go out there and get the feeling back at this track after a long time without riding here. Tomorrow, with two practices sessions, we will start working more with the chassis and electronics to improve and prepare for the race".
Timings
| | | |
| --- | --- | --- |
| 1. Casey Stoner | Repsol Honda Team | 1:56.474 |
| 2. Jorge Lorenzo | Yamaha | 1:56.648 |
| 3. Nicky Hayden | Ducati | 1:56.924 |
| 4. Ben Spies | Yamaha | 1:56.982 |
| 5. Dani Pedrosa | Repsol Honda Team | 1:57.130 |