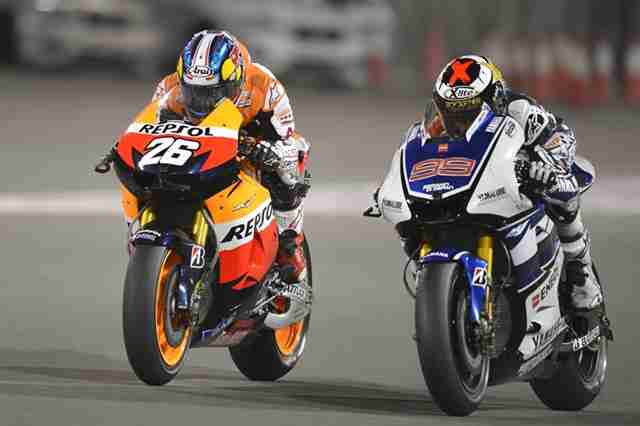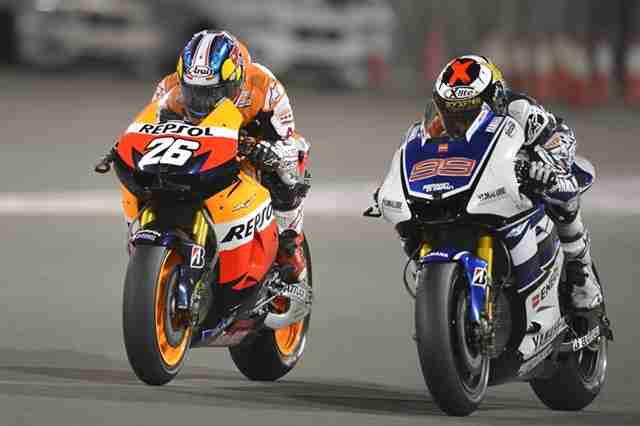 Yamaha Factory Racing rider Jorge Lorenzo claimed a sensational victory this evening under the dramatic floodlights of the Losail circuit, finally claiming his first premier class Grad Prix of Qatar win. Lorenzo took the lead from the start and held off rival Casey Stoner for the first few laps before conceding the lead and tucking into second. The Mallorcan then played the waiting game, never letting Stoner more than two seconds ahead. With seven laps to go he started to close the distance as Stoner's pace dropped off, holding off a determined Dani Pedrosa on his tail to take the lead. Lorenzo crossed the line 0.852 seconds ahead of Pedrosa, taking the lead in the 2012 Championship standings with 25 points.
With just four laps to go Stoner suddenly seemed to have problems as unexpectedly he started to fade and Lorenzo and Pedrosa suddenly had him in their sights, with Pedrosa trying an overtaking manouver but Lorenzo retaliated immediately and then latched onto Stoner and passed him with just three laps to go with Stoner trying to slipstream on the straight, but Lorenzo got the better exit at turn 1 and then ran away. The Australian then had his hands full with his team mate who got the best of him and he too speeded away to take second, despite nursing a big cold.
Stoner ended up a very safe third and while everyone was thinking that chattering and tire problems had gotten him, it was instead a physical problem, arm pump that weakened him, but Livio Suppo said that his rider had problems with his new gloves. It was an all in-house almost 20 lap race battle between Yamaha Tech3 riders Andrea Dovizioso and Cal Crutchlow for fourth place, with the Brit rider finally getting the best of the Italian on lap 17 and defending his position to the chequered flag.
Moto2 champion and MotoGP rookie Stefan Bradl was up to sixth for most of the race, before being hunted down by Nicky Hayden, Alvaro Bautista and Hector Barbera who exchanged places several times and left Bradl down in 8th after Hector Barbera ran wide into the gravel pit.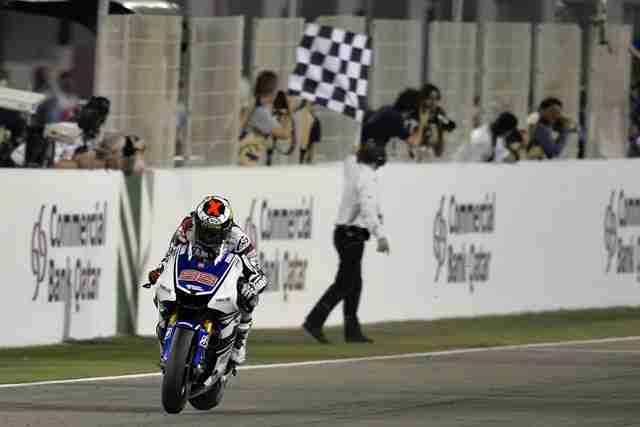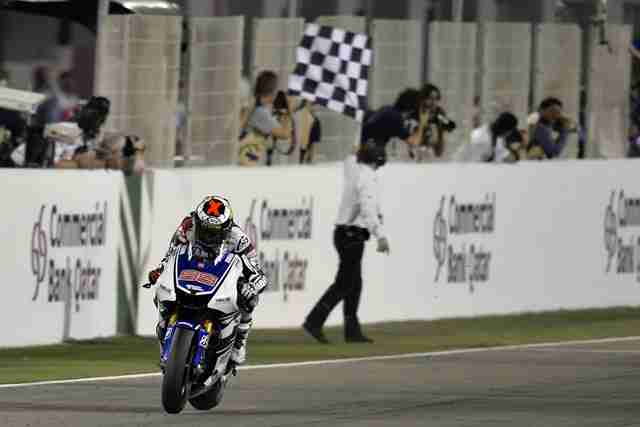 Jorge Lorenzo
"What an amazing race! I put everything I have, all my energy into the track, this victory is because I never gave up, kept pushing and trying. Casey was very strong at the beginning and opened a gap. Fortunately for us he struggled at the end and dropped his pace where I could keep mine so I managed to pass him. I am very grateful to Yamaha because they have made a big step this winter on the YZR-M1."
As expected after his horrible qualifying session, Valentino Rossi finished in 10th with very erratic and unexplainable lap times, while Ben Spies had an even more horrible race as he faded to 11th and was the last MotoGP rider before the hoardes of CRTs which was won by Colin Edwards.
MotoGP Qatar 2012 race results
01- Jorge Lorenzo — Yamaha Factory Racing — Yamaha YZR M1 — 42'44.214
02- Dani Pedrosa — Repsol Honda Team — Honda RC213V — + 0.852
03- Casey Stoner — Repsol Honda Team — Honda RC213V — + 2.908
04- Cal Crutchlow — Monster Yamaha Tech 3 — Yamaha YZR M1 — + 17.114
05- Andrea Dovizioso — Monster Yamaha Tech 3 — Yamaha YZR M1 — + 17.420
06- Nicky Hayden — Ducati Team — Ducati Desmosedici GP12 — + 28.413
07- Alvaro Bautista — San Carlo Honda Gresini — Honda RC213V — + 28.446
08- Stefan Bradl — LCR Honda MotoGP — Honda RC213V — + 29.464
09- Hector Barbera — Pramac Racing Team — Ducati Desmosedici GP12 — + 31.384
10- Valentino Rossi — Ducati Team — Ducati Desmosedici GP12 — + 33.665
11- Ben Spies — Yamaha Factory Racing — Yamaha YZR M1 — + 56.907
12- Colin Edwards — NGM Mobile Forward Racing — Suter BMW — + 58.088
13- Randy De Puniet — Power Electronics Aspar — ART GP12 — + 1'10.650
14- Yonny Hernandez — Avintia Blusens — FTR Kawasaki — + 1'15.943
15- Aleix Espargaro — Power Electronics Aspar — ART GP12 — + 1'26.733
16- Ivan Silva — Avintia Blusens — FTR Kawasaki — + 1'43.327
17- Mattia Pasini — Speed Master Team — ART GP12 — + 1'47.419
18- James Ellison — Paul Bird Motorsport — ART GP12 — + 1'51.882