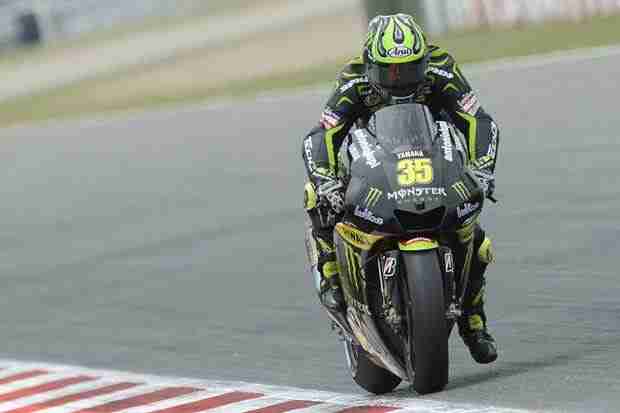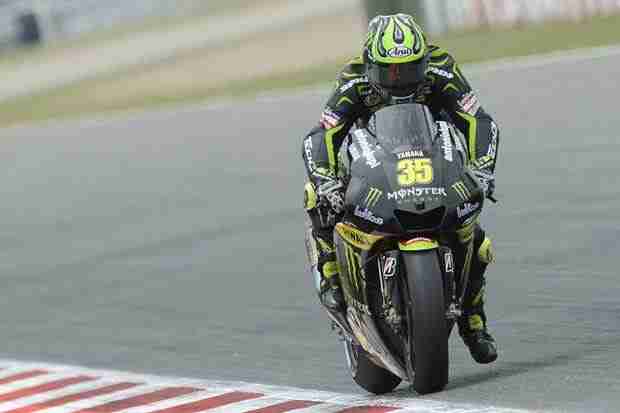 Fresh from his first podium for the Monster Yamaha Tech 3 Team in yesterday's Gran Premi Aperol de Catalunya, Andrea Dovizioso topped the timesheets at the end of a productive test session at the Montmelo circuit today. The Italian rider, who claimed a fantastic third in the 25-lap race, set a best time of 1.41.997 in the 42 laps he completed to finish ahead of factory Yamaha rider Ben Spies by 0.146s.
Warm but overcast conditions enabled Dovizioso to work on a range of set-up options with his YZR-M1 machine , including a new electronics package, which produced positive results in prolonging tyre life and managing grip on worn tyres. He was also able to evaluate an upgraded engine spec and gave Yamaha technical staff vital feedback to aid future development. Today's test ended in positive fashion for British rider Cal Crutchlow after a difficult start this morning. Heavy overnight rain meant the track surface was still littered with damp patches and it wasn't until after 11am that Dovizioso and Crutchlow were able to commence their work.
Crutchlow unfortunately suffered a heavy fall at Turn 4 on only his second flying lap, the 26-year-old losing the front on a wet patch in the braking zone. Fortunately Crutchlow escaped injury and he was able to return to the t rack after midday, setting a best pace of 1.42.378 to finish seventh quickest. The Monster Yamaha Tech 3 Team now heads to the Motorland Aragon circuit for a further one-day test on Wednesday.
Andrea Dovizioso – 1st 1.41.997 — 42 laps
"Today was very positive and despite missing a bit of time while the track dried this morning, we were able to work through our schedule. Finishing fastest means we have shown once again our potential and I am now starting to feel really confident and comfortable with the YZR-M1. Yamaha gave us a new engine to try and I was able to give my impressions of it and help with some comments for future development. The most positive point of the day was the electronics package. It doesn't help for a single lap but it makes the life of the tyre signif icantly better and that is really important for us. We made another step forward with the set-up of the bike compared to the race and now I am looking forward to the Aragon test. This track has not been the best for me so I am curious to check my level on the Yamaha there. I am looking forward to confirming the results of the race and the test here in Catalunya."
Cal Crutchlow – 7th1.42.378 — 48 laps
"Today certainly could have got off to a better start and the crash made it quite tough. We had a lot of work to do but I crashed on only my second lap. It was my fault because we knew there was likely to be some water under the bridge at Turn 4 after the overnight rain. The problem is you can't see the wet patch and as soon as I touched the brakes I crashed. It was a very fast crash and I've lost some skin on my r ight leg and back. Luckily though I am fine and I was able to go back out and build up my confidence again. Losing one bike made it difficult because it meant we had to put all the new parts we had on one bike, so I wasn't sure exactly where the improvements were. If we had two bikes it would have made it easier to understand specifically what felt better. But I was able to work a lot on used tyres and my pace at the end of the day was pleasing. I wasn't going to push too hard and risk another crash so I'm sure I could be higher than seventh. Now I'm looking forward to Aragon where hopefully I can get a better understanding for the new parts Yamaha delivered here."