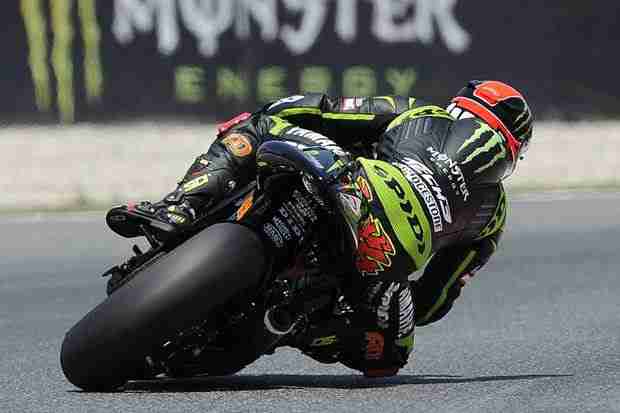 The Monster Yamaha Tech 3 Team celebrated its first MotoGP podium in nearly a year today after Andrea Dovizioso claimed a fantastic third place in the Gran Premi Aperol de Catalunya. The Italian rider produced a display full of skill and determination in the early stages of the 25-lap race after he'd swept into third place on the third lap.
It was a position Dovizioso wasn't to relinquish for the remainder of the race and for the opening 10 laps, he pressurised Spanish duo Jorge Lorenzo an d Dani Pedrosa while they battled for the lead in front of a partisan home crowd of nearly 80,000 fans. A small mistake on lap 14 ended his stunning pursuit of Lorenzo and Pedrosa but Dovizioso rode a flawless second half of the race to keep hard charging Monster Yamaha Tech 3 team-mate Cal Crutchlow and reigning World Champion Casey Stoner at bay.
Stoner exerted intense pressure on Dovizioso on the final lap but he demonstrated ice cool concentration to claim his first Yamaha rostrum by less than 0.2s. Today's outstanding performance from Dovizioso gave the Monster Yamaha Tech 3 Team its first podium since Colin Edwards was third in the British Grand Prix almost one year ago. Today's race perfectly illustrated the strength of the Monster Yamaha Tech Team's line line-up in 20 12, with Crutchlow claiming his fourth top five finish of the campaign.
The British rider started from the front row of the grid for the third time this season and like in Jerez and Le Mans, the 26-year-old produced an epic effort to try and secure his maiden MotoGP rostrum. Crutchlow shadowed Stoner throughout but despite piling on the pressure he couldn't force the Australian into making a mistake and he settled for fifth place. Crutchlow remains in the top five in the overall World Championship rankings heading to his home race at Silverstone on June 7.
Andrea Dovizioso 3rd — 60 points
"I am really happy to get my first podium for Yamaha and this is a fantastic reward for all the effort my Monster Yamaha Tech 3 crew has put in since I came to this Team. We have been building up to this result for a while now, but it is great to be battling at the front in MotoGP on a satellite machine and I'm sure nobody expected us to be doing this so early. It was a very hard race because there wasn't a lot of grip but I am really happy because I was able to fight very close to Pedrosa and Lorenzo, who are so strong on this track. I was only losing one or two tenths and this is very positive. Maybe I could have stayed with them and fought for the win but I made a small mistake and that cost me a lot of time. I found my pace again but in the final laps Casey and Cal caught me, but I was determined to finish on the podium. I could hear Casey's bike and knew he was looking to attack, but I tried to give my maximum while not making a mistake and to finish third is great for the whole Team. Now we can go to Silverstone with a lot of confidence."
Cal Crutchlow 5th — 56-points
"I'd have liked to have battled for the podium at the end and I think if I could have passed Casey I could have gone with Andrea. I was strong in some parts of the track and Casey in others, so each time I'd close up, he would be able to pull away and manage the gap. I couldn't do anything else to get by him but he's not the World Champion for nothing. He rode brilliantly and I've got to be happy to be so close to him on a track I've only raced on twice now. I struggled for a bit of rear grip at the end and that cost me a bit of time but I qualified on the front row and finished in the top five, so there are so many positives to take away from this weekend. Now I'm really looking forward to my home race at Silverstone where I hope to be battling for the podium again in front of my own fans."
Herve Poncharal — Team Manager
"Today was a fantastic advert for MotoGP with exciting races in all three classes and for the Monster Yamaha Tech 3 Team it was obviously fantastic to be on the podium. We have been very close to this result before this season but it is so difficult to finish in the top three when you have Casey, Dani and Jorge lining up on the grid. But we were confident today because all weekend Andrea and Cal have been at the front and we had worked a lot on tyre management. Both of them got a good start and managed to stay in the leading group and Andrea did an amazing job to stay with Dani and Jorge. He made a small mistake, which scared us a little bit, but he recovered and rode brilliantly to keep Casey and Cal behind him. The last lap was nerve-wracking because Casey was pushing so hard, but Andrea remained very cool under pressure and to be on the podium is ama zing, particularly in the dry. Andrea demonstrated what a top talent he is today and we look forward to see him fighting for the podium a lot more now. Cal also rode a great race and he was always pushing for the podium, which proves how strong our line-up is this season. To be right behind a rider as strong as Casey for so long is a great achievement and we are sure he will be battling for the podium again at his home race in Silverstone. Big congratulations also to Jorge and Yamaha. The YZR-M1 is a very competitive machine and we are grateful for the support Yamaha has given Tech 3 so we can fight for the front row and podium each weekend."