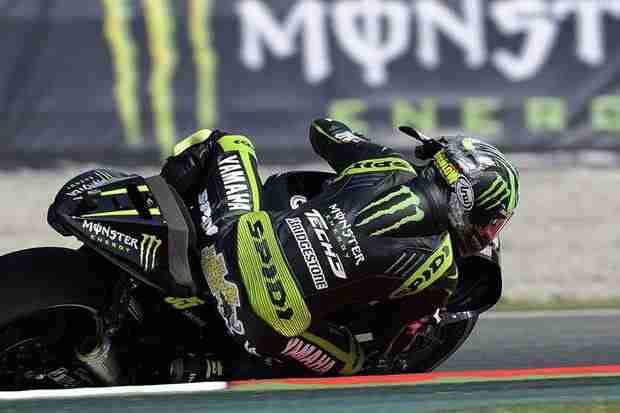 The Monster Yamaha Tech 3 Team's impressive qualifying streak in 2012 continued in sweltering heat at the Catalunya track today, with Cal Crutchlow powering to a third front row start in the opening five races. Air temperatures peaked at a punishing 31 degrees but Crutchlow set a blisteringly hot pace on his YZR-M1 machine to battle for a front row position in a typically exciting conclusion to qualifying.
The British rider briefly led the timesheets with just over 10 minutes left on the clock when he posted a time of 1.41.922. Lap times continued to plummet and Crutchlow was briefly bumped off the front row before he produced a stunning late attack with just over two minutes remaining to secure third spot on the grid for the third time this season. Taking full advantage of the extra grip from a new soft Bridgestone rear tyre, Crutchlow improved his pace to a 1.41.548, which put him second behind reigning World Champion Casey Stoner. Only 0.107s stood between Crutchlow and a career best MotoGP grid position after Jorge Lorenzo snatched second in the final moments.
Andrea Dovizioso started qualifying in confident mood after he'd finished practice with the third fastest time of 1.41.966. The Italian's form continued this afternoon and he put up a strong fight for his second successive front row for the Monster Yamaha Tech 3 Team. When the time attack commenced in the final 20 minutes, Dovizioso wasted no time in demonstrating his potential by surgin g to the top of the timesheets with a lap of 1.41.931.
He improved his pace to a 1.41.687 and will start from sixth, the former 125cc World Champion optimistic that he will be able to battle for the podium in the 25-lap race.
Cal Crutchlow – 3rd 1.41.548 — 24 laps
"I am really happy to be back on the front row again and it feels great considering this is only the second time I have been to this track. I expected to be up there challenging but wasn't sure where and my Monster Yamaha Tech 3 crew did another fantastic job with the bike today. It proves again that I've got the raw speed and consistency and now I am really looking forward to the race. It will be really tough if the conditions are the same with the temperature so hot but I am ready for it. This morning I only used an old soft rear tyre and I was still really fast, so I knew when I put in a new soft rear this afternoon that I could be much quicker. I got in a good lap even though I'm not completely comfortable with the set-up and I will definitely run the hard front and soft rear for the race. The hard doesn't give a big advantage over race distance. Today is a great result and hopefully I can do the same job tomorrow when it really counts."
Andrea Dovizioso – 6th 1.41.687 — 24 laps
"I am really satisfied with the work we have done this weekend but I can't deny it would have been nice to be on the front row again. Being sixth on the grid is not bad and the most pleasing aspect for me is that my race pace is very fast and consistent. This morning I was able to be much faster than yesterday and hopefully all the work we have put in will pay off tomorrow. The second half of the race is going to be really important if the conditions are as hot as today and tyre c hoice is going to critical. It seems the Yamaha can't use the hard rear tyre as well as the soft, but Lorenzo can't use the soft, so this is a little bit confusing. I will sit down with my Monster Yamaha Tech 3 crew to carefully consider what the strategy will be with the tyres. I have always been strong at this track and after today's performance I am expecting a good race."