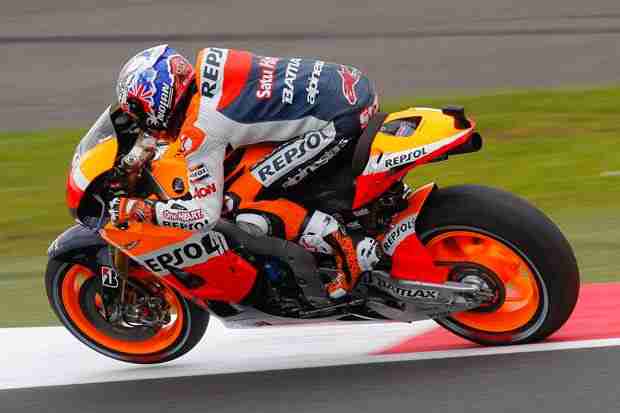 The MotoGP World Championship rolls up to the Netherlands this week, embarking on a three-race series on consecutive weekends. The Repsol riders arrive at round seven having taken a victory and three podiums last time out at Silverstone. The 4.542km Assen circuit, known as 'The Cathedral,' hosts the only race of the year held on a Saturday.
After returning to the podium at the most recent GP, Casey Stoner will be in action at a track where he holds a series of five consecutive podium –including victory in 2008. Second in the overall standings, the reigning MotoGP World Champion will chase his first win since the Portuguese Grand Prix. Repsol Honda teammate Dani Pedrosa is also looking for glory and is currently third in the standings. The Spaniard missed last year's Dutch TT through injury.
A winner at Assen for the past two seasons is Marc Márquez. Victorious in 2010 in the 125cc class and again in 2011 in Moto2, the Repsol rider currently leads the standings in the intermediate category by six points from Pol Espargaró. Following a difficult weekend in Great Britain, Márquez is out to regain his good feeling onboard the Suter.
Maverick Viñales made an impact on his first visit to Assen last year, taking pole position, the fastest race lap and the victory. He also won a fortnight ago at Silverstone and leads the Moto3 classification. Fellow Repsol riders Miguel Oliveira and Álex Rins are also optimistic about the event; the Portuguese won in the Netherlands in the 2008 Rookies Cup race, whilst Rins makes his Dutch debut.
Dani Pedrosa
"I wasn't there last year due to the injury, but it's a circuit we know well. Assen has changeable weather so I hope we can have some dry sessions to continue setting up the bike and making it more rideable. We need some more experience with the new front tyre and hopefully we can make another step forward this week. In Assen is important to have a good feeling with the tyres because there are several fast corners. I am really looking forward to this race and aiming to ride at my best".
Casey Stoner
"We've had some great results in Assen, but also some pretty bad ones, so hopefully we can go there this weekend, be competitive and avoid any injury like last year when I hurt my neck, which followed us for the season and still causes me problems now. You spend a lot of the time on the edge of the tyre in Assen and unfortunately on our bike at the moment this is a weak point, so we will need to work on Thursday and Friday to improve before we can consider ourselves competitive there.
I really hope the weather is good for us, as we need as much track time as possible to work on various issues on the bike. With three races back to back, it's important to get some good results at Assen, Sachsenring and Mugello, so we need to remain focused".
Marc Márquez
"Assen is a fast circuit which is similar to Silverstone in certain respects, but I think that it is a better track for me. We will be focusing on finding a good setting, because at the British GP we suffered a bit with that. We will be giving 100% and keeping calm over the weekend, as we may perhaps be facing unstable weather conditions again. Last year I felt very comfortable at the track; we had a wet race and I took the win. This year we have a completely different bike and will have to work hard".
Maverick Viñales
"Assen is a circuit that suits my riding style very well, in addition to bringing back some fond memories. I won for the second time in the World Championship there, so I am excited about going back to Assen. The fast section is where I go best, but we will work on the engine and the chassis in order to go all-out in every part".
Miguel Oliveira
"I have very fond memories of Assen, as I won there in 2008 in the Rookies Cup. We will keep working with the same plan as at Silverstone and will focus on polishing up the small mistakes that we made last time out. We will be giving all to find a setting with which to go fast and improve upon our result from the British GP.
The track has a section of slow corners at the start and we can get away quicker with these four-strokes than with a 125cc. This is an advantage for us and will make it a much more fun race, because the rest of the circuit is very fast –especially the old section".
Álex Rins
"Going to the Netherlands really excites me, because Assen is a classic circuit at which everyone wants to ride. I've been recovering over the past few days and will be motivated, although the crash at Silverstone means that I won't be at 100%. It's going to be a new track for me, which means a lot of work together with my team to earn a good result –leaving behind the bad luck of recent races. We have three consecutive race weekends coming up, and we are very motivated".