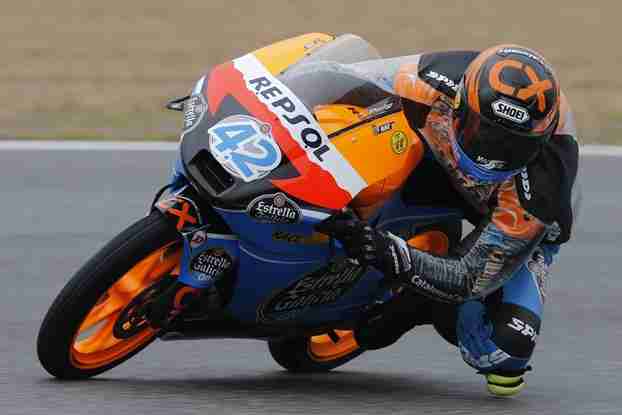 The Moto3 riders faced plenty of difficulties in the qualifying session for the Spanish Grand Prix. The rain that had fallen in the morning and that had been present in all three free practice sessions made way for a strong wind that gradually dried out the track. That made it hard work for the riders and their crews, as they weighed up whether to use slick tyres or wet wet weather rubber. Álex Rins and his team played the game most successfully, giving the Spaniard his first pole position for only his second World Championship race. Prudence was the strategy in the morning session, which took place in wet conditions. Miguel Oliveira was the most comfortable in the rain, earning the fastest time of the run. Maverick Viñales preferred to focus on qualifying and placed eleventh. Álex Rins improved upon his Friday performance and finished fifteenth, whilst Álex Márquez was twenty-second.
In the qualifying session, contested without rain falling and with the track drying out gradually, Rins took a brilliant pole position after timing his switch to slicks to perfection. In doing so, he knocked teammate Miguel Oliveira off the top spot. Oliveira will start from third, after Sandro Cortese also just edged out his time. Maverick Viñales elected not to use slicks for a final run and will start tomorrow's race from the second row. The Repsol rider placed ninth in qualifying. With wet weather tyres, the Repsol rider was 1.594 seconds down on Rins and two rows ahead of Álex Márquez, who eventually took thirteenth and improved his feeling from the opening session.
Maverick Viñales
FP3 – 2:00.548, 9 laps, 40 km.
QP – 1:59.101, 14 laps, 62 km.
"That was a difficult session, above all because of the track conditions. We didn't put the slicks on at the end of the session, although we should have done so. That was more a mistake on my part than down to the team. If the race is wet tomorrow, then we will have to be calm. I feel good in the wet and am happy to be able to go fast. However, if the race is dry then I will have to be aggressive in order to place as high up as possible".
Miguel Oliveira
FP3 – 1:58.316, 17 laps, 75 km.
QP – 1:57.975, 17 laps, 75 km.
"I felt alright over the course of the entire day. In the wet in the morning, we were amongst the fastest on track, but in the mixed afternoon conditions things became more complicated. In the end, we were able to complete a lap on slicks that took us up to third. The team did a great job to get us onto the front row. Wet races are usually very long and require much concentration, as you can't afford to make the slightest mistake. We need to get a good start and keep our cool –above all on the opening laps".
Álex Rins
FP3 – 2:00.865, 17 laps, 75 km.
QP – 1:57.507, 16 laps, 71 km.
"It was one of those crazy one-lap runs, as I wasn't sure which type of tyres to put on. However, my crew saw what the asphalt was like and what the conditions were doing, instructing me that it would be better to put on slicks. They got it right. I want to thank them and my sponsors for making all this possible. This is one of the tracks that I like the most, so tomorrow we will be going out to enjoy the race".
Álex Márquez
FP3 – 2:01.399, 16 laps, 71 km.
QP – 1:59.500, 17 laps, 75 km.
 "I didn't have a good feeling about things this morning, mostly because the tyres that we had put on didn't allow me to ride comfortably. We improved things a little in the afternoon and carried on working on the setup. I needed to push slightly harder than I did at the end of the session, although we are still starting from thirteenth tomorrow and I hope to have a good race".