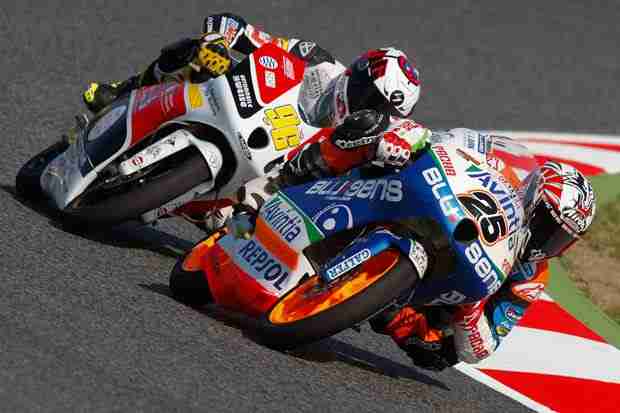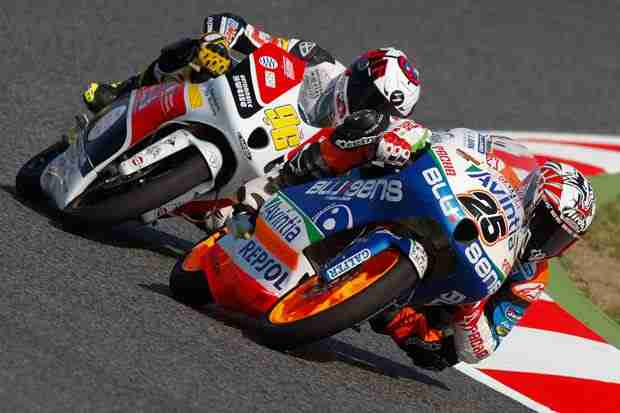 The young Spaniard once again rode a perfect race. After a good start from pole, despite being overtaken by Khairuddin and Rossi on the first corner, Viñales moved in front by the third lap and held the lead until the chequered flag. Following his overtake on Louis Rossi, the Repsol rider gradually upped his pace to leave the chasing pack in the distance. His win was his second of the season, taken little more than 130km from his home.
If Vinales rode to a lonely victory with almost an eight second margin, the fight for second and third place was highly entertaining with the outcome unknown until the final turns of the last lap. About nine riders fought for the remaining two podium positions, exchanging positions constantly, which finally saw standings leader Sandro Cortese prevail and take the second spot despite the hand injury he picked up in FP3.
Miguel Oliveira grabbed the third spot after beating Le Mans winner Louis Rossi to the line. The Race Direction was considering black flagging Rossi and his team for breaking the noise limits, but sagely decided to let the situation slide. Alexis Masbou was fifth on his Honda NSF250R. While wild card and CEV rider Alex Marquez (Marc's younger brother) who is suffering from a hand and arm injury took the sixth position.
Seventh went  to GP racing veteran Hector Faubel followed by the ever impressive Zulfahmi Khairuddin. Romano Fenati took the 9th spot after slicing through the field and he was able to join the battling group for the podium on the third to last lap. Luis Salon rounded out the tenth spot and he was more than seven seconds from the battling front runners.
Moto3 Catalunya Race Results
01. Maverick Vinales — Blusens Avintia — FTR Honda M312 — 22 laps in 41'50.965
02. Sandro Cortese — Red Bull KTM Ajo Factory Team — KTM M32 — + 7.752
03. Miguel Oliveira — Team Estrella Galicia 0,0 — Suter Honda MMX3 — + 7.853
04. Louis Rossi — Racing Team Germany — FTR Honda M312 — + 8.007
05. Alexis Masbou — Caretta Technology — Honda NSF250R — + 8.075
06. Alex Marquez — Team Estrella Galicia 0,0 — Suter Honda MMX3 — + 8.267
07. Hector Faubel — BANKIA Aspar Team — KALEX KTM — + 8.355
08. Zulfahmi Khairuddin — AirAsia SIC Ajo — KTM M32 — + 8.480
09. Romano Fenati — Team Italia FMI — FTR Honda M312 — + 8.600
10. Luis Salom — RW Racing GP — KALEX KTM — + 16.023
11. Jakub Kornfeil — Redox Ongetta Centro Seta — FTR Honda M312 — + 16.127
12. Niccolò Antonelli — San Carlo Gresini Moto3 — FTR Honda M312 — + 16.222
13. Alan Techer — Technomag CIP TSR — TSR3 Honda — + 16.792
14. Alberto Moncayo — BANKIA Aspar Team — KALEX KTM — + 30.132
15. Jack Miller — Caretta Technology — Honda NSF250R — + 30.132
16. Jasper Iwema — MOTO FGR — MOTO FGR 3 Honda — + 30.304
17. Adrian Martin — JHK T-Shirt LaGlisse — FTR Honda M312 — + 30.663
18. Ivan Moreno — Andalucia JHK LaGlisse — FTR Honda M312 — + 30.970
19. John McPhee — KRP Racing Steps Foundation — KRP M3-01 Honda — + 31.042
20. Danny Kent — Red Bull KTM Ajo Factory Team — KTM M32 — + 43.738
21. Niklas Ajo — TT Motion Events Racing — KTM M32 — + 43.765
22. Arthur Sissis — Red Bull KTM Ajo Factory Team — KTM M32 — + 44.119
23. Simone Grotzkyj Giorgi — Ambrogio NEXT Racing — Suter Honda MMX3 — + 1'02.007
24. Isaac Vinales — Ongetta Centro Seta — FTR Honda M312 — + 1'11.320
25. Kenta Fujii — Technomag CIP TSR — TSR3 Honda — + 1'19.060
26. Luigi Morciano — Ioda Team Italia — Ioda TR002 — + 1'19.314
27. Giulian Pedone — Ambrogio NEXT Racing — Suter Honda MMX3 — + 1'19.331
28. Alessandro Tonucci — Team Italia FMI — FTR Honda M312 — 1 lap