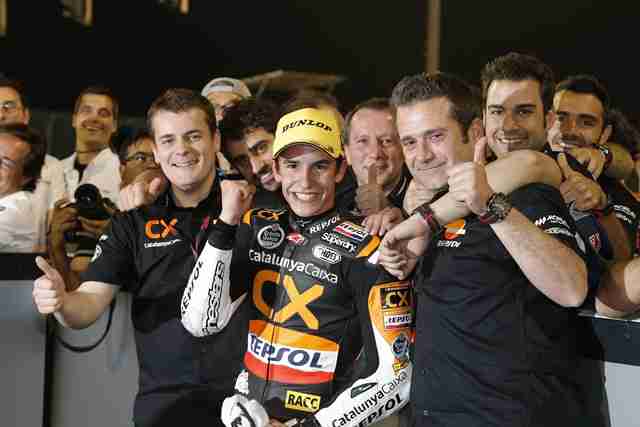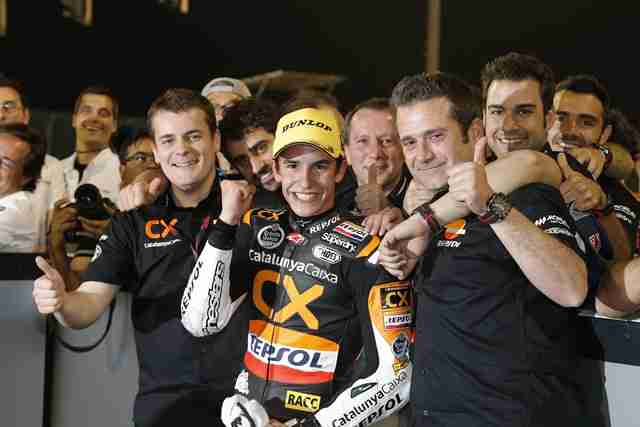 Marc Márquez began his 2012 World Championship campaign with a win at the Losail International Circuit, coming out on top in a tremendous battle with Luthi and Iannone. The Spaniard took the definitive lead right at the end of a fantastic display of overtaking in Qatar. After a good start from the Repsol rider, a strong lead group emerged on the opening laps. Thomas Luthi was the first to take the initiative, followed by Márquez, Andrea Iannone and Pol Espargaró. Turns were taken at the head of the field from the first to the last lap.
Weighing up his chances, Márquez reached the moment of truth when riding in second place. Pegged to Luthi's back wheel, he made the racewinning move on the final lap and, with Iannone behind him, the Repsol rider closed the door on his Italian rival. It was a brilliant victory in the opening Moto2 race of what promises to be a thrilling season. The win gives the Repsol rider the first 25 points of the season and puts him into the lead of the intermediate category.
Marc Márquez (1st – 40:34.225)
"It really was a very hard race and I wasn't expecting a win. My aim for the race was to try and stick with the rest of the riders, but in the end their pace wasn't as fast as we had expected. This was a hard fought victory and a really beautiful moment. I really appreciate it after the tough winter that we have had.
This race was especially tricky because of the difficulty that I had been experiencing in the practice sessions in terms of finding my pace. However, in the race I felt good, was very focused and knew that I had a chance even without being at 100%. It was a surprise to me. There are still many races to go; this is just the first step and we have to take things step by step. This has only just begun."