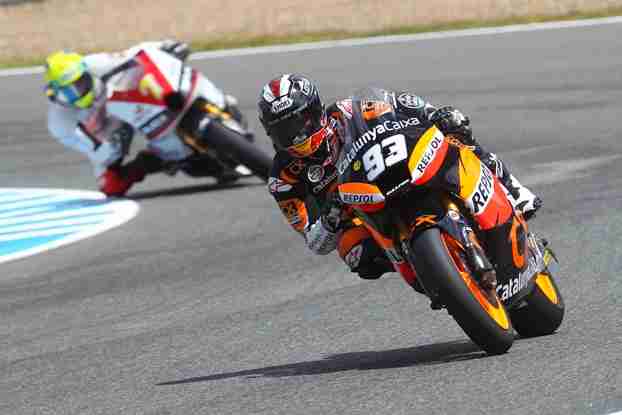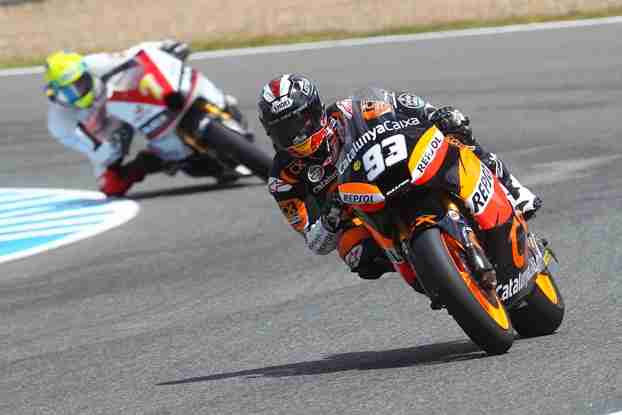 With two Spaniards on pole position in Moto3 (Alex Rins) and MotoGP (Jorge Lorenzo), we more or less expected another Spaniard to be the pole sitter in today's Moto2 qualifying session at Jerez and Marc Marquez was the rider who did it. Marquez took his 8th pole in Moto2 with a best lap of 1'43.005, keeping a surprising and unexpected Takaaki Nakagami (Italtrans Racing Team) at bay by just 0.080s. The Moto2 rookie is a former All Japan J-GP2 champion.
Taking the third spot on the grid will be Pol Espargaro, while Thomas Luthi will be closing the front row, after he lost the front in his last flying lap. Marc VDS's Mika Kallio, Claudio Corti were fifth and sixth respecetively but were very close to Luthi and separated by less then a tenth of second. Esteve Rabat and Mike di Meglio rounded out the second row.
Randy Krummenacher qualified 9th, while Johann Zarco who led almost all the practice sessions closed out the top ten. Andrea Iannone as usual had a tough qualifying session as he was only 13th and he'll have another uphill battle to catch Marquez who won the Qatar race by 0.061s over the Speed Master rider.
Moto2 Jerez qualifying results
01. Marc Marquez — Team CatalunyaCaixa Repsol — Suter MMXII — 1'43.005
02. Takaaki Nakagami — Italtrans Racing Team — KALEX Moto2 — + 0.080
03. Pol Espargaro — Pons 40 HP Tuenti — KALEX Moto2 — + 0.268
04. Thomas Luthi — Interwetten Paddock — Suter MMXII — + 0.305
05. Mika Kallio — Marc VDS Racing Team — KALEX Moto2 — + 0.362
06. Claudio Corti — Italtrans Racing Team — KALEX Moto2 — + 0.391
07. Tito Rabat — Pons 40 HP Tuenti — KALEX Moto2 — + 0.646
08. Mike Di Meglio — Speed Master Team — Speed Up Moto2 — + 0.773
09. Randy Krummenacher — GP Team Switzerland — KALEX Moto2 — + 0.853
10. Johann Zarco — JiR Moto2 — MotoBI — + 0.954
11. Alex De Angelis — NGM Mobile Forward Racing — Suter MMXII — + 1.047
12. Scott Redding — Marc VDS Racing Team — KALEX Moto2 — + 1.139
13. Andrea Iannone — Speed Master Team — Speed Up Moto2 — + 1.199
14. Max Neukirchner — Kiefer Racing — KALEX Moto2 — + 1.207
15. Dominique Aegerter — Technomag CIP — Suter MMXII — + 1.218
16. Toni Elias — MAPFRE Aspar Team — Suter MMXII — + 1.249
17. Xavier Simeon — Tech 3 Racing — Tech 3 Mistral 610 — + 1.303
18. Simone Corsi — CAME Iodaracing Project — FTR Moto M212 — + 1.349
19. Bradley Smith — Tech 3 Racing — Tech 3 Mistral 610 — + 1.401
20. Ricky Cardus — Argiñano Racing Team — AJR Moto2 — + 1.527
21. Roberto Rolfo — Technomag CIP — Suter MMXII — + 1.635
22. Yuki Takahashi — NGM Mobile Forward Racing — Suter MMXII — + 1.714
23. Gino Rea — Federal Oil Gresini Moto2 — Moriwaki MD600 — + 2.090
24. Angel Rodriguez — Desguaces La Torre SAG — FTR Moto M211 — + 2.304
25. Julian Simon — Blusens Avintia — Suter MMXII — + 2.533
26. Axel Pons — Pons 40 HP Tuenti — KALEX Moto2 — + 2.602
27. Alexander Lundh — Cresto Guide MZ Racing — FTR Moto M211 — + 2.829
28. Nico Terol — MAPFRE Aspar Team — Suter MMXII — + 2.956
29. Anthony West — QMMF Racing Team — Moriwaki MD600 — + 3.112
30. Ratthapark Wilairot — Thai Honda Gresini Moto2 — Moriwaki MD600 — + 3.206
31. Elena Rosell — QMMF Racing Team — Moriwaki MD600 — + 4.279
32. Marco Colandrea — SAG Team — FTR Moto M211 — + 4.299