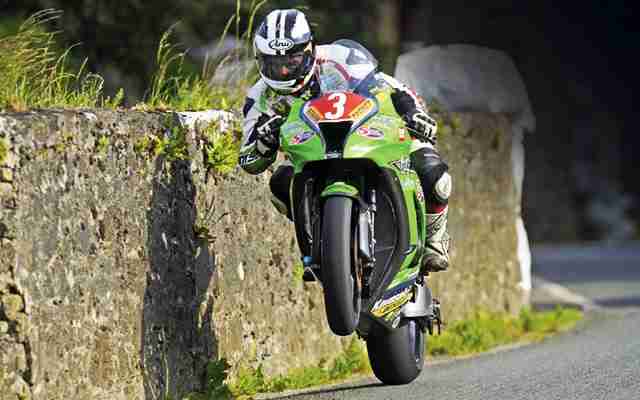 Road racing star Michael Dunlop has signed to ride for the McAdoo Racing squad and will compete in this year's TT on a variety of machinery. Dunlop is the last of the big names to finalise his plans for the 2012 roads season and the team regard him as being the number one roads man for this year. He will ride a Suzuki GSX-R 600 in the Monster Energy Supersport Races, a Hunts Motorcycles-built Honda Fireblade in the Dainese Superbike and PokerStars Senior and a Kawasaki ZX10 in the Royal London 360 Superstock Race. He will also campaign a ER-6 Kawasaki Supertwin in the Lightweight Race that precedes Friday's Senior TT.
The team are celebrating their 30th anniversary in 2012 and teaming up with Michael is a great way to mark this special year. McAdoo Racing are supplying Michael with four Kawasaki motorcycles – a ZX-10R Superstock bike, a ZX-10R as a spare Superbike, an ER-6 Supertwin and a ZX-6R Supersport bike as a back-up," said a team spokesman.
"Michael is the number one road racer around in our opinion and at just 23 years of age has the potential to dominate road racing for many years to come. He has already won TT, UGP and North West 200 races and we hope 2012 will bring much more success for Michael and McAdoo Racing.
"The team will also provide Michael with two race transporters and have brought on board our sponsors GO Forecourt and many loyal trade sponsors who have been with McAdoo Racing for many years such as Morris Lubricants (Phil Morris Racing), PFM Brakes, R&G Racing, Race Products, HPE Performance, LeoVince Exhausts, NGK Spark Plugs, Samco Hoses, ProMach, Skidmarx, DC Chains, AFAM Sprockets, Speedycom and RK Trucks."