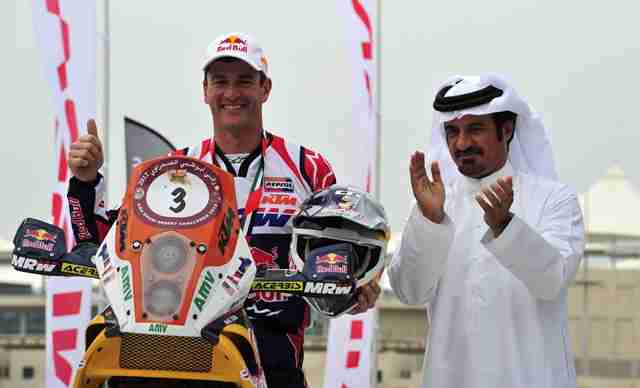 The Abu Dhabi Desert Challenge concluded today in the Arab Emirate, with MRW rider Marc Coma taking the first win of the season. The Spanish rider now holds six wins from eight appearances in the event (he placed second in 2005 and came home seventeenth in 2007 after a breakdown on the penultimate stage) and imposed his authority on the dunes this week. He claimed three stage victories from the five days. Coma's win came about from a combination of talent in navigating the desert and an impeccable strategy. Starting from far back in the opening stage, he was strong in the first special stage and took the first day initiative. He then ensured a favourable starting position for day three, which was key in such a short race as the Abu Dhabi Desert Challenge. The MRW rider was able to maintain his advantage and control the race, winning this morning's fifth special stage.
Today's route consisted of 364km –287 of which were undertaken against the clock– and Coma made the most of his starting position to make up ground on his rivals and establish a further advantage in the overall standings. After 1520km of timed riding, the MRW rider completed the rally in 20 hours, 33 minutes and 355 seconds. His final time was almost ten minutes quicker than second placed Joan Barreda and twenty quicker than third placed Paulo Gonçalves. The next race for the multiple World Champion comes in less than two weeks, when the second event of the season takes place on April 17th in Qatar.
Marc Coma
"I am very happy with how things went, right from the first day. Despite today's stage being the last, it was a special stage of 280km and it was difficult maintaining concentration. You have to focus on getting to the end without any problems. I tried to keep my pace up but without taking any unnecessary risks. Thankfully it was a rally in which everything went our way.
We were able to avoid any issues and things went exactly as we had planned. When things follow your strategy you are grateful when in the end it goes your way, because it was certainly a tough rally for everyone. The heat and the difficulty of the dunes made it a challenge, as did the high level of our rivals. In as short a rally as this one, small errors are magnified -that's why I am so happy that everything went perfectly."
Overall Results
1. Marc Coma, Spain, KTM (450 Rally bike) in 20 hours 33 minutes 35 seconds — won by 9 minutes 33)
2. Joan Barreda, Spain, Husqvarna
3. Paolo Goncalves, Portugal, Husqvarna,
4. Ruben Faria, Portugal, KTM
5. Jordi Villadoms, Spain, KTM
6. Jakub Przygonsik, Poland, KTM
Final Leg Results
1. Coma
2. Barreda
3. Przygonski
4. Goncalves
5. David Casteu, France, Yamaha
6. Alessandro Botturi, Italy, KTM
7. Faria
8. Jordi Villadoms, Spain, KTM