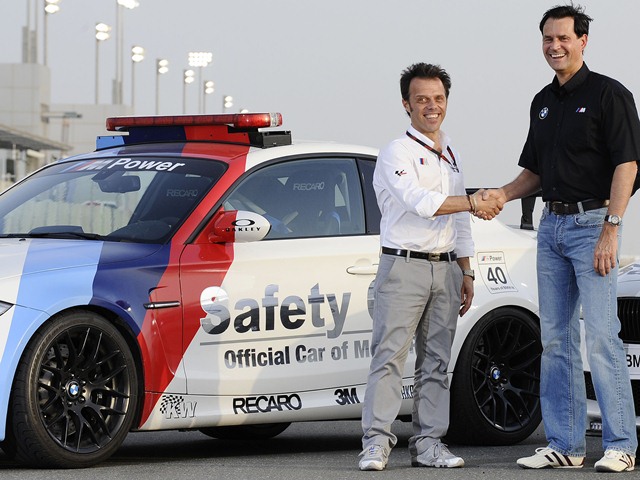 In a move aimed at extending the cooperation between BMW M GmbH and MotoGP organisers Dorna, the latter's MotoGP safety consultant, Loris Capirossi, has now been appointed as the new BMW M MotoGP expert. With his 22-year motorcycle racing career, in which he took part in 328 races and won three world championships, Capirex is widely acknowledged as one of the most experienced motorcycle racers and is said to have an in-depth understanding of MotoGP riders' concerns.
BMW have been involved in the MotoGP since 1999 and provide the official safety cars. In 2006, BMW's partnership with Dorna was taken over by BMW M GmbH, which celebrates its 40th anniversary this year. 'Our involvement in this motor racing event gives us perfect access to a crucial target group: motorcycle racers with a predilection for fast cars. The motorcycle world championship offers fascination, emotion, high-tech and international flair — all factors which are closely associated with BMW M. This is another reason why we feel so at home here,' says Thomas Schemera, Head of Sales and Marketing at BMW M.
In addition to BMW M GmbH's safety cars for MotoGP, BMW also provide S1000RR safety bikes and other BMW bikes that are used by MotoGP race management, medical services and also as shuttle vehicles. In the first half of the season, the new BMW M5 and BMW 1 Series M Coupé will be used as safety cars in MotoGP. From the middle of the season, the BMW 1 Series M Coupé will be replaced by the new BMW M6 Coupé.
BMW will also again present the BMW M award at the end of this year's MotoGP season. This award goes to the rider with the best overall result in the qualifying rounds. Last year the award went to Casey Stoner, who received a BMW 1 Series M Coupé. This year, the award will be presented at M Night in Valencia, Spain and the winner can look forward to a BMW M3 Coupé Competition Edition.