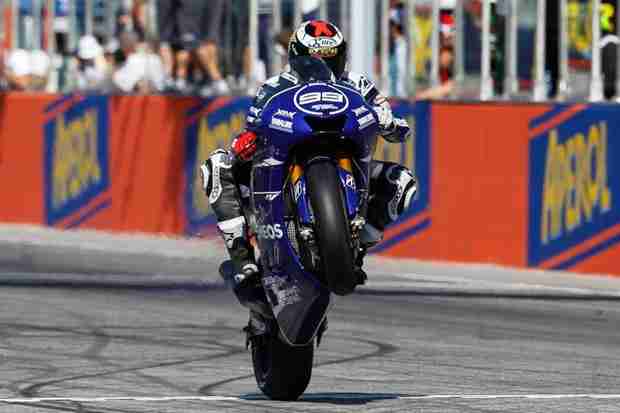 Jorge Lorenzo came out on top at Misano earlier today and finished the race with a lead of over 4 seconds but the surprise for today was the two riders that filled the remaining podium spots, out of the blue Rossi came in second followed by Bautista, Super Sic would be real proud.
The entire championship took a dramatic turn when Pedrosa was run off track by an over enthusiastic Hector Barbera on lap 2. This has given Jorge Lorenzo a comfortable 38 point lead over Pedrosa who is at 232 and is well poised for the championship unless something totally unpredictable happens in that last few races of this season. All the attention though went to Rossi and Bautista, Rossi with his best result of this season and Bautista taking his first ever podium.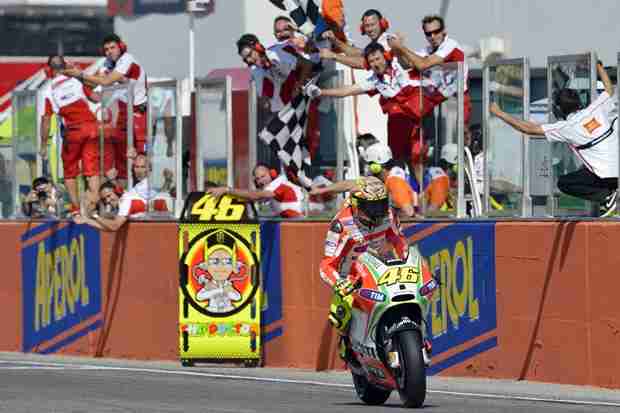 The sighting lap itself was one with a lot of drama, Pedrosa's and Karel Abraham's bikes would not start, and once back on the line just as the race began Abraham indicated that his bike had shut down once more, again back to starting and this time its was Pedrosa's bike that had a problem with the front warmer getting stuck forcing them to take the bike off the grid to get it sorted. After the intense sighting lap for Pedrosa, he however had a good start but unfortunately was taken down by Hector Barbera. Rossi too got a good start and was second right from turn one and managed to hold it off for the entire race, he did face some challenge from Stefan Bradl, but Bradl soon had tyre issues and was over taken by Dovizioso and a confident looking Alvaro Bautista.
The race really was for the third podium spot between Bautista and Dovizioso and was truly the perfect definition of a photo finish. It was a final drag between the two to the finish line and Bautista finished ahead of Dovizioso by a marginal 0.003 seconds.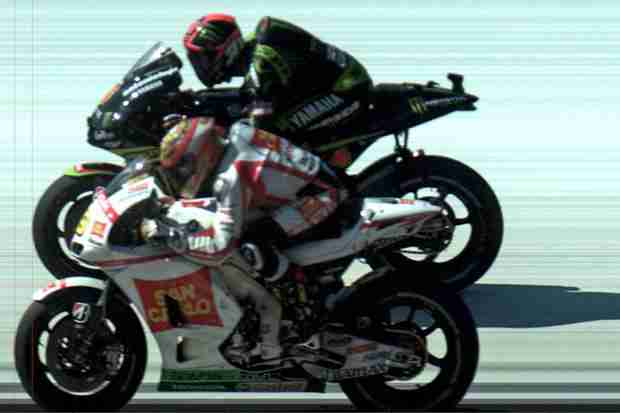 Nicky Hayden came in 7th clearly struggling with his hand injury follwed by Jonathan Rea who now would be heading back to WSBK for the next round. Randy de Puniet came in next and has now been the best CRT rider for the season so far. Cal Crutchlow could not dominate the good number 3 spot in qualifying and crashed out after just four laps.
Jorge Lorenzo
"It's been a very tough weekend because Dani and I have been very close in the qualifying and the warm up. Unfortunately today he had really bad luck, first with the lights at the beginning of the race and then Hector took him out. This was really unfortunate for him. In Holland we were unlucky and today he was unlucky, anything can happen in these races. We have to be happy with our result and the point advantage we now have, for sure we are much more calm now than before the race! The race was difficult for everyone, only having qualifying was not enough when you have to set up the chassis and electronics and everything for the race. It was hotter during the race so there was less grip too. I almost crashed in turn one but managed to save it too!"
Valentino Rossi
"It was a really nice race, and I'm very happy. It's a great result, which I'd like to dedicate to Sic and his family, Paolo, Rossella, and Martina. I'd also like to thank all the guys who work with me and everyone at Ducati Corse who are giving their best, like me: after two difficult years, we really needed that. I'm very pleased because we did a dry race at a high level, always with a fast pace, and with a limited gap to Lorenzo. We worked well. The new frame and swingarm allow us to make more changes to the geometry, and in fact here the feeling with the front was improved and the bike also seemed to be better balanced on acceleration. The setup that we found was also good, as I managed to be fast and consistent for the whole race. It will be important to continue working well and do our best to take the Ducati as high as possible in the next races as well."
Alvaro Bautista
"It is always nice to finish on the podium but especially for me today with this being my first in MotoGP. Above all this is a very special weekend for me and the team because our memories of Marco are so strong coming here to the circuit named in his honour. After a few tough races we have worked well here and managed to fight for the podium at last. I am so happy for the team and for Marco because I am sure that wherever he is right now he was pushing us along. I could feel his hand on my shoulder today and I realised at the end that my name had come loose from my leathers so you could say it was Marco that was with us today. It has been an extraordinary day and I almost crashed at the start — I picked myself up on my right elbow. I am happy for everybody who has believed in me and I want to dedicate this very special podium also to them."
Andrea Dovizioso 
"It is a pity to finish so close to the podium in my home race because I really wanted to make the top three for the first time in Misano. It was a difficult race right from the start because I had a problem with the front and could not brake hard and enter the corners like during the practice. That meant I had to change my lines and I was not as fast as I expected and I could not catch Valentino and I could not push. I just had to ride smooth and at the end my feeling improved a bit because I could at least fight for the podium. It is a pity I couldn't take third from Alvaro but I ran wide exiting the final corner. I did my best and the good thing is that despite a difficult race I was still battling for the podium right to the very end. We still scored some very important points for the Championship and hopefully with a better feeling with the bike I can be back on the podium at the Motorland Aragon."
MotoGP Misano Results
1. Jorge LORENZO SPA Yamaha Factory Racing Yamaha 159.8 42'49.836
2. Valentino ROSSI ITA Ducati Team Ducati 159.6 +4.398
3. Alvaro BAUTISTA SPA San Carlo Honda Gresini Honda 159.5 +6.055
4. Andrea DOVIZIOSO ITA Monster Yamaha Tech 3 Yamaha 159.5 +6.058
5. Ben SPIES USA Yamaha Factory Racing Yamaha 159.4 +7.543
6. Stefan BRADL GER LCR Honda MotoGP Honda 159.0 +13.272
7. Nicky HAYDEN USA Ducati Team Ducati 157.3 +40.907
8. Jonathan REA GBR Repsol Honda Team Honda 157.2 +43.162
9. Randy DE PUNIET FRA Power Electronics Aspar ART 155.6 +1'09.627
10. Michele PIRRO ITA San Carlo Honda Gresini FTR 155.4 +1'13.605
11. Colin EDWARDS USA NGM Mobile Forward Racing Suter 155.2 +1'16.695
12. Yonny HERNANDEZ COL Avintia Blusens BQR 155.1 +1'19.073
13. James ELLISON GBR Paul Bird Motorsport ART 155.1 +1'19.408
14. Danilo PETRUCCI ITA Came IodaRacing Project Ioda-Suter 152.0 1 Lap
15. David SALOM SPA Avintia Blusens BQR 150.7 1 Lap
Not Classified
41 Aleix ESPARGARO SPA Power Electronics Aspar ART 155.8 4 Laps
35 Cal CRUTCHLOW GBR Monster Yamaha Tech 3 Yamaha 157.7 23 Laps
54 Mattia PASINI ITA Speed Master ART 145.5 26 Laps
8 Hector BARBERA SPA Pramac Racing Team Ducati 0 Lap
26 Dani PEDROSA SPA Repsol Honda Team Honda 0 Lap
17 Karel ABRAHAM CZE Cardion AB Motoracing Ducati 0 Lap
MotoGP championship standings post Misano race
1 Jorge LORENZO Yamaha SPA – 270
2. Dani PEDROSA Honda SPA – 232
3. Casey STONER Honda AUS – 186
4. Andrea DOVIZIOSO Yamaha ITA – 163
5. Cal CRUTCHLOW Yamaha GBR – 122
6. Valentino ROSSI Ducati ITA – 120
7. Alvaro BAUTISTA Honda SPA – 118
8. Stefan BRADL Honda GER – 115
9. Nicky HAYDEN Ducati USA – 93
10. Ben SPIES Yamaha USA – 77
11. Hector BARBERA Ducati SPA – 60
12. Randy DE PUNIET ART FRA – 48
13. Aleix ESPARGARO ART SPA – 45
14. Karel ABRAHAM Ducati CZE – 25
15. Yonny HERNANDEZ BQR COL – 25
16. Michele PIRRO FTR ITA – 24
17. Colin EDWARDS Suter USA – 22
18. James ELLISON ART GBR – 17
19. Mattia PASINI ART ITA – 13
20. Danilo PETRUCCI Ioda-Suter ITA – 11
21. Ivan SILVA BQR SPA – 11
22. Toni ELIAS Ducati SPA – 10
23. Jonathan REA Honda GBR – 8
24. Steve RAPP APR USA – 2
25. David SALOM BQR SPA – 1