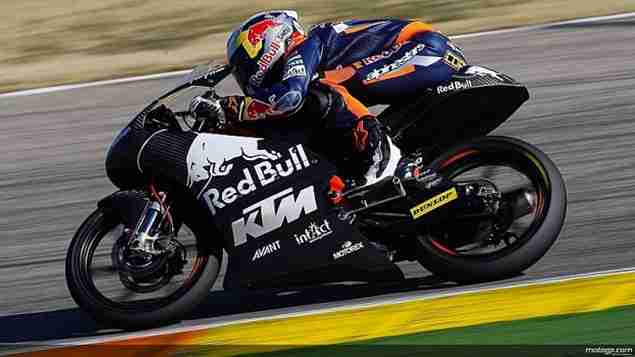 Riders and teams are at the Losail Circuit in Qatar for what heralds the start of the new MotoGP season and the launch of the new Moto3 class, replacing the 125 cc of the past. The launch represents the return of KTM to the mainstream MotoGP competition with nine riders on KTM-driven Moto3 bikes. With first timed practice on Thursday for the opening race held under lights on the Middle East circuit, pundits were already speculating that the KTM riders were going to deliver on the good form in tests and be up with the best.
Sandro Cortese (German) and Danny Kent (UK) of the Red Bull KTM Ajo Factory Moto3 team have been impressive in pre season tests and they are supported by Australian Arthur Sissis, a Red Bull MotoGP Rookie graduate who has made the leap to a full factory team in 2012. They ride the Moto3 bike factory driven by the M32 engine, developed by KTM engineer Wolfgang Felber and his team making the factory bike a product straight from the heart of KTM in Mattighofen, Austria. Other riders on the KTM Moto3 factory bike are Team Airasia Sic Ajo rider Zulfahmi of Malaysia and Niklas Ajo of TT Motions Event Racing.
In addition four riders are onboard the KALEX-KTM bike, also driven by the KTM Moto3 M32 engine as part of an intense partnership with KALEX Engineering of Southern Germany. Leading Aspar riders Hector Faubel and Alberto Moncayo, both of Spain will ride the KALEX-KTM and have also been impressive in pre season tests. The Dutch RW Racing GP Team also has two riders on the KALEX-KTM — Luis Salom of Spain and Brad Binder of South Africa, like Sissis a graduate of the Red Bull MotoGP Rookies Cup. Both Sissis and Binder are already friends with the KTM machines having absolved several seasons with the Red Bull Rookies, where the entire field races on the KTM 125 RR bike.
KTM has already celebrated one small victory with the KALEX-KTM Moto3 bike. Bright young development rider Philipp Oettl of Germany opened his season on the new machine, winning the first round of the CEV (Spanish) Moto3 Championship on the Jerez Racing Circuit last weekend. This new class will feature a field of 32 riders and the competition will be hot to see who can earn the honour of first Moto3 winner in the inaugural season. Moto3 replaces the 125 cc class that has been a fixed part of the World Championship since it began in 1949. The first Moto3 GP is scheduled for 7.00 p.m. on Sunday night local time (Qatar).