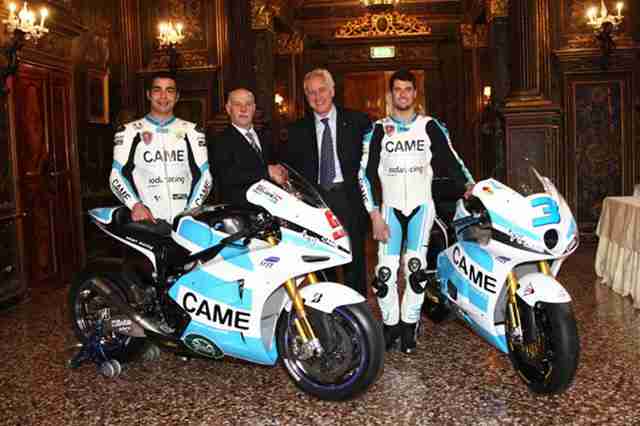 Ioda Racing, graduating to the MotoGP class as a 'CRT' entry in 2012, officially presented its 1000cc project during a launch in Venice. Upon unveiling its official racing colours for the TR003, which features an Ioda-designed trellis frame and Aprilia RSV4 engine, the team also announced sponsorship from fellow Italian brand Came (in the MotoGP and Moto2 class). Young Italian Danilo Petrucci, runner-up in the 2011 FIM Superstock Cup, will be Ioda's MotoGP rider, with countryman Simone Corsi continuing in the Moto2 category.
"It's a great satisfaction to make my MotoGP debut at the age 21 and also with a completely new bike," said Petrucci. "I have a top class team, which showed from the first test and this makes me feel much more comfortable for the season ahead. The goal is to stay with the top CRT competitors." Corsi, who has taken two podiums in each of the Moto2 seasons to date, is aiming for more consistent success in 2012. "It's my second year with the team and we've been working well and improving the FTR over the winter," said Corsi, whose place on the entry list had previously been listed as on an Ioda chassis. "This is a positive sign that in 2012 we can be among those in contention for the title."
Ioda will also compete in the new Moto3 category, running its own team for Luigi Morciani and supplying further Ioda bikes to the Team Italia FMI squad. "A little over a year and a half after its foundation Ioda Racing will be participating in all three categories of the World Championship with two projects, the CRT and Moto3, fully in-house," confirmed Giampiero Sacchi, Chief of Ioda Racing. "We face this challenge aware of the technical difficulties, but certain that the team of professionals, led by Giovanni Sandi, Paolo Biasio and Roberto Papetti, will grow our bikes. "I would also like to extend my heartfelt gratitude to the Came Group for the trust they have given to us." Came, which specialises in automatic access systems (security gates), recently announced a two-year 'official supplier' deal with Dorna.