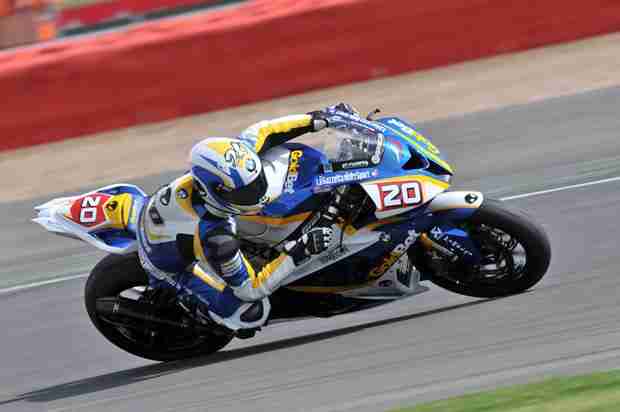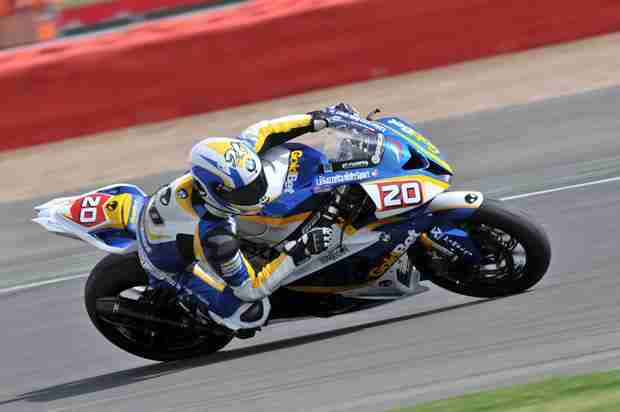 The BMW Motorrad Italia GoldBet Superbike Team completed its first day on track at the iconic circuit of Silverstone, which hosts the World Superbike round number ten of the season. At the end of Qualifying 1, Ayrton Badovini and Michel Fabrizio were eleventh and sixteenth. Sylvain Barrier and Lorenzo Baroni finished second and twelfth respectively in the first qualifying session for the Superstock 1000 class.
This Friday's free practice and qualifying were affected by unpredictable and mixed weather, that forced the teams to work with constantly changing weather conditions. The morning practice started with a damp circuit, before the rain made its appearance with 30 minutes still to go. Michel Fabrizio, on a not fully-dry track, set a best lap time of 2'07.747 that gave him seventh position. Ayrton Badovini spent most of the 45 minutes focusing on getting back to feeling comfortable with the bike and at the same time testing his fitness – after the heavy crash he had in Brno's Superpole – and finished 17th with a time of 2'09.527.
Qualifying 1 also began with a partly damp track, that gradually dried during the session. The morning rain had washed the rubber off the track making it slower, and so the lap-times did not improve much. Ayrton Badovini, who regained his confidence, finished 7th courtesy of a 2'07.089 lap time while Michel Fabrizio was 16th (2'07.658).
After finishing at the top of the classification in the Superstock 1000 Free Practice 1,Sylvain Barrier took another top-level finish with a second position in Qualifying 1, after being the fastest man on track in full wet conditions. Lorenzo Baroni, who was second in the morning session, couldn't get higher than a twelfth place in the afternoon qualifying.
Serafino Foti, BMW Motorrad Italia GoldBet Superbike Team Sporting Director, said: "It's been an unusual day, as the weather played an important role. After the morning's rain, the track became slower and so the lap-times in qualifying were almost the same as the first 15 minutes of free practice. We still have to sort out something with the set-up. These are not the results we wanted but we're in the top-16 and that would a crucial if it rains tomorrow morning."
"We got a one-two finish in Superstock 1000 Free Practice 1 and we're happy about that. I'm also happy with Sylvain's afternoon performance, while we need to work with Lorenzo to allow him to be fast on the wet track as well."
Michel Fabrizio #84 – FP1 7th (2'07.747 ) QP1 16th (2'07.658 )
"It's been a troubled day due to the mixed weather condition that didn't help us work the way we wanted. We still have to make some set-up adjustments. Tomorrow we'll see what the track conditions will be like."
Ayrton Badovini #86 – FP1 17th (2'09.527 ) QP1 11th (2'07.089 )
"I was happy with my performance in qualifying, especially because this morning I was not at my best. In the afternoon I was able to ride the way I wanted to, despite some vibrations at the front of the bike which we have to work on. I'm confident about tomorrow, though."