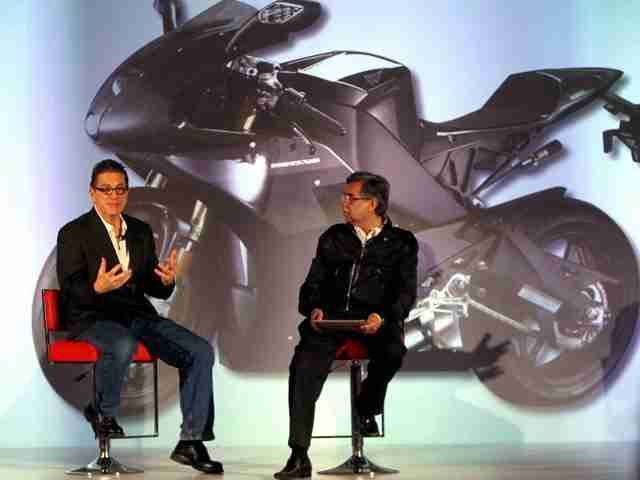 In terms of sales volumes, India-based Hero Motocorp is perhaps the biggest motorcycle manufacturer in the world, selling about six million units per annum. The Hero Group had tied up with Honda back in 1984 and the joint-venture company, Hero Honda, became the leading motorcycle manufacturer in India. The partnership between Hero and Honda ended last year and Hero Honda is now Hero Motorcorp Ltd., with a stated aim of achieving revenues of US$10 Billion and volumes of 10 million units (including motorcycles and scooters) per annum by 2016-17.
After Honda's exit, Hero have been looking for a suitable partner from whom they would source technology for bigger, better motorcycles — the kind of bikes which the fast-evolving Indian market is likely to be looking for in the years to come. And now, Erik Buell Racing (EBR) have stepped in to fill the void and, in the process, claim a toehold in the Indian motorcycle market. Hero Motocorp and EBR have formed a strategic partnership which includes multiple areas of collaboration. EBR will help Hero Motocorp develop new bikes for the Indian market, some of which will also be exported to various other emerging markets worldwide. 'This is in keeping with my objective of quickly scaling up our own in-house R&D capabilities by leveraging a network of strategic international alliances. Erik and his team have been working closely with our engineers and designers to develop our next-generation range of products with cutting-edge technology and first-of-its-kind features,' says Pawan Munjal, MD and CEO, Hero Motocorp. 'The Indian two-wheeler industry is set to evolve and it is only natural that as the market leader, we are driving this change. As a part of this plan, Erik is going to play an integral role in giving shape to some of my dream two-wheelers,' he adds.
'EBR is delighted to partner with a company as iconic as Hero Motocorp. Both HMCL and EBR share the common commitment to manufacturing world-class two-wheelers with technology of the future. I have personally been deeply impressed with and inspired by Pawan's vision. He has given us a challenging brief and our highly-motivated team is working towards giving shape to that dream. We look forward to designing technology solutions which are in line with contemporary global standards and also futuristic in their appeal and utility,' adds Erik Buell, Chairman and CTO, EBR. Hero Motocorp will also bankroll EBR's racing program, sponsoring two teams (Team Hero and AMSOIL Hero) in the AMA Pro Racing superbikes championship in the US, with both teams running EBR 1190RS bikes. 'I deeply appreciate the support provided by Pawan and Hero Motocorp to our two teams and Team Hero is really a natural extension of our strategic collaboration,' says Erik Buell.
We think the partnership looks quite exciting — it will give EBR an opportunity to expand into the Indian market, which could have vast potential for its sportsbikes. Over the next few months and year, Hero Motocorp and EBR are also likely to develop a range of smaller sportsbikes — perhaps 250s, 400s, 600s and so on — which are likely to find favour not just in India but also in various other Asian markets and perhaps even in Europe.