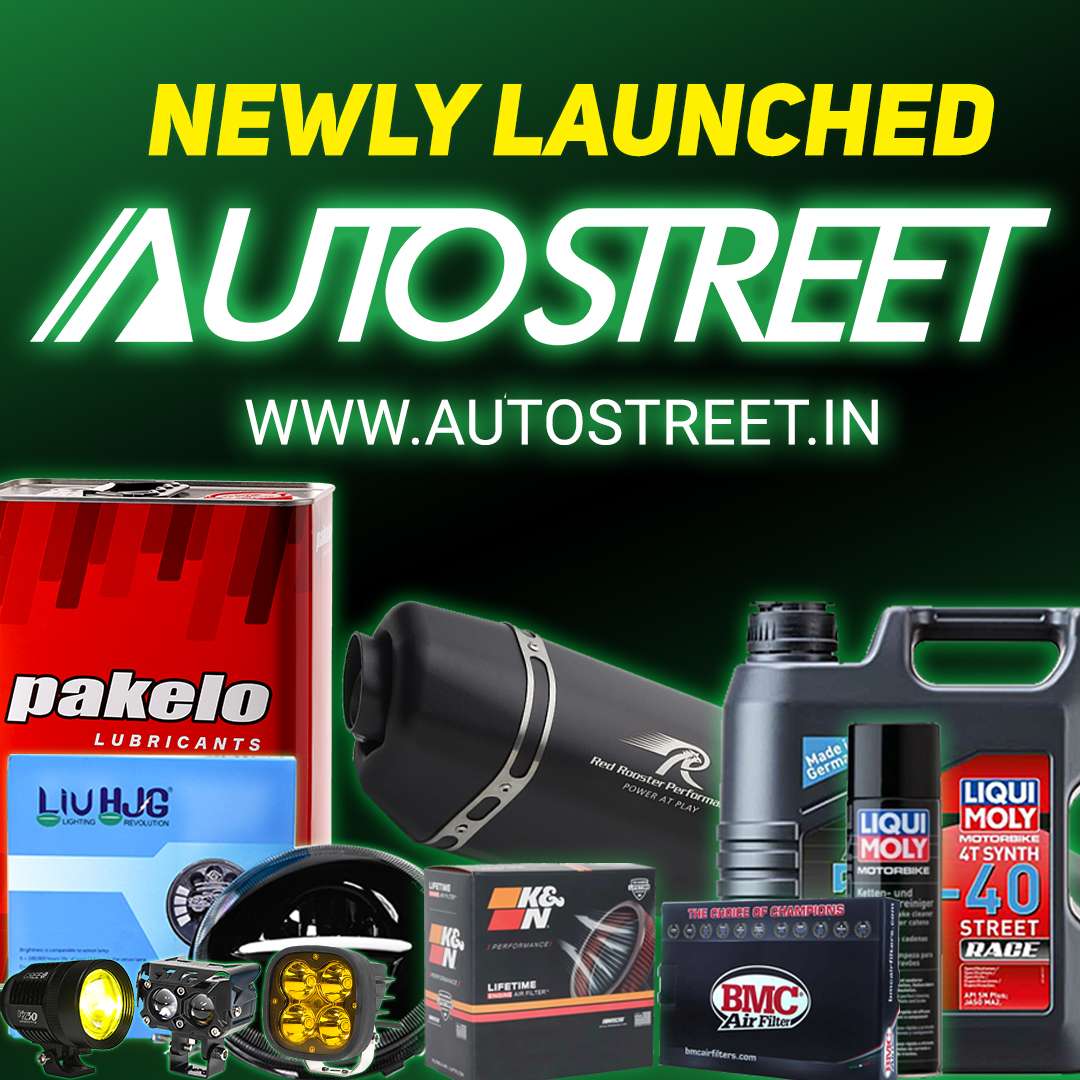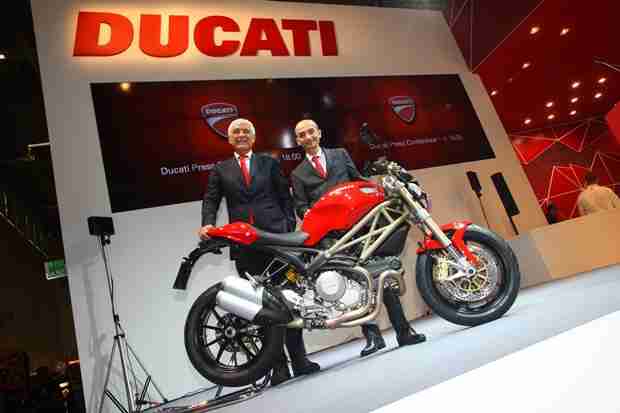 Ducati has revealed their 2013 range at the Intermot International Motorcycle Show in Cologne, Germany, displaying new colors in the Diavel and its Superbike families, and as the famous naked icon now celebrates 20 years of production, special Anniversary versions of the Monster 696, 796 and 1100 EVO. The recently released 2013 Ducati Multistrada 1200 also made its first ever public appearance. And so did the brand new 1199 Panigale RS13, which is now ready to make its debut in the World Superbike series next year. Company CEO, Gabriele Del Torchio, and General Manager, Claudio Domenicali addressed the world's motorcycle press during a special conference held on the Italian manufacturer's stand at the massive biennial event.
"Ducati has entered a new era," said Gabriele Del Torchio, CEO of Ducati. "Being part of such a prominent and significant group as Volkswagen makes us look to the future with confidence and optimism and we are very happy to be here at Intermot with so many new products to present. Despite today's severely shrinking market, Ducati continues to show positive growth, and since 2007 has consistently increased its market share and further strengthened its financial position. 2011 was a record year in the history of Ducati and we expect to continue our growth in 2012. Our 2013 motorcycles, such as the new Multistrada 1200, demonstrate the consistency of our development strategies and today I am especially proud to present our new Monster Anniversary, a celebration of the glorious history of this iconic model in the Ducati family."
"Twenty years have passed since the presentation of our first Ducati Monster, right here at Intermot," said Claudio Domenicali, General Manager of Ducati Motor Holding, during the press conference. "This model redefined the parameters of the naked segment and our new Monster Anniversary is dressed in the original livery of that very first version and applied to the whole range of latest-generation Monsters. In addition to the Monster Anniversary, we have brought a number of interesting new products to Cologne. Our new Multistrada 1200 is an evolution of the 4-bikes-in-1 concept and now becomes even more versatile with the introduction of the revolutionary Ducati Skyhook Suspension system. The model also presents a new and improved Testastretta 11° DS engine, with enhanced power delivery and smoother operation, and a re-styled front-end with new LED lighting. We are also presenting brand new color schemes for the Diavel and the Superbike 848 and 1199 Panigale and Ducatisti here in Cologne have the first chance to see the RS13 version of the 1199 Panigale, now available for teams to prepare their fight for the 2013 Superbike World Championship."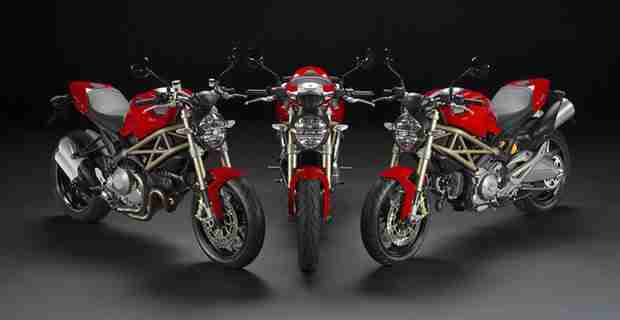 First introduced in Cologne in 1992, the Monster family now reaches a milestone of 20 years of production and Ducati celebrates the iconic naked with special 20th Anniversary editions of its latest 696, 796 and 1100EVO models. Standing proudly alongside the exclusive Monster Diesel, this bold range of lifestyle motorcycles are dressed in special liveries, revised color finishes and character-forming features.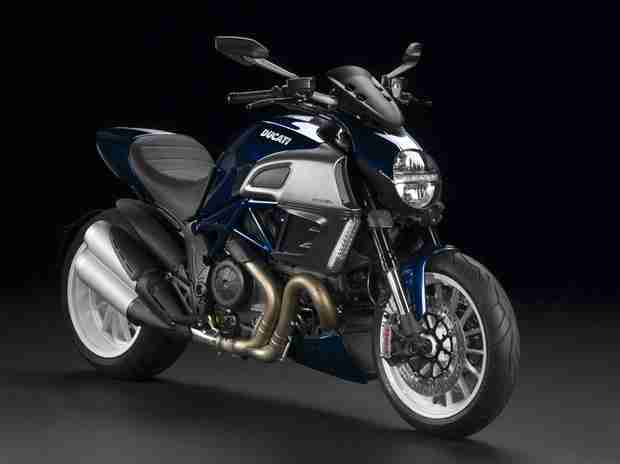 The innovative Ducati Diavel, which has become one of Ducati's most desired models, rolls into 2013 with an exciting line-up that sees the flagship Diavel Carbon now exclusively in carbon red and the standard Diavel in three stunning new color versions. The Diavel Dark in matte black with black-finished components and two "street-sport" schemes that introduce metallic blue or Ducati red with stylish white stripes, white wheels and special defining features.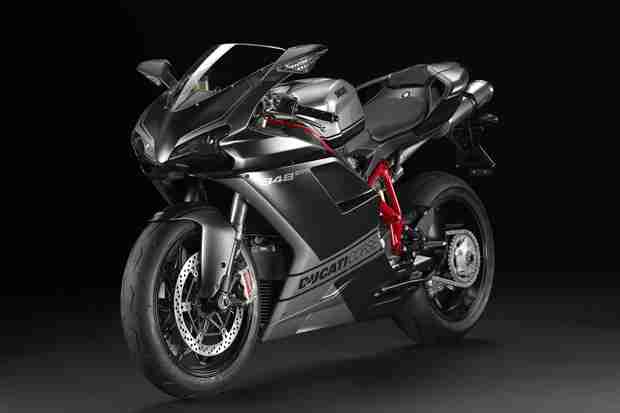 The 2013 Ducati Superbike family introduces arctic white versions of the exciting 1199 Panigale and 1199 Panigale S alongside the signature Ducati red, while the 1199 Panigale S Tricolore continues proudly as the flagship of the family. The highly successful 848EVO is available in the traditional colors of Ducati red* and dark stealth*, while the exclusive 848EVO Corse Special Edition, with a new-for-2013, lightweight, aluminium fuel tank, gets dressed in the stunning new Ducati Corse Test Team livery of matte black and matte grey.
The 2013 Ducati Multistrada family has its first public showing at Intermot and presents an innovative and technically advanced evolution of an already successful range. Restyled aesthetics, a brand new Granturismo model and the new Ducati Skyhook Suspension (DSS) system, which provides confidence-inspiring, intelligent electronics, are just a few of the many enhancements that continue the Multistrada's excellent reputation.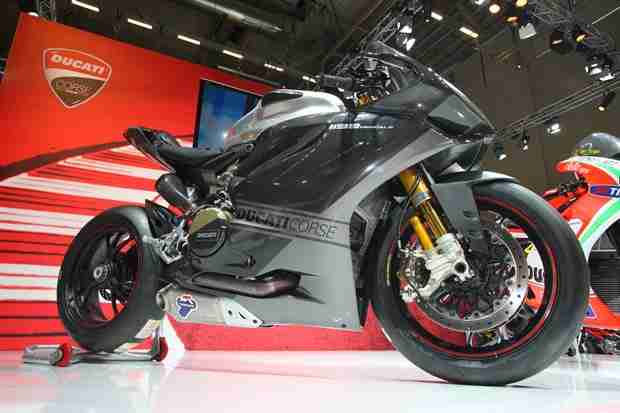 Ducati's highly anticipated 1199 Panigale RS13 also breaks cover for the first time at Intermot. The spectacular Ducati Corse prepared machine previews the full race version of the company's top-of-the range sportbike model, now ready and available for teams to prepare for competition in the 2013 World Superbike series.
Intermot will be open to the public from 3-7 October and Ducati's 2013 models, accessories and apparel can be viewed on stand A-042/C-055 in Hall 8 of Cologne's exhibition complex.