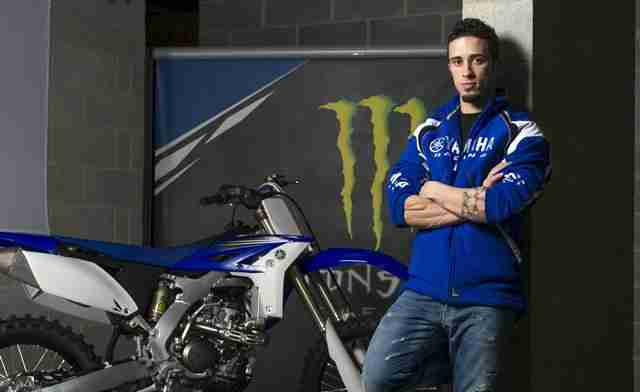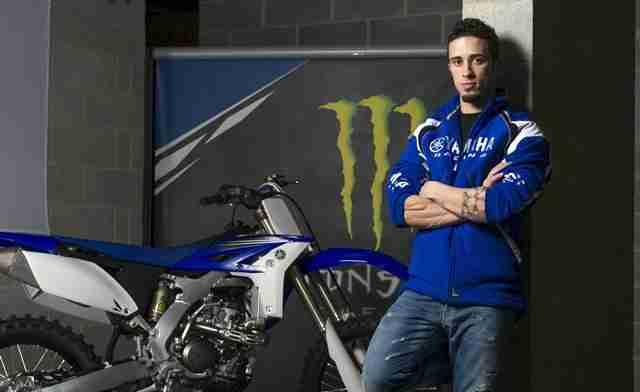 Monster Energy Tech3 Yamaha star Andrea Dovizioso is now primed to continue his training activities and indulge further in his first hobby after taking delivery of a renowned Yamaha Rinaldi Research and Development (YRRD) kit for his 2012 YZ250F last week. The soon-to-be 26 year old — who finished 3rd in the 2011 MotoGP World Championship and who has only dropped out of the top five twice in ten seasons of Grand Prix road racing in three categories — took in the action at the Mantova Starcross MX International two weeks ago and then travelled to Parma to the factory Monster Energy Yamaha MX Team's workshop managed by Team Owner, former world champion and motocross legend Michele Rinaldi (pictured).
"I'm really passionate about the world of motocross and I try to get to see the world championship events as much as possible," the former 125cc World Champion said. "When I first tried the '12 YZ250F I liked it a lot because I found the chassis allowed me to be very precise and it felt very stable on the front end. I am very excited to try the special cylinder head, camshafts and other YRRD bits because you always want a little bit more power on a 250. The YZ250F is enough for me though in a training moto of thirty minutes and regular intensity."
"I love to jump — not like supercross, but really big jumps — and riding in the sand is OK but I don't have the training to have complete control in this terrain."
Dovizioso has been a regular at MXGPs in the last few years, once famously driving several hundred kilometres the day after the TT Assen to be seen at Teutschenthal for the Motocross Grand Prix of Germany. The Italian does not plan to stop his spectating habits: "For sure I want to go again! I have to check the calendar and see where the dates are good but, when I can, I will get there. For me it is great to be with Yamaha because I can really enjoy the two sports I love most in my life; to be able to ride motocross and be able to race in MotoGP is a dream."
As he picked up the package of YRRD racing components that augment the performance and potential of the famed YZ technology 'Dovi' admitted that his love of dirt-bikes extends to something beyond fun. "I can't train as much as I want with a motocross bike but when I am home I reckon I am out once a week. I do most of my physical training in the gym but it [MX] helps. Riding motocross is something else completely to a street bike, but I see a difference in the riders who don't train with motocross in terms of their feeling. It helps you be more sensitive to the race bike sliding. Overall though I love the whole thing, looking after the bike, getting it in the van, riding with friends."
 YRRD, a programme of Yamaha Motor Europe (YME) is the specialist supplier of official racing parts for Yamaha YZ motocross machinery, formed in the early 1990s when YME joined forces with former World Motocross Champion Michele Rinaldi. YRRD parts are developed by a team of expert racing engineers. Each year the racing kits are carefully adapted to the latest YZ model line up using the experience from teams and riders racing from national level to Grand Prix. The 2012 range of YRRD Racing Parts kits have been fully tested and evaluated by Yamaha MX1 and MX2 riders in the intense heat of world championship competition. The 2012 YRRD Racing Parts line-up includes components for the YZ450F, YZ250F and two-stroke YZ125 and these are available through official Yamaha (off-road) dealers that can also provide further information and guidance. To learn more click here: www.yamaha-racingparts.com.